In this edition, Flour + Water readies an expansion, Union Square gets a new hotspot for omakase sushi and Hayes Valley is about to debut a new slice joint.
Openings
Mission
Flour + Water Pizzeria (702 Valencia St.)
A decade after it first opened its original location at 2401 Harrison St., pizza and pasta spot Flour + Water is ready to open its second location, also in the Mission.
Unlike the original location, this outpost will focus solely on pizza, accompanied by salads, marinated vegetables, beer and wine. Expect to see five red and five white pies on the menu, with soft-serve ice cream for dessert.
"Pizza has been part of my life for as long as I can remember," said chef Thomas McNaughton in a statement. Flour + Water's makeover of the former Farina Pizzeria space will keep its existing floor-to-ceiling windows, adding green Heath Ceramics tiles and a wooden bar, tables and chairs. 
To drink, the pizzeria will offer four beers on tap, and eight wines available by the glass or bottle. A to-go counter will serve a rotating daily "big slice," as well as soft serve in a cup or cone. Flavor options will be classic vanilla, chocolate or swirl, with toppings like rainbow sprinkles, olive oil and sea salt, Amarena cherries and Mike's Hot Honey.
Union Square
Sushi Nagai (125 Ellis St.)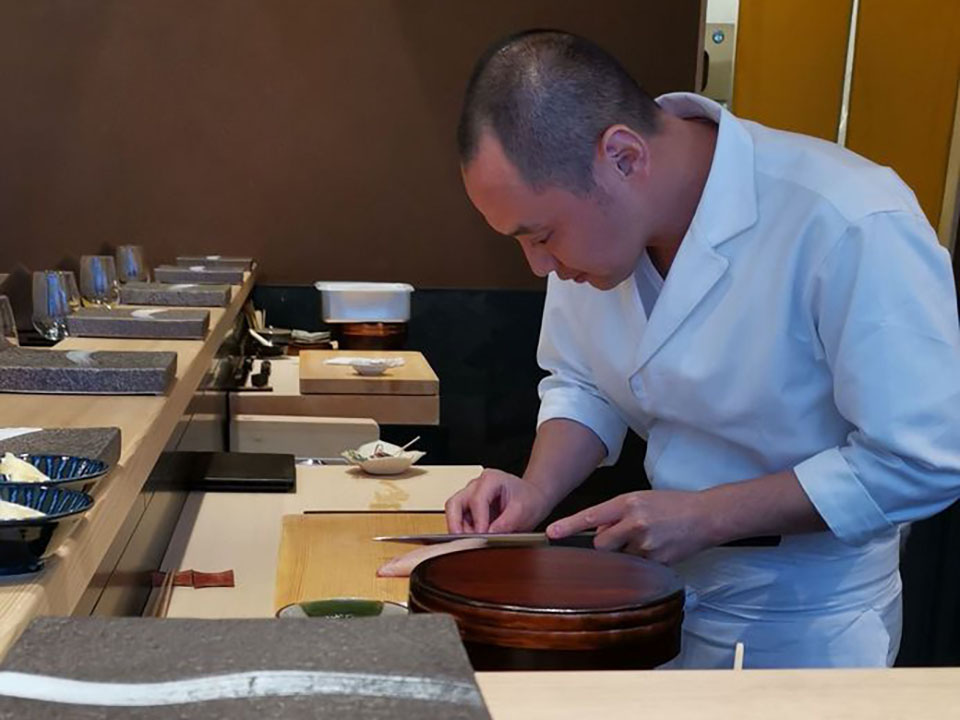 Veteran Hoodline tipster Al M. alerted us that Sushi Nagai, the city's newest omakase spot, is finally open. With a 15-course menu priced in the $200-250 range, it will be one of the most expensive restaurants in the city, according to a report in the Chronicle. (Those seeking a comparative bargain should drop in before June 4, as the restaurant is currently offering a $180 "promotional rate.")
According to its website, Sushi Nagai is led by chef Tomonori Nagai, who started his career as a sushi chef in Japan in the 1990s before working in New York, Hawaii and Singapore.
Nagai will import all of his fish directly from Tokyo, serving classic edomae-style nigiri with seasonal offerings like firefly squid and sea urchin. 
Updates
Hayes Valley
Gioia Pizzeria (579 Hayes St.)
First announced last fall, Gioia Pizzeria's new Hayes Valley outpost is now set to open in the former Two Sisters Bar & Books space on June 7. 
After six years on Polk Street, Will and Karen Gioia decided to downsize last October, handing over their space for an expansion of Richmond pizzeria Fiorella. High rents and staffing costs in San Francisco contributed to the decision, they said at the time. 
At 900 square feet, their new location will be counter-service only, serving whole pies, pizza by the slice, chicken and meatball parm heroes, seasonal salads and daily specials. Everything will be available for take-out and delivery as well.
"We love the edgy feel of the traditional and timeless New York-style pizzeria, elevated with premium, thoughtfully curated California ingredients," Karen Gioia said in a statement. 
---
Thanks to tipster Al M.! If you've seen something new in the neighborhood, text your tips and photos to (415) 200-3233, or email [email protected] If we use your info in a story, we'll give you credit.