Here's the latest in SF food news. In this edition: An upscale Mission eatery says goodbye after a decade, a new Nepalese small-plates joint plans to open in the Mission, and a longtime Cole Valley restaurant and bar launches brunch.
Closures
Commonwealth (2224 Mission St.)
After almost a decade in the Mission District, tasting-menu restaurant Commonwealth will close its doors at the end of this weekend.
Chef Jason Fox (who co-owns the restaurant with Anthony Myint and Karen Leibowitz) told the Chronicle that the while the restaurant has been doing well, he and his team couldn't come to terms with the landlord on an affordable new lease.
Fox later told Eater that he's had some opportunities to relocate, but since "the landscape of SF restaurants right now doesn't feel very encouraging, and a place like ours that's a casual fine-dining restaurant in this city feels a little tough, we're going to take a break."
The restaurant will serve some "final hurrah dinners" this weekend, featuring two collaboration tasting menus with guest chefs. Danny Bowien of Mission Chinese Food and Brandon Jew of Mister Jiu's will cook on August 23, and Rupert and Carrie Blease of Lord Stanley will drop in on August 24.
Openings
Mission
Base Camp (2400 Folsom St.)
Base Camp, a new Nepalese restaurant, plans to open in the Mission in November. It will move into the former home of German restaurant Schmidt's at 20th and Folsom streets. (Schmidt's closed last year due to a rent increase.)
Brother-and-sister owners Suraksha and Sutish Basnet are also behind another Mission Nepalese eatery, Dancing Yak, which opened at 14th and Valencia streets in 2018. 
While Dancing Yak serves heartier fare, Base Camp will focus on small plates, with an emphasis on Tibetan and Newari (an indigenous culture in the Kathmandu Valley) street food.
Suraksha told Mission Local that she's had "lots of neighborhood support" for opening a new place. "I saw the space was available," she said. "It was a rent that I thought I was comfortable with taking a risk on."
The decor of Base Camp will be a tribute to those who lost their homes in Nepal's 7.8 magnitude earthquake in 2015, with fixtures created from windows and doors from homes that collapsed during the tragedy.
Updates
Cole Valley
Kezar Bar and Restaurant (900 Cole St.)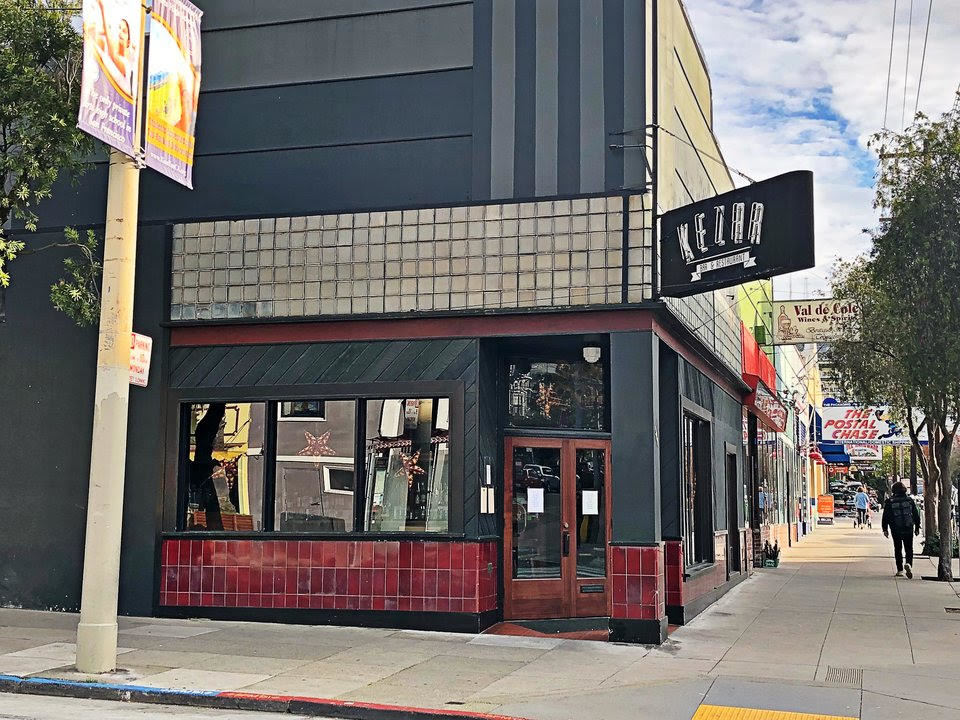 After undergoing a revamp this winter, Cole Valley's decades-old Kezar Bar and Restaurant has launched brunch service. Co-owner Jim Angelus said that the restaurant will now be open during the day on Fridays, Saturdays and Sundays, and may soon expand brunch to additional days of the week. (One exception: this Saturday, the restaurant will be closed for a private event.)
Food options will include eggs Benedict, omelettes, challah french toast and homemade biscuits and gravy (with a vegetarian Impossible sausage gravy). And with a full bar, the restaurant can offer brunch cocktails like Bloody Marys and Aperol spritzes. 
"The neighborhood has changed over the years, as has the city," he said. "It feels like more people are aren't staying out past 10 p.m. to grab some cocktails, so we need to adapt and adjust our hours. That is why you not just see brunch on the weekends, but expanded brunch and lunch during the week."
Angelus says the restaurant's nightly specials, like Monday spaghetti and meatballs (with an option for veggie meatballs), taco Tuesdays and fried chicken Wednesdays, are doing well. 
He also noted that the restaurant sells a lot of chef Lacie Smith's burgers, with Impossible Burger sales, in particular, soaring. "I can't believe how popular they are," said Angelus. Due to high demand, both burgers will be offered on the brunch menu as well.
Update, 8/21: Interviewed via email, Angelus said that Kezar is adjusting its hours because people are staying out later, when he meant to say "aren't." Kezar will not be extending its hours into the evening.
---
If you've seen something new (or closing) in the neighborhood, text your tips and photos to (415) 200-3233, or email [email protected] If we use your info in a story, we'll give you credit.