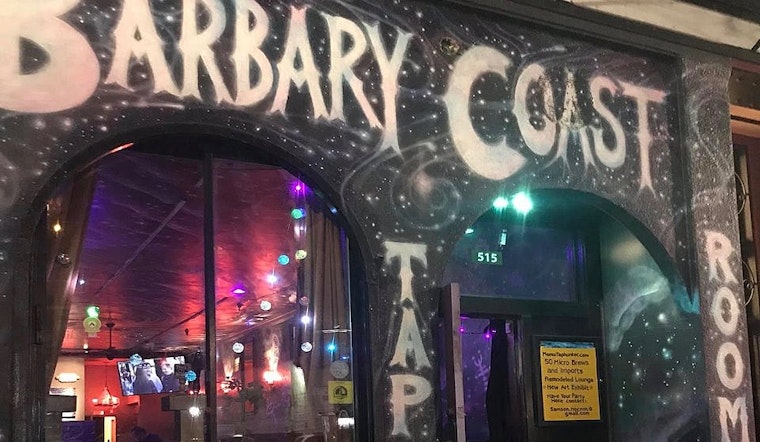 Published on October 02, 2019
Change is afoot at the Barbary Coast Taproom in North Beach (515 Broadway St.). The spinoff of Lower Haight's Noc Noc sold, and will soon become a French Bistro called Le Petit Paris 75.
When Samson Shirakhon expanded his father's original business from the Lower Haight to North Beach in 2015, he first named it Noc Noc and had it painted to reflect a space-age/galaxy/cosmos theme along with modern LED lighting and fiber-optic stars.
Business was steady for the first few years, but in 2017, with a new wife and newborn on the way, he put it up for sale in order to focus on his family and help his father run the original Noc Noc, which opened over three decades ago. 
In September of 2018, Shirakhon changed the Broadway business' name to Barbary Coast Taproom. He said customers often confused its location with the one on Lower Haight when trying to plan where to meet, and he also thought it would be a good idea to rename it in the event of a sale. 
He said business at the taproom has recently picked up, and he feels it is somewhat hard to leave the North Beach business community, but he is happy to pass the torch to new business owner Kam Halliche, who Shirakhon said kind of reminds him of his father — an immigrant who moved to the U.S in his 20s with big ambitions.
Halliche moved to San Francisco three years ago from Paris, France. He is currently a manager at wine tasting room Rosenblum Cellars in Jack London Square and has a passion for wine. The bistro will have a French wine focus, but will offer a few California varietals and low-ABV cocktails.
He said he likes some of the exotic beers that Shirakhon has featured at the taproom, so he will continue to offer a few of those as well.
The space at 515 Broadway Street doesn't have a kitchen, so Halliche said he will serve French cheeses, nuts and charcuterie. Eventually, he said, he'd like to add salads and sandwiches — such as the croque monsieur — to the menu.  
As far as the space's interior, he said he plans to keep the murals and overall design but will replace some of the wall hangings with Parisian artwork. The exterior will entail a more extensive remodel, since its façade now features the taproom's current name in bright, white paint.
Halliche said that he loves San Francisco because it has a European feel, and he is looking forward to bringing his own touch to it.
"North Beach is a good spot because it's right in the Italian and Chinese neighborhood. I like the vibes going on there," he said. "It has a great nightlife and when I saw the bar, that was it."
The Barbary Coast Taproom's last day will be October 14th, and Halliche said he hopes to have the doors open for business at Le Petit Paris 75 on Oct. 16.