Published on December 05, 2019
A woman who lives in the Divisadero neighborhood is putting up a cash reward to help her unhoused neighbor find his missing cat. 
Anna Crowley is offering the $100 no-questions-asked reward on behalf of her neighbor Raven, who lives on the street with his two cats: Fiona, 11, and her daughter Dawn-Tae, 7.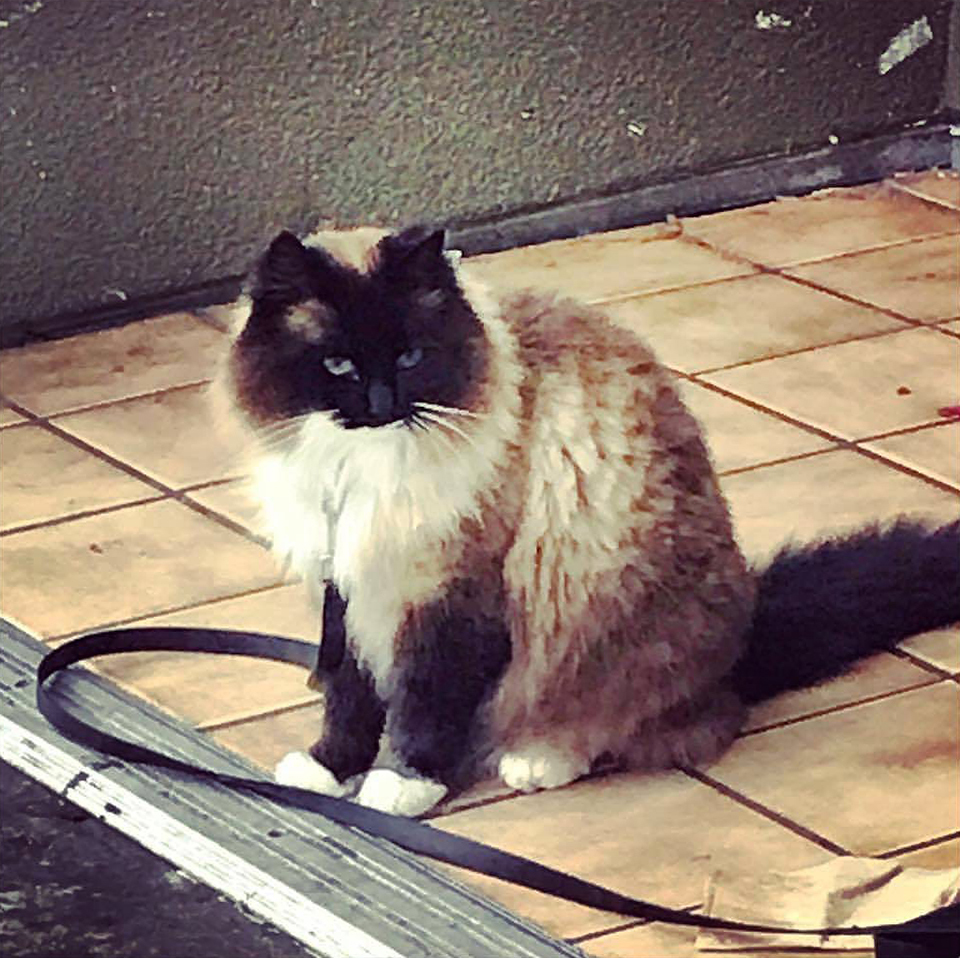 On the evening of November 25, Raven settled in for the night at Divisadero and Fulton streets. When he awoke, he found that Dawn-Tae was missing. 
"I fell asleep for about three hours and when I woke up, she was gone," Raven told Hoodline, adding that Fiona has been devastated and keeps looking for her daughter. 
Dawn-Tae, described as a spayed female ragdoll and Maine Coon mix, weighs around 10 pounds and is microchipped. While she can't be tracked with the microchip, anyone who finds her can bring her to their nearest veterinary clinic or to San Francisco Animal Care & Control (1200 15th St.), where she can be scanned for the microchip information.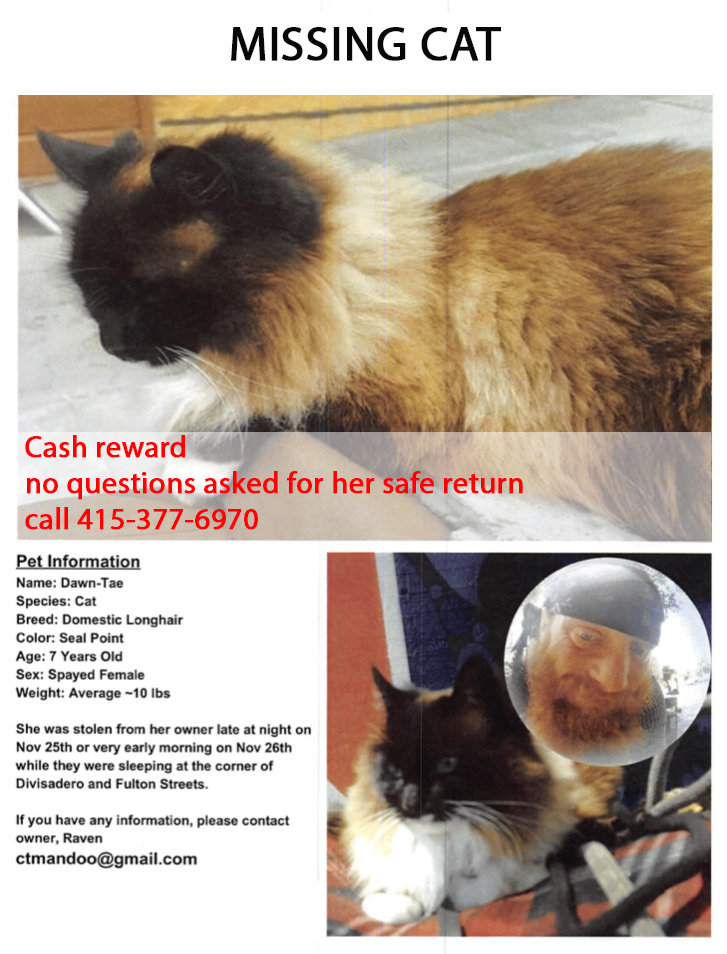 Crowley, who has lived in the neighborhood for 16 years, often visits with Raven and his cats, and has donated food to them from time to time. 
She first learned Dawn-Tae was missing from a flyer at her vet's office — San Francisco Pet Hospital, on Fulton Street.
"I saw his flyer and couldn't believe [it]," she said. "I'd actually been looking for Raven for the last two weeks, because I had some food I was intending to donate to his ladies."
Raven says that he's gotten one possible lead, but no verified sightings of Dawn-Tae have been reported so far. He's been putting up flyers in the neighborhood, but they've all been destroyed by the recent rains. 
"Poor Raven, my heart really goes out to him," Crowley said. 
As for her generosity in offering the cash reward, Crowley said she felt it was important to do what she could to help find Dawn-Tae more quickly. 
"Knowing that one of the kitties is a mama and the other kitty is her offspring, I felt I had to do something within my power," she explained. "I felt like offering cash could be an easy and quick way of maybe hopefully getting these beings reunited."
Any sightings or other information about Dawn-Tae's well-being can be reported to Raven at [email protected], or to Crowley at (415) 377-6970.
Update, 11/9, 3:55 p.m.: A GoFundMe page has been launched on behalf of Raven and his cats. Though it has already reached its $500 goal, more donations are being accepted. The funds will go toward a new cat stroller for Fiona, and a fund at a local vet's office for Raven to use as needed.
---
See something interesting while you're out and about? Text Hoodline and we'll try to find out what's going on: (415) 200-3233.