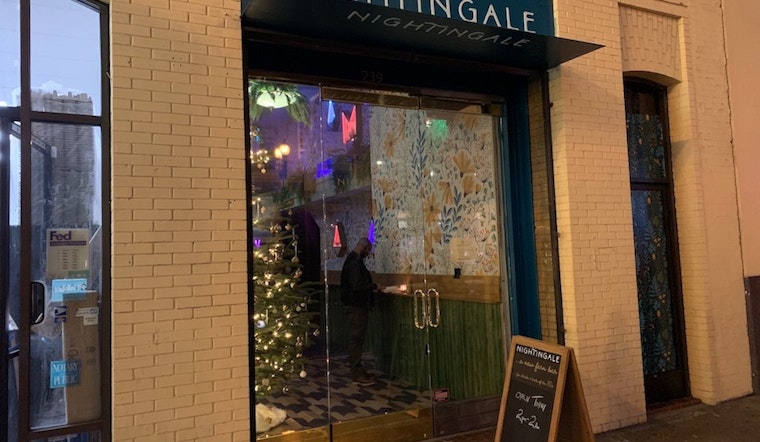 Published on December 19, 2019
Future Bars, which brought us Bourbon & Branch, Local Edition, The Devil's Acre, and many more, has opened a new 'fern bar', Nightingale, at 239 Kearny St.
The new bar, in the space formerly occupied by Gitane, compliments the company's small empire on Kearny Street.
"We have many years of experience in this area of the FiDi," Future Bars owner Brian Sheehy told us. 
Rickhouse Bar, which just celebrated its 10 year anniversary in November, is located directly across Kearny from Nightingale, and Future Bars also owns nearby tiki joint Pagan Idol and Ginger*s gay bar at 86 Hardie Place. It also owns a number of other bars, from Zombie Village in the Tenderloin to Tupper & Reed in Berkeley. 
According to Sheehy, the FiDi bars, although steps away from each other, are completely different experiences. 
Nightingale "is the first new fern bar to be offered in a very long while," Sheehy told us. Fern bar is a term popularized in the 1970s and 1980s to describe lounges intended to appeal to single women, offering sugary, accessible drink options and a fern-dense ambiance dotted with faux Tiffany-style lamps and other domestic-themed decor.
Fully aligning with that theme, Nightingale offers a cozy entryway and a long stylish bar on the ground floor, with a 'perch' overlooking the space on the second floor. A second bar is available in the balcony area, and the whole venue offers low lighting, colorful glass fixtures, and live-plant accents.
At Nightingale, "you'll see modern versions of Tiffany style glass, surprising drink vessels, brass & glass features, unusual wallpaper, and many, many live ferns," Sheehy said. 
The main driver of the new bar's design is Future Bar's longtime collaborator, artist Ivan Lee Mora, who included custom Tiffany-style lamp shades and living-wall sconces throughout the space. 
The venue doesn't offer food, and its drink list, curated by Future Bars general manager Daniel Sheel, is intended to be unusual and surprising, but not too complicated or serious, according to Sheeny.  
The cocktail menu is largely focused on quality gins, vodkas, tequilas and rums — "the good white spirits," Sheehy said.  
The soft opening drinks menu includes the Pink Squirrel, featuring creme de noyeaux, creme de cacao, and heavy cream, and two draft cocktails – an Aperol spritz and the "100% That Bird," with vodka, agave, Lillet Blanc, citric acid, and seltzer.
The bar also offers "Disco Punch" for six, as well as by the glass. The martinis include blue-cheese filled olives that provide a decent snack option, according to Sheehy.
Nightingale is open Monday through Friday from 2 p.m. - 2 a.m. and Saturdays 6 p.m. - 2 a.m.