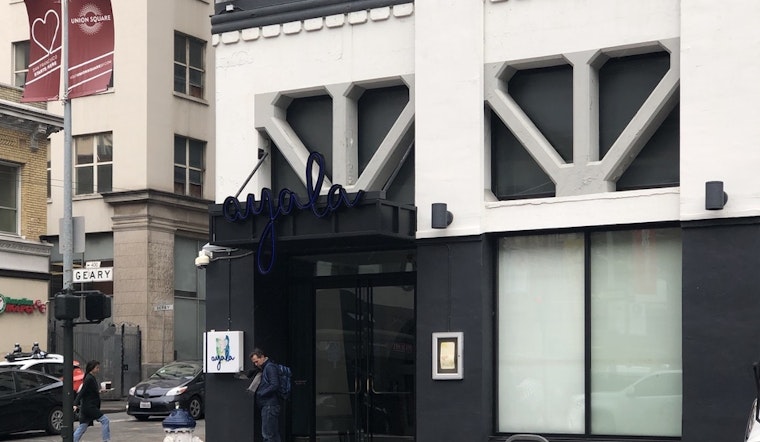 Published on December 18, 2019
Here's the latest in SF food news. In this edition, a seafood restaurant suddenly closes in Union Square's Hotel G as a French Laundry alum and Netflix cooking champion plans to move in; a downtown Mexican restaurant expands into the Westfield Mall; and one of SF's only Malaysian restaurants will open its first full-service location.
Closing/Opening
Union Square
Ayala (398 Geary St.)
After a little over a year in business, seafood-centric restaurant Ayala, housed in the Hotel G in Union Square, has closed. Ayala's chef, Melissa Perfit, who's a "Top Chef" and Bar Crudo alum, did not respond to a request for comment about the closure. 
But the space won't sit empty for long. According to the Chronicle, Timothy Hollingsworth, the winner of Netflix's culinary competition "The Final Table," will be moving in to open a restaurant called All These Years.
The restaurant will be the first in San Francisco for the award-winning chef, who won a James Beard Award for his work as the chef de cuisine at Yountville's famed French Laundry. He later competed in the international Bocuse d'Or culinary competition before moving to Los Angeles, where he opened three restaurants: fine dining spot Otium; arcade bar/restaurant Free Play; and fried chicken stand C.J. Boyd's.
It's unclear what will be on the menu at All These Years, which is billed as a "contemporary American" restaurant. Otium, which shares the same designation, offers dishes like chestnut agnolotti with fontina; tom kha octopus with caramelized onions; and naan with burgundy truffle butter.
An opening date hasn't been set yet; we'll keep you posted. 
Openings
Westfield Mall
Cocosueño (869 Market St., level 4/N1)
Tipster Myron L. alerted us that Cocosueño has opened in the Westfield Mall. It's located on the mall's upper level (865 Market St., level 4, N1), near M.Y. China and the recently shuttered Tap 415.
Cocosueño is owned by Erin Brooks and Patrick Sopher, who are also behind Tropisueño, located just down the street at 75 Yerba Buena Lane.
Like its sister restuarant, it specializes in Mexican fare. Diners can enjoy "apertivos frios" such as guacamole and ceviches, and entrees such as chile verde and chicken with mole poblano. Tacos, enchiladas and tamales are also on the menu, while drink options include a selection of tequila-centric cocktails.
Hours for Cocosueño are Monday-Saturday, 10 a.m. - 8:30 p.m., and Sundays from 11 a.m.- 7 p.m.
Tenderloin
Azalina's (499 Ellis St.)
After several years operating a kiosk in the Twitter building's The Market, Malaysian eatery Azalina's will soon expand to the Tenderloin.
According to the Chronicle, the restaurant is the first tenant to sign on to the Aviary, a new building whose owner is offering below-market-rate rents to attract new food businesses. Azalina's will take 2,100 square feet of the 13,800-square-foot development, with counter service, communal tables inside and sidewalk seating for 20. 
Azalina Eusope, who's also behind Noe Valley's Mahila, told the Chronicle that she hopes to move into the space in February 2020. She'll serve a few favorite dishes from the Market location, like mamak fried chicken with coconut rice and laksa (noodle soup), but the rest of the menu will be entirely new.
The Twitter building location will remain open, and Eusope is also at work on another location of Azalina's inside Calabash, an Afro-Caribbean and Malaysian food hall that's planning to open in uptown Oakland next year.
---
Thanks to tipster Myron L. If you've seen something new (or closing) in the neighborhood, text your tips and photos to (415) 200-3233, or email [email protected]. If we use your info in a story, we'll give you credit.