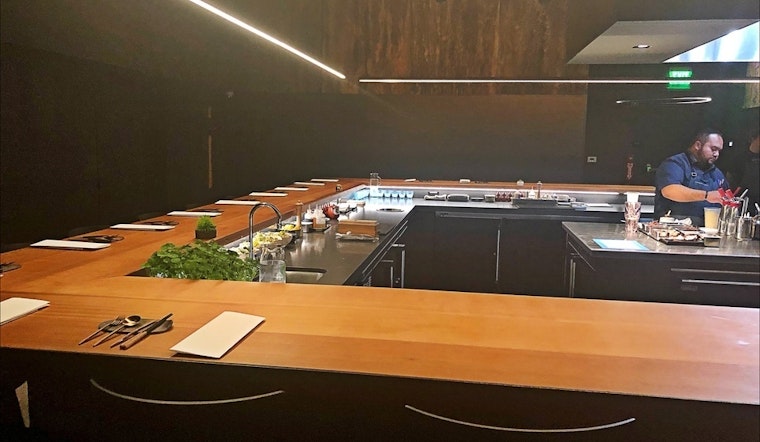 Published on January 02, 2020
On New Year's eve, a small kitchen fire broke out at Ittoryu Gozu, the acclaimed new Wagyu-centric restaurant at 201 Spear St. No one was injured, but guests were forced to evacuate the building the night of the incident.
The business has remained closed since, and it is unclear when it will reopen.
Updated, 8 a.m. on January 3rd:
Ittoryu Gozu's Executive Chef/Owner Marc Zimmerman and Co-founder Ben Jorgensen reached out to Hoodline this morning with the following statement, since they have reassessed the damage:
"On New Year's Eve (December 31, 2019), there was a small fire at Ittoryu Gozu. The fire department came instantly and no one was injured. The majority of the space is in good condition, however we will need some time to rebuild our hearth - the main feature and element of our robatayaki-inspired restaurant.
The fire was not due to any wrongdoing by the Gozu team, but was due to a structural issue. The restaurant employees, the building's staff, and city officials have stepped up to handle this unfortunate situation. As we learn more about the damages, we will share with our community, but do not foresee being closed beyond two months. 
During this time, our incredible team that we have built over the last couple of months, will come together and positively impact the community by further refining and evolving our vision to be stronger than before. Please stay tuned!"
According to SFFD's Twitter feed, firefighters were on the scene around 7:30 p.m. on December 31st to extinguish a 1st alarm fire, which prompted an evacuation of the restaurant and the 18 floor office tower above it. No injuries were reported. Via email, a representative for the SFFD confirmed that no one was harmed. 
1st ALARM FIRE 201 SPEAR GOZU RESTRUANT EVACUATED NO INJURIES AVOID AREA pic.twitter.com/gWfmI8qvx9

— SAN FRANCISCO FIRE DEPARTMENT MEDIA (@SFFDPIO) January 1, 2020
Two days ago on Instagram, Gozu apologized to its guests for the inconvenience. It said that everyone was safe, damage was minimal, and that they will be back in action shortly, but did not specify when exactly it will re-open its doors.
The fire happened in the midst of the restaurant's New Year's event, where customers had reserved seatings for 10 courses consisting of Japanese and local seafood and wild foods (the cost was $185 for the first seating; $210 for the second seating).
Gozu's grand opening in November was much anticipated in the San Francisco food scene. Its concept is a kappo-style tasting menu, where customers can enjoy Wagyu beef through a Japanese style of open-fire cooking. The restaurant has quickly made local best-of lists.
The main dining area, where the fire occurred, offers seating for up to 25 people to sit in a u-shape around an open-fire robata grill.
We will provide updates on the restaurant's return once its owners provide more info.