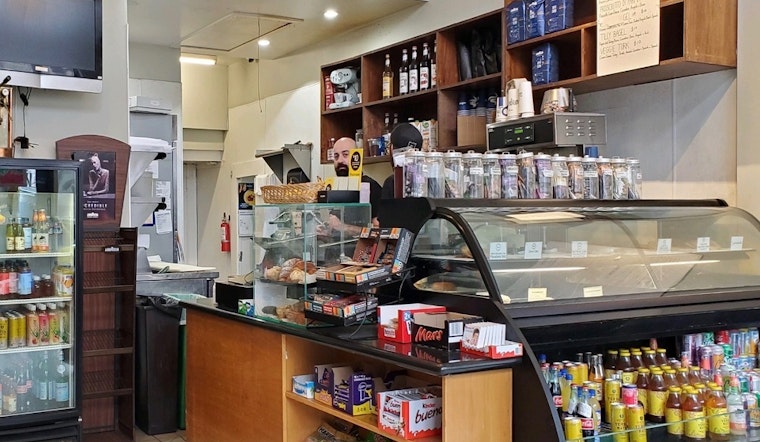 Published on January 28, 2020
Last week, tipster Denny G. alerted us to a closure notice in the window of Haight Street cafe Panini, which had operated since 2008. 
The letter to customers, penned by owner Michael Nader, describes the obstacles facing the business as "overwhelming," detailing numerous factors that have contributed to the rapid decline of retailers and restaurants on Haight Street in the past few years.
"We surrendered to our survival of the fittest environment," Nader wrote. "And here we are, closed."
To get a sense of the challenges Haight Street's small businesses face, we spoke to Nader, whose family has been running businesses on Haight for 40 years.
He also owns Pork Store Cafe (1451 Haight St.) and Stanza Coffee Bar (1673 Haight St.), as well as Divisadero's Vinyl Coffee and Wine Bar (1690 Grove St.) 
Nader said Panini's troubles largely centered on his relationship with his landlord, which was once positive but has now soured. Panini's rent has soared to $4,500 a month for its 500 square feet, he said, and he's no longer allowed to use an on-site storage room he'd been relying on since day one.
A mandatory seismic retrofit is on the horizon, which would mean a temporary closure. His landlord is eager to use it as an opportunity to revamp and sell the building, he said. 
But even outside of Panini's landlord woes, the business wasn't making sense. Nader says increased labor costs mean he'd have to charge $15 for a panini to stay afloat. 
The ever-increasing number of empty storefronts have become a magnet for homeless campers, who drive away customers. 
Nader's harshest criticism was for the Haight Street infrastructure project, which he said has "essentially shut down [Haight Street] for the past four years."
Blocked streets and sidewalks and open trenches have deterred customers, leading other small businesses like Blue Front Cafe (which Nader's family once owned) to cut back their hours. Nader believes city officials haven't done enough to address the issue.
Nader recalled better times for the sandwich shop, which he described as a neighborhood spot where everyone knew each other and where employees worked for several years, because they were happy there.
But while he's disappointed to close Panini, he's had so much pressure coming from so many directions that he is almost relieved to be free of it.
"We did it for 12 years and it was a great run, but the lifeblood is being taken out of everybody," he said. "The system is malfunctioning."
---
Thanks to tipster Denny G. for alerting us to this story. See something interesting while you're out and about? Text Hoodline and we'll try to find out what's going on: (415) 200-3233.