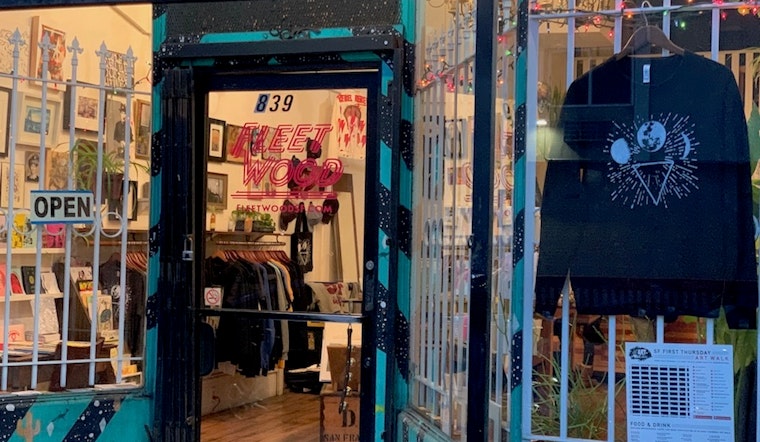 Published on February 05, 2020
Over her five years in the Tenderloin, Fleet Wood owner Nicole Schwieterman says "the retail game has changed — big time."
Since she first opened her print shop and boutique in 2015, "it's [been] harder than ever to get foot traffic in the store, because people seem to want convenience over experience."
That's driven Fleet Wood to become a key player in the Tenderloin/Lower Polk First Thursday Art Walk, which draws locals into Fleet Wood and many other neighborhood businesses each month.
The self-guided walk gives the community to learn more about the businesses, as well as a chance for the businesses to get to know each other, Schwieterman says. 
"We value community and getting to know the people around us. I'll die before Amazon takes us out."
Back in 2015, Schweiterman opened Fleet Wood after her then-workspace, 1564 MRKT, was forced to close up shop to make way for a 12-story condo building (which is still incomplete).
The retail storefront offers both an art gallery and locally crafted items such as jewelry, ceramics, and home goods, with an emphasis on "unpretentious designs."
For its fifth-anniversary art show on First Thursday, Fleet Wood will host "Unraveled," which will include works from 12 local womxn textile artists, in mediums like yarn, embroidery thread, fabric, and denim. 
"As a woman-owned business, I wanted to feature an all-womxn group show," Schwieterman told us. 
"I wanted the focus to be on textiles because our focus as a business is textiles and apparel, and I wanted to show the many layers of processes within textile design," she said, adding that she could probably make some "joke here about weaving together the last five years of our experience as a business."
In addition to the art show, Fleet Wood will be honoring its anniversary by giving away some new custom-printed items and raffling off a $100 gift card.
DJ Bonnie Danger will provide music, along with drinks from Pine Street Brewery and Topo Chico Agua Mineral.
As with all the First Thursday Art Walks, the neighborhood will be filled with other events and art show openings: 
Coffee 'n' Cream Press will host a Valentine's Day card pop-up shop at Billie Marie Goods, alongside custom-made leather bags, wallets, and other wares.
New photos from George and Lennie

owner

Brett Walker

will be displayed at the coffee shop on Golden Gate and Hyde.

Across the street at the

Get High on Mountains

studios, more new art will be on offer. 

A collection of photos taken by and of homeless residents of San Francisco, "Disposables

," will be shown at Emperor Norton's Boozeland. 

And if you're thirsty after pursuing all of the neighborhood's art show openings, this month's official Art Walk afterparty will be hosted by Edinburgh Castle Pub from 9 p.m. until close. Rusty's Southern will also be tapping a keg of Big Chicken triple IPA from Petaluma's Henhouse Brewing.