Castro businesses are slowly beginning to reopen this week, as residents head out to pick up curbside items from their favorite restaurants and retailers.
But many of the neighborhood's businesses remain boarded up — and to help brighten the street, local artists are decorating them with murals. 
A community effort has led to around 20 murals that are either in place or on the way at businesses in the neighborhood's central corridors: Castro, Market, and 18th streets. 
The project is being led by the Castro Merchants, the Castro LGBTQ Cultural District (CQCD) and Paint the Void, an organization that has sprung up to create murals on closed businesses around the Bay Area. 
Mahsa Hakimi, interim co-chair of the CQCD, says she was inspired to bring murals to the Castro after seeing them on boarded-up storefronts in Hayes Valley.
Castro residents Eddie Ferriter and Danny Yadegar have helped her secure buy-in from local merchants and find artists to paint the murals, while a GoFundMe page has been set up to help raise $5,000 for the project. [Full disclosure: Steven Bracco, Hoodline's Castro reporter, is a board member of the CQCD.]
"At first, it was a little challenging connecting with business owners and artists," said Hakimi, a lawyer and Castro resident. "But when we started making this more of a community project, the community really stepped up."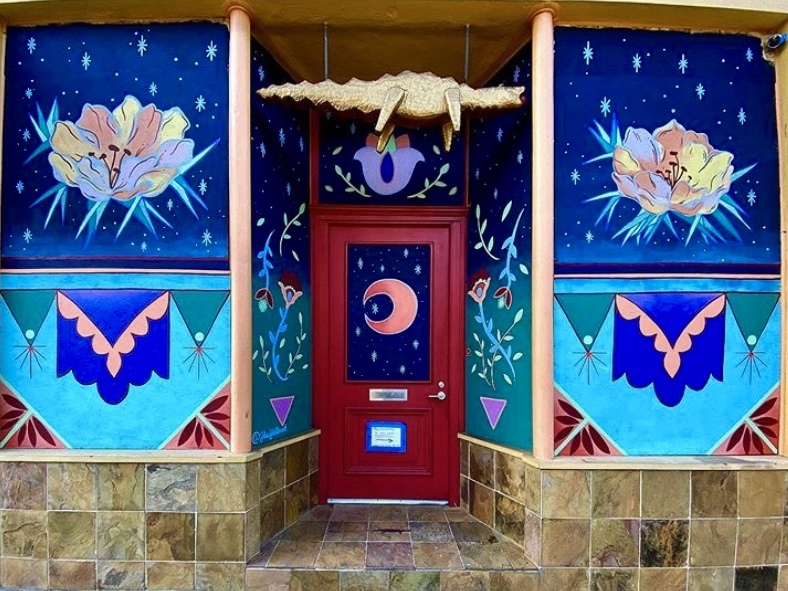 While there was interest in painting murals on the Castro's vacant storefronts prior to the pandemic, Hakimi says, the sudden influx of temporarily closed bars and stores in the heart of the neighborhood sped things up.
"It's basically an empty canvas," said Hakimi. "And we've found out that these murals have helped the businesses; people are coming to see the murals, and the local merchants that are open are getting the benefit of that."
To fill all those empty canvases, the CQCD has turned to Paint the Void, a public arts organization formed by Building 180 and Art for Civil Discourse in the wake of the pandemic. 
Thanks to donations from neighbors on Facebook and Flipcause, Paint the Void has been able to create murals at 40 businesses across San Francisco, including three in the Castro: Bauerware (3886 17th St.), Cook Shoppe/Chow (215 Church St.) and Frances (3870 17th St.). A fourth mural, by artist Elliott C. Nathan, is planned for gay bar Beaux (2344 Market St.).
"We are grateful to all the businesses and artists who we are collaborating with who also have seen this idea and project as essential and who are working hard to beautify the streets," said Shannon Marie Riley, Paint the Void's co-founder.
On top of the four aforementioned locations, murals are underway or in the works at 440 (440 Castro), Badlands (4121 18th), Blumen (548 Castro), Coldwell Banker (2355 Market), Hamburger Mary's (531 Castro), Harvest Ranch Market (2285 Market), Knobs (432 Castro), Last Call (3988 18th), Levi's Store (525 Castro), Moby Dick (4049 18th), Nizario's Pizza (4077 18th), Toad Hall (4146 18th), Unionmade Women (4035 18th) and Walgreens (2145 Market).
Cliff's Variety, the Castro's hardware/general store, has donated art supplies to the effort.
"We want to insure there is a neighborhood intact when we get through this," said general manager Terry Asten Bennett. "And when asked to help with supplies to make what would otherwise look like a ghost town beautiful, we are happy to help."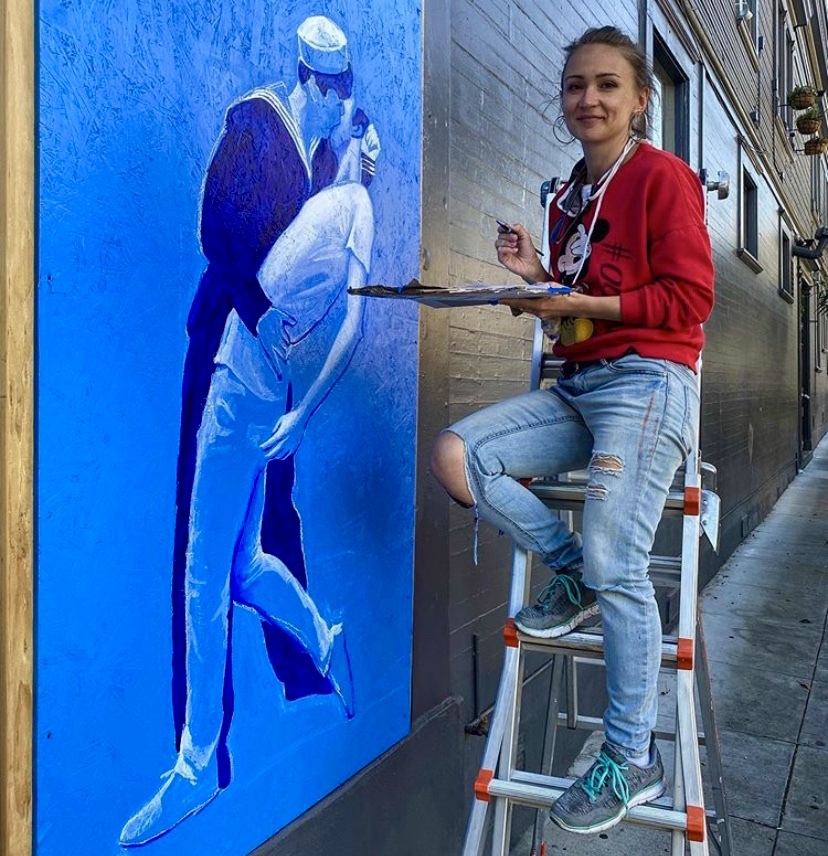 Many of the murals have personal themes for the artists, or relate to the LGBTQ+ community.
"Being a Latino queer artist, I wanted to give a message to both communities," said Simón Malvaez, who painted murals at Q Bar and 215 Church St. The Q Bar mural, in pink, reads "We will rise and dance together again," a reference to the fact that Q Bar was forced to close after a 4-alarm fire back in November.
The mural at 215 Church honors the Latino community with the words "Aquí estamos, existimos, te amamos" — Spanish for "We are here, we exist, we love you."
"Some parts of the [Latino] community don't have the privilege to see their families in other countries," said Malvaez. "I wanted to give them a message of hope and warmth."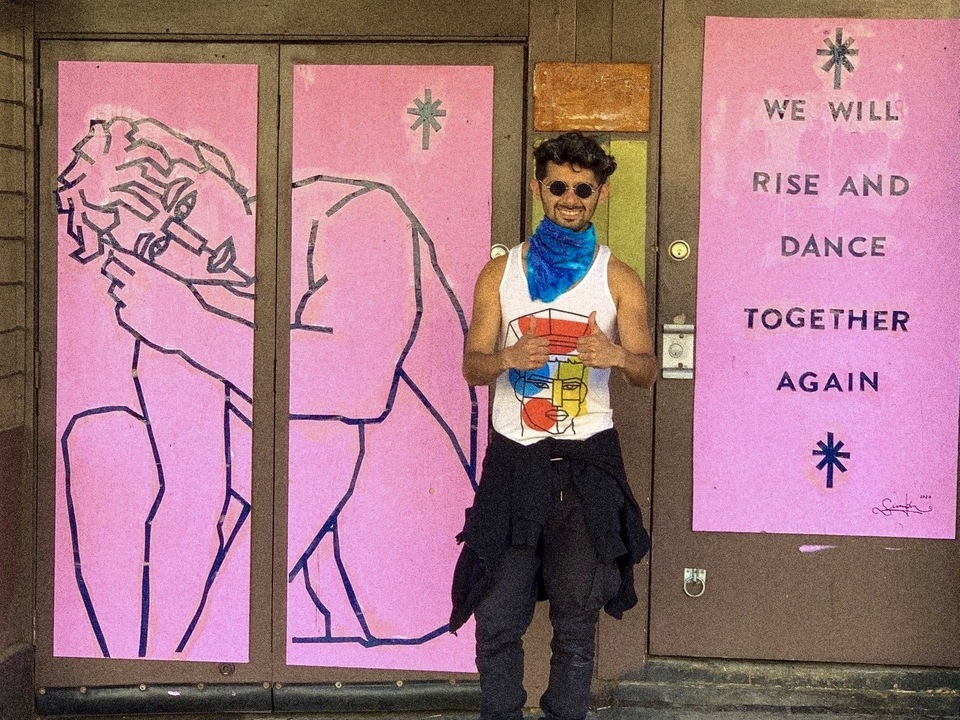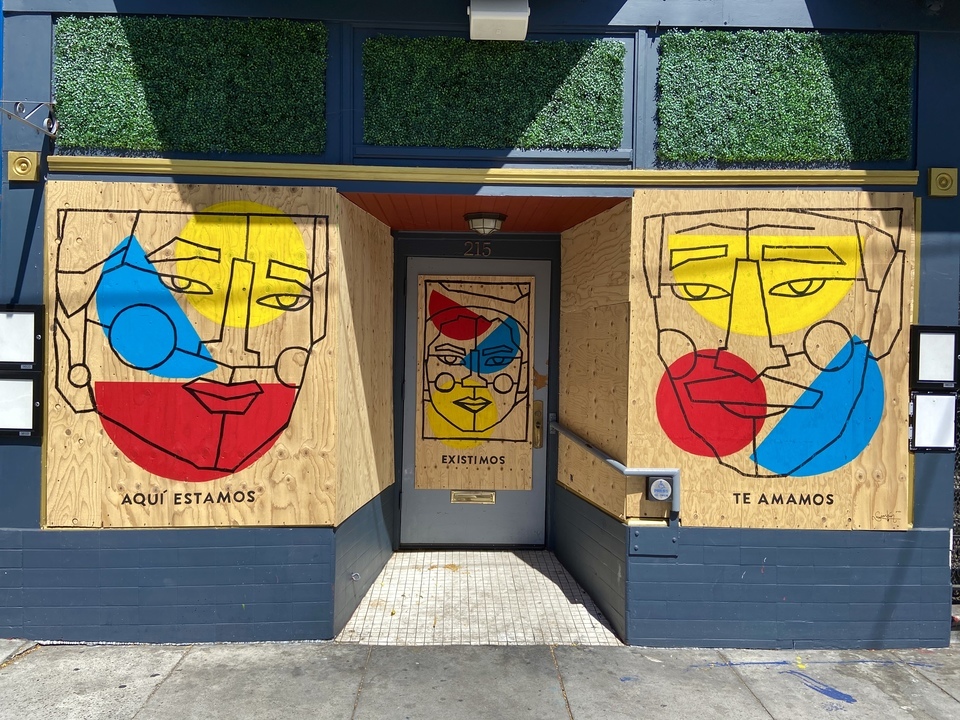 Daniel Bergerac, co-owner of Mudpuppy's, recently commissioned artist Josh Katz to paint a Harvey Milk mural on his shop (pictured at top).
"While the boarding up was for security, the murals are a welcome relief and a wonderful way to celebrate Harvey's 90th birthday," said Bergerac.
A tribute to Milk also appears on the barriers covering the LGBT History Museum (4127 18th St.), which had to be boarded up last month after its exterior was scrawled with hateful graffiti. 
"Then, of course, the boards were so depressing," said Terry Beswick, executive director of the GLBT Historical Society. "I was inspired by the murals on the Castro Theatre box office, and reached out to my friend Juanita MORE! for referrals to muralists."
Juanita MORE! was able to connect Beswick with artist Blake Cedric; Beswick commissioned him to do a mural that celebrated Pride's 50th anniversary and the diversity of the LGBTQ+ community.
"It's wonderful seeing it evolve each day as I walk my dog, and I can't wait to see the finished product," Beswick says. Once the pandemic is over, he hopes to preserve the art for the museum's archives.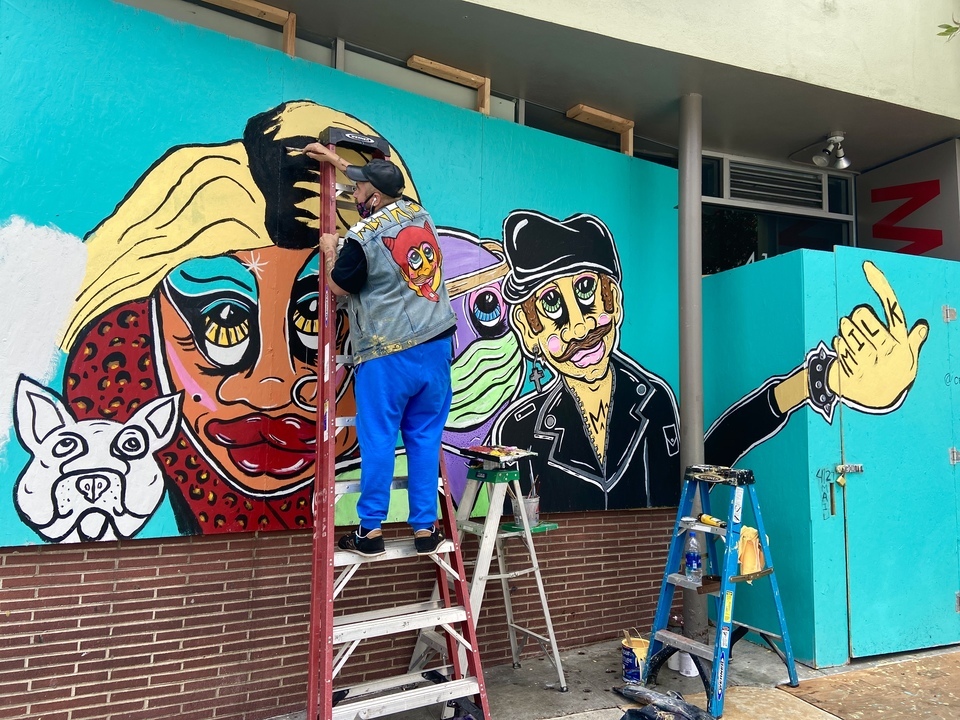 Not all the murals in the Castro are part of the latest effort; some have already been in place for a while. 
In addition to the Castro Theatre's murals and the COVID-19-themed honey bears by street artist Fnnch, street art has popped up at Ixia (2331 Market), Midnight Sun (4067 18th), The Mix (4086 18th), The Edge (4149 18th), Badlands, Coldwell Banker and Toad Hall.
Not all of the art has survived, including most of Fnnch's honey bears. However, "Wine Bear" remains safe behind plexiglass at The Mix.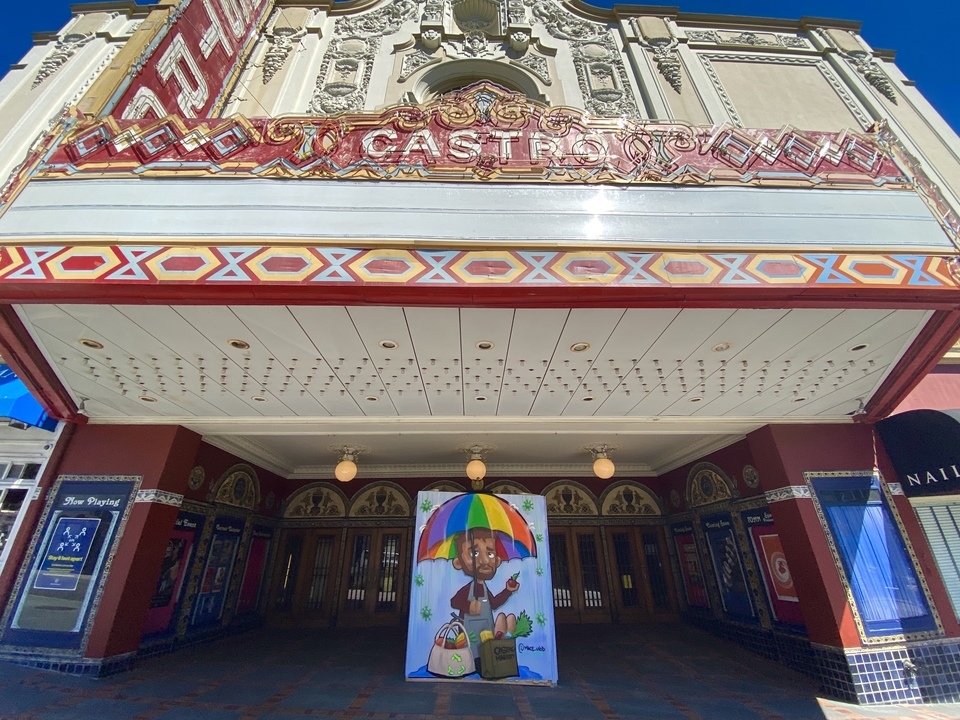 Eventually, businesses will reopen and the murals will be taken down. Hakimi says the CQCD is still considering what to do with the art once it's no longer needed.
One of the ideas the group is currently considering is a community auction, similar to AHF's "Art for AIDS." The proceeds from each piece would either benefit the artist or a local charity.
"There has been an amazing outpouring of support from the artists, residents and merchants," said Ferriter. "But we need to make sure the artists are compensated for their generosity."
---
Artists interested in getting involved with Paint the Void can fill out this application. Business who would like to have their storefronts painted can fill out this form.