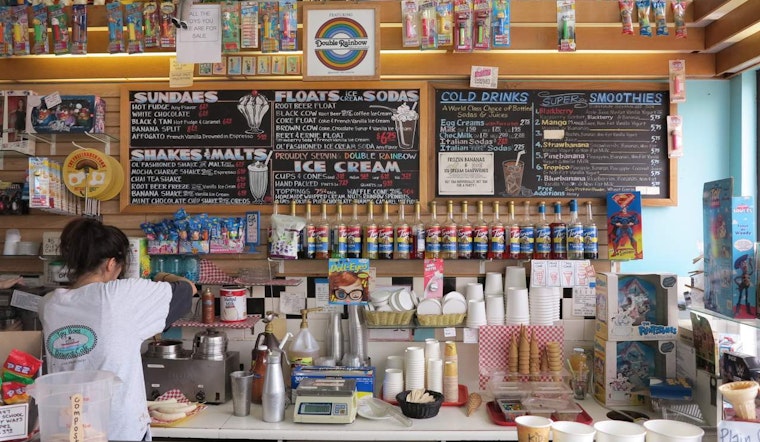 Published on June 04, 2020
Toy Boat Dessert Cafe, the beloved Inner Richmond ice cream shop and soda fountain, is up for sale. 
38 years ago, Jesse Fink founded the shop with his then-girlfriend (now-wife) Roberta. Now, the couple are ready to retire and pass on the business, which has been closed since the shelter-in-place order came down in March. 
The pandemic was a "knock on the door" for the couple, who've "spent more time together in the last two and a half months than we have in years," Fink said. 
"It was just time, after 38 years, to make a decision," said Fink, noting that he turned 67 last month. "It wasn't an easy decision, because obviously, I love Toy Boat. Sometimes you have to make tough decisions, and this was one of those difficult decisions."
Toy Boat has been a Richmond District institution since 1982, and was one of San Francisco's first nine legacy businesses, earning its status in 2016. 
Fink, who moved to San Francisco from Brooklyn in 1979, "wanted to open up a place where everyone would feel welcome," he told Hoodline in a 2016 interview. "A little four-year-old, or a 70-year-old who just came from Cambodia and has never been to a cafe before. ... I didn't want it to be a 'cool cafe.'" 
Now that he's moving on, Fink reiterated his good fortune in having a long-term landlord who has been "incredibly supportive," and a community of "so many wonderful people."
He and Roberta, who have two children, plan to continue living in the city and being part of life in the Inner Richmond, even after their cafe days cease. 
"We enjoy spending time together," he said. 
For those interested in purchasing the business, it's being sold with its fixtures intact — including its landmark collection of vintage toys and Butterscotch, the mechanical horse.