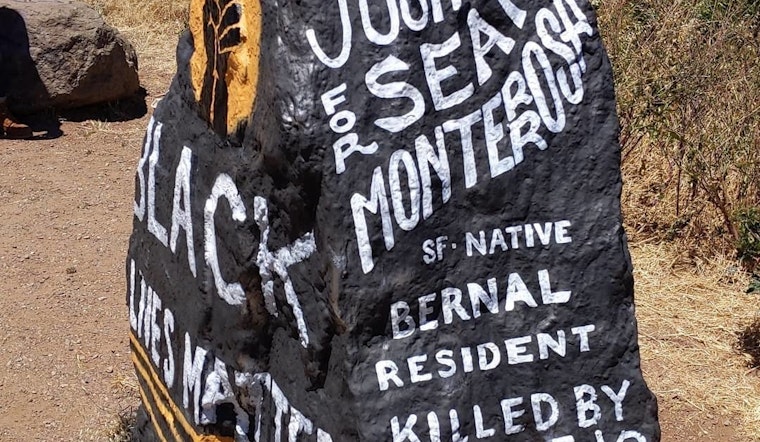 Published on June 09, 2020
On Friday, Hoodline reported that the latest incarnation of the famous Bernal Hill rock — a "Black Lives Matter" message painted by neighborhood artist Kseniya Makarova — was almost immediately covered up.
Over the past six days, the art has been painted over (and subsequently re-added) five times. But while the first four erasures were allegedly done by a nearby resident, the latest was done by the city itself.
On Tuesday morning, an SF Public Works employee was seen removing the artwork from the rock — despite its longstanding status in the neighborhood as a forum for public expression.
Bernal Heights resident Kevin DeFranco took a video of his interaction with the Public Works employee, which he shared with Hoodline. In the video, the employee says that the department had received complaints about the "Black Lives Matter" message.
"When people complain, we gotta do it," the employee said. DeFranco responded that it wasn't right; the employee agreed, but continued painting over the rock with grey paint.
Public Works did not respond to a request for comment. But District 9 Supervisor Hillary Ronen, who tweeted that she was "incensed" about the incident, said she received an apology from SFPW director Alaric Degrafinried.
He declared that this action in no way reflects the position of DPW on the BLM movement. He will issue an apology. I requested that DPW donate paint and supplies to the artists and he has agreed. Thank goodness. Appreciate our neighborhood solidarity! #BlackLivesMatter

— Hillary Ronen (@HillaryRonen) June 9, 2020
Makarova also spoke out against the department's actions on Instagram, noting that Public Works "has never touched this rock" before, and that it was a "bad move" on the city's part to respond to complaints with a removal of the message.
"It's one thing for one individual [...] coming here in the dead of night to wipe out a message of support for Black Lives Matter," she wrote. "[It's wholly different] for the city to spend our taxpayer dollars to side with a couple of wet blankets, who suffer so badly from their internalized racism that they can't handle seeing a message of support for black lives." 
Today's incident comes after a nearly week-long saga of continuous painting and re-painting of the rock, which has long been a forum for public expression.
According to the Chronicle, a woman was seen spray-painting over the artists' work early on Monday morning. When a neighbor inquired about her actions, the woman said she did not want to see "political" messages on the rock.
"I don't want the politics," she said. "I just want to go for a walk and have a nice day."
The rock has previously borne other political messages, including paintings of support for both Hillary Clinton and Bernie Sanders, and a "Resist" message shortly after President Trump's 2017 inauguration.
On social media, a majority of neighbors have expressed their support for the Black Lives Matter message. But it has sparked some heated conversations, and in some cases, acts of intimidation towards the artists.
Micah Rivera, who has joined Makarova in re-painting the rock, told Hoodline that he received an email from a Bernal Heights resident over the weekend, informing him that the paintings were a violation of the San Francisco Public Works code and against California law.
In the email, the resident included a photo he'd taken of Rivera painting the rock on Saturday, which Rivera called a "thinly veiled threat" to report him to the city.
However, Makarova, Rivera and their fellow artists have also received strong support from several neighbors, who've added to the public display with chalk art and smaller painted rocks. Some have even filed 311 requests with Public Works to leave the rock alone. 
"This rock has been a public art space for many years," one neighbor wrote on the 311 app. "Our country is in the midst of a crisis over equality, and the rock's recent artwork reflected that issue and was a positive reminder that we all stand against racism."
While many neighbors have offered to financially support their work, the artists are instead encouraging supporters to donate to City of Dreams (a local mentorship program for low-income youth) and Campaign Zero (a research campaign dedicated to police reform).
On Sunday, they taped QR codes on the rock that funnel to the donation pages for each organization.
Update, 3 p.m.: Degrafinried has released an official apology regarding the removal of the Black Lives Matter message on the rock.
"A San Francisco Public Works employee on our graffiti abatement crew, responding to a 311 service request, painted out a Black Lives Matter mural on a boulder in Bernal Heights this morning," the statement reads. "This was an extremely unfortunate mistake that never should have happened."
Degrafinried said he has personally reached out to Makarova to assure her that Public Works will not be removing the message again, and has offered her paint for any future art.
"San Francisco Public Works stands in solidarity with the Black Lives Matter movement," he said. "We join people across our country and world in grief and anger at our local and national systems that perpetrate violence against Black people and people of color."
Makarova and Rivera returned to the boulder once more on Tuesday afternoon. Their sixth painting honors George Floyd and Sean Monterrosa, who was shot and killed by police in Vallejo on June 2.