Page Street has been more popular than ever since it became part of the city's car-free Slow Streets effort.
But with the influx of cyclists and pedestrians, Page's streetscape is also getting some added scrutiny from curious locals.
We've been contacted by several tipsters curious about a slick of "green slime" that's been on the ground at Page and Shrader streets since at least mid-May.
Graffiti artists have been curious, too: one wrote "WTF is this?" on it. Another appears to have investigated it firsthand, then taken the time to write "I am not wet" on it. 
So what is the slime? SF Public Works spokesperson Beth Rubenstein tells Hoodline that it "appears to be some sort of epoxy that's hardened" — but as far as she knows, the agency isn't responsible for it. She's not sure where or who it came from.
It's possible the epoxy might be a guerrilla attempt to fill a pothole in the street, as the surrounding surface is uneven. When we visited the site, we found that parts of the substance appear to have been dragged through the intersection and hardened, suggesting the street wasn't blocked off for the job. 
The authorities don't seem to be overly concerned. Someone reported the slime to 311 on May 22; the report was closed with the explanation that it "is part of street repair and is not toxic nor wet."
"This call comes in 3-4 times a day," the report adds.
Another 311 report, on May 25, was closed because "we have multiple calls about this."
At night, the plot – or in this case, the slime – thickens further. An Instagram post shows that the resin glows in the dark, allowing passerby to "light-paint" the street with ultraviolet flashlights.
It's possible that the resin was mixed with glow-in-the-dark powder, which is commonly available in several colors for art projects (think coasters, jewelry and furniture).
In any case, it appears that the substance has not significantly changed its form over the last two months. That hasn't stopped some cyclists from worrying, though.
On our visit to the intersection, we heard one pedestrian exclaim "ewww!" upon passing the slime, while another bicyclist swerved to avoid it.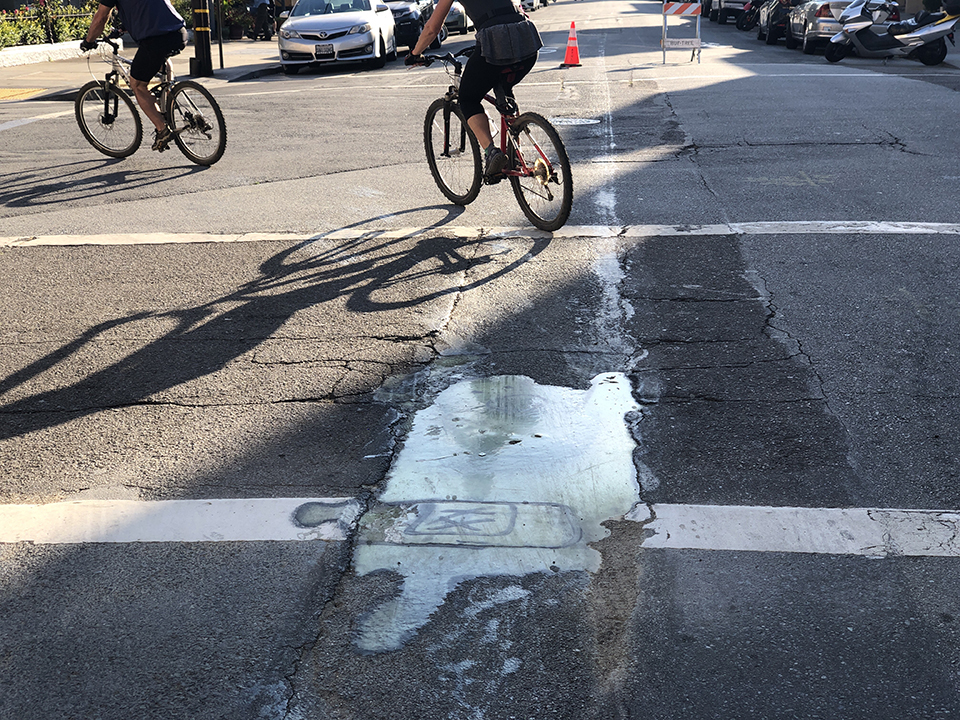 For now, the slime has become something of a neighborhood art project. Most recently, someone "cartoonized" it by making it look like a ghost. A "bottle" of liquor — or perhaps the poison that caused the ghost's demise — has been added, too. 
The slime is art now

— Kurt Nelson (@kurtisnelson) June 26, 2020
Rubenstein says Public Works doesn't currently have any plans to remove the slime. But if that changes, at least one local knows who they're gonna call: 
We need to call the ghost busters

— AzG (@aztechgod) May 25, 2020
---
See something interesting while you're out and about? Text Hoodline and we'll try to find out what's going on: (415) 200-3233.