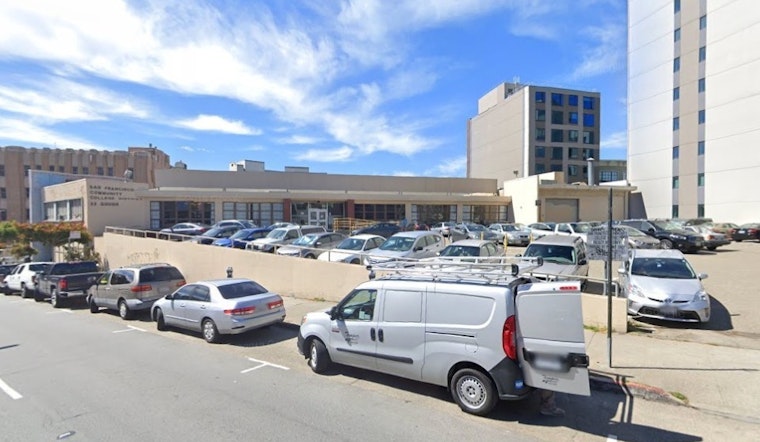 Published on August 28, 2020
This week, the city's COVID Command Center and Department of Homelessness and Supportive Housing announced a change of plans for a proposed homeless navigation center at 33 Gough St. 
The City College-owned property is eventually set to become a 100% affordable housing development. But with construction still years away, the Board of Supervisors approved it as a navigation center in March, with space for 200 people. 
Now, the city departments responsible for the site have made the unilateral decision to nix the navigation center, and are instead "exploring utilizing 33 Gough as a potential Safe Sleep Site," a spokesperson said.
The decision, announced to area residents in a letter earlier this week, was made because the Mayor's new budget has plans for two other navigation centers — one in the Bayview and one for transitional-age youth (18-24 years old) at 888 Post St. in the Tenderloin.
With the planned navigation center's lease only set to run for three years, building it now is less practical than immediately using the site for a tent village — though that's still only a "potential" plan, the city said.
Tom Temprano, legislative aide to District 8 Supervisor Rafael Mandelman, said that his office wasn't involved in the decision. In fact, he confessed, they've been kept almost entirely in the dark.
"We don't have a lot of specifics" about the site's capacity, a timeline for implementation or who would administer the site, he said.
Nonetheless, Mandelman's office agrees that a secured tent village with sanitation and services is the right step to address the safety and public health challenges in the area, where unhoused people sleep in semi-permanent tents and camps on public thoroughfares.
"We believe that safe sleeping villages have been a proven model for helping to get folks that are in unsafe encampments on the streets into a safer, healthier place," Temprano said. "We welcome that expansion [of the safe sleeping site program] wherever it can happen."
The Hayes Valley Neighborhood Association has also been advocating for a safe sleeping site in the area, with 33 Gough as its first choice.
Tent Free Zone, another Hayes Valley group pushing for solutions to homelessness, said it's refraining from taking a position on the site until there's more information available.
In general, "we do not believe tents are the answer," the group said via email. "We believe our city leaders need to focus on developing long-term strategies and solutions."
In the meantime, the city is moving ahead with a new safe sleeping site about a mile away, at 1515 South Van Ness Ave. Set to open imminently, it will have space for 40 to 50 people.