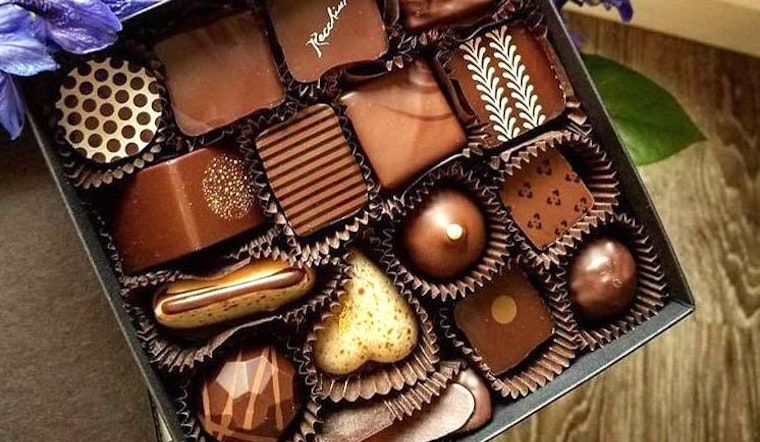 Published on August 12, 2020
Here's the latest in SF food news. In this edition, a chocolate shop departs Dogpatch, a popular Italian restaurant expands as a pop-up on Divisadero Street, and a sandwich shop debuts in Alamo Square.
Dogpatch
Closing
Recchiuti Confections (801 22nd St.)
Chocolatier Recchiuti Confections is permanently closing its Dogpatch retail shop and cafe on August 29. 
Owners Michael and Jacky Recchiuti have been producing their line of gourmet chocolates in Dogpatch since 1997. They opened a retail shop in the Ferry Building in 2006, with the Dogpatch location following in 2014.
The shop was originally a cafe known as Chocolate Lab (and later The Lab), offering savory food, desserts, hot chocolate and coffee drinks in addition to boxed chocolates. In 2016, the Recchiutis pivoted to a more retail-centric operation, but retained some of the food and drinks from the earlier incarnation.
It was a formula that worked until the pandemic hit, Jacky said. With foot traffic down in Dogpatch, the company's business has shifted nearly overnight from brick-and-mortar retail to online sales and corporate and wholesale accounts.
The Recchiutis will continue to manufacture their line in Dogpatch, but they've decided to consolidate retail operations to their Ferry Building shop, which gets more regular foot traffic and is more accessible to corporate customers.
"We love Dogpatch and will continue to manufacture and live in the neighborhood … to continue to support those business still fighting the battle to stay open here," Jacky said. 
"We have a great history and relationship with the Ferry Building management and they've been generous in working with all us merchants in weathering through these times."
Openings
Divisadero
Beretta Pop-Up (661 Divisadero St.)
Last month, we broke the news that Divisadero Street Spanish eatery Barvale was closing, and that a pop-up location of Mission-based Italian restaurant Beretta would take its place.
Both restaurants are owned by Back of the House, the culinary group that also operates Super Duper Burgers, A Mano and many other Bay Area restaurants.
A representative confirmed that Beretta's new location is now open, with outdoor seating for dinner, happy hour and weekend brunch. Delivery and takeout is also available — the restaurant is on Caviar and DoorDash, with an online ordering platform for takeout coming soon.
The new Beretta's menu is essentially identical to the original, with pizzas, pasta, salad and antipasti, like the popular walnut bread with burrata and mushroom-truffle honey. Barvale had a full liquor license, so Beretta's craft cocktail menu has made the jump as well. 
For happy hour (weekdays from 4-6 p.m.), select cocktails and wine are $6. Snacks include fried cauliflower ($6), meatballs in spicy marinara ($4), and a pizza margherita ($10). 
Hours for the pop-up are weekdays from 4-10 p.m. and weekends from noon-10 p.m. Online reservations will soon be available for happy hour and brunch, while dinner service is run through a Yelp waitlist.
Alamo Square
Lucinda's Deli & More (535 Scott St.)
Back in May, we reported that former Horsefeather chef Ryan Chinchilla was taking over the former Alamo Square Deli for a new sandwich shop, Lucinda's. 
His vision was to essentially keep it the same: a local corner store, serving gourmet takeout sandwiches and salads for neighbors and Alamo Square park-goers.
Lucinda's quietly opened a couple of months ago, with a menu of $12-13 sandwiches like the "hot ham and cheese" with aged pimento, garlic confit, mayo, grated horseradish, picked cucumber, tomato and arugula. A spicy tuna melt comes made with sriracha mayo, pickled jalapeño and onion, cheddar cheese, arugula and tomato. 
There are also some corner-store basics on offer, like chips, soda and ice cream.
While business was initially slow, Chinchilla said it has really taken off — especially on weekends, when he often sells out before closing time.
Given the ongoing health restrictions, he asks prospective customers to be patient and have time to spare. For those planning to purchase two or more sandwiches, ordering online in advance is a good option to speed the process. 
Hours are Tuesday-Sunday from 11 a.m. –  5 p.m. 
---
If you've seen something new (or closing) in the neighborhood, text your tips and photos to (415) 200-3233, or email [email protected]. If we use your info in a story, we'll give you credit.