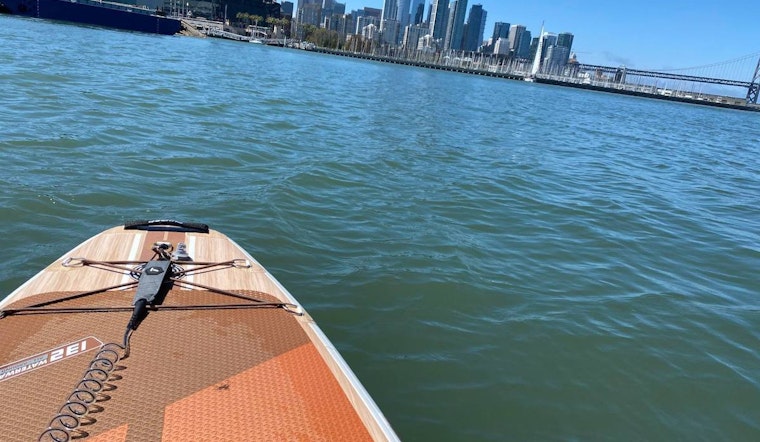 Published on September 21, 2020
With the closure of indoor recreation centers, people around the country have turned to water activities as a safe way to get some exercise and socialize during the pandemic.
Kayaks, stand-up paddle boards and other small recreational watercraft have flown off the shelves, with sales up 56% since last summer and many retailers completely sold out.
Now, a veteran stand-up paddle boarder has created a new group for these fledgling watersports enthusiasts: the Dogpatch Paddle Club, where members can share routes, equipment suggestions, and photos, as well as creative ideas for group outings. 
The group was formed by Adam Zolot, a Dogpatch resident and longtime SUP enthusiast.
For years, Zolot has been paddling in the calm waters just north of Pier 70, a relatively quiet spot for water activities compared with Mission Bay and Aquatic Park Cove. 
With the imminent debut of the neighborhood's long-awaited Crane Cove Park, which has extensive resources for paddlers, Zolot believes it's the perfect opportunity to share his attractive corner of the bay with likeminded San Franciscans.
"From my perspective, it's some of the best paddling in the Bay Area," he said, citing the flat water, sunny weather, and views of the Dogpatch's historic cranes and shipyard. "I thought, 'I bet other people would really enjoy this.'"
Zolot created the Dogpatch Paddle Club Facebook group at the beginning of September, describing it as "a group for water sports enthusiasts in San Francisco's sunniest neighborhood." After he shared the link on Nextdoor, membership grew to 50 people in just over 24 hours. 
As the club has become more publicized, several neighbors and friends-of-friends have bought boards of their own, inspired to try something new after months of staying indoors. Zolot says he's excited to welcome these newcomers, as well as more experienced paddlers.
"It's a great social distancing activity," Zolot said of stand-up paddle boarding. "You get out on your board, and you're never within 10 feet of anybody."
The online community has already gotten creative about how to forge new friendships while remaining socially distanced. Members have proposed everything from SUP water polo to a safely-distanced pub crawl along waterfront restaurants in the area. 
Members can also view a webcam Zolot set up on his balcony, offering a live look at water conditions at Crane Cove Park and on the wider bay.
The new park, set to open next Wednesday, September 30, is a seven-acre recreational space along the shoreline between 19th and Mariposa streets. Though some of its amenities, like the playground and boathouse, won't be finished in time for the opening, Zolot says just having a launch point will be a boon to the paddling community.
The debut of the park is "a whole 'nother ball game," he said. "You've got a beach to launch from and a boat slipway, so I suspect there's going to be a lot more attention as word catches on that this is an option in the area."
If you're looking to meet fellow paddle enthusiasts, join the Facebook group. Dogpatch Paddle Club's inaugural group paddle will take place next Wednesday, the same day as Crane Cove Park's debut.