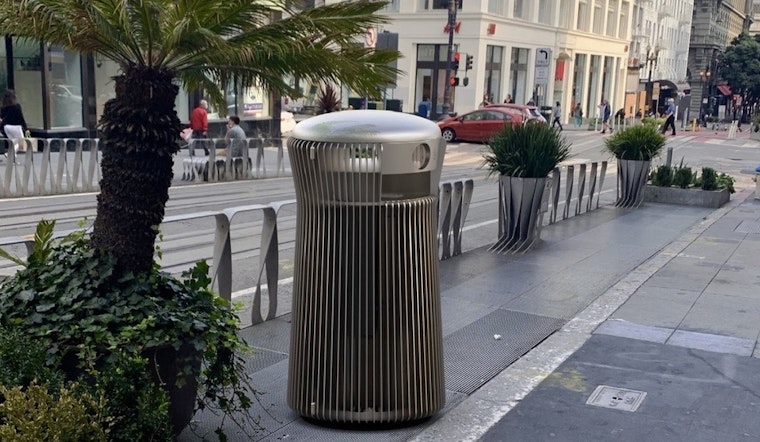 Published on September 14, 2020
On Friday, SF Public Works released three final design concepts for the city's new trash cans — and is asking the public to help it select the winner.
The new cans will eventually replace more than 3,000 of the current green trash cans around the city. As many locals know, the cans are often vandalized and broken into by scavengers, who then leave a mess in their wake.
Public Works first announced an effort to replace the cans in 2017, but failed to produce a workable design for several years.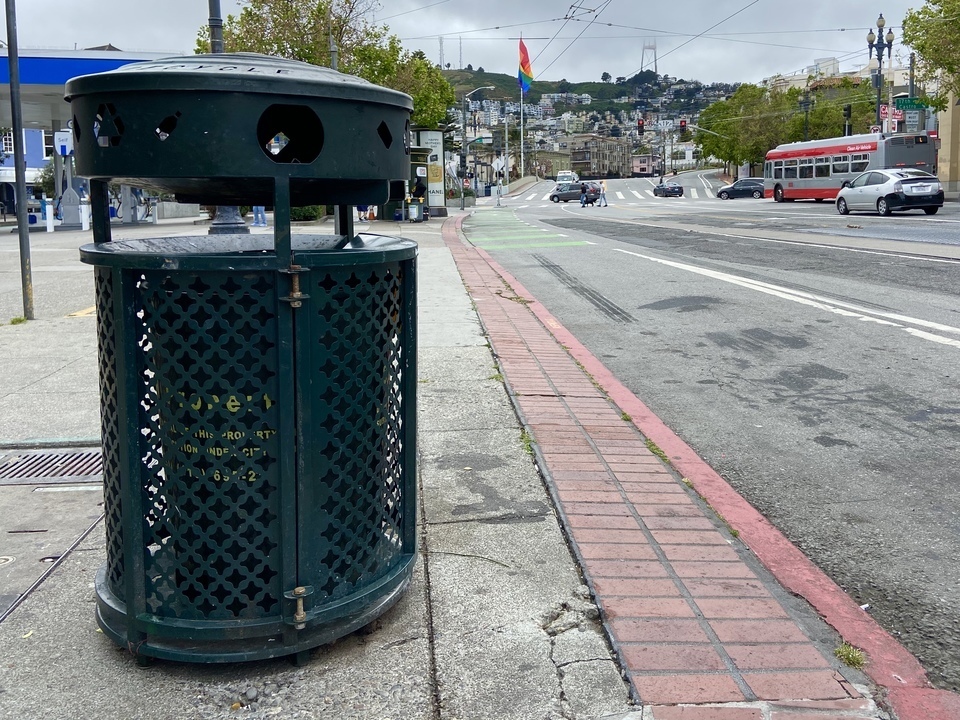 Industrial designers at the Institute for Creative Integration worked with SF Public Works to narrow down the three finalists, which have been dubbed "Salt & Pepper," "Slim Silhouette," and "Soft Square."
All three can designs are silver, in contrast with the city's current fleet of green metal and concrete cans. The design is intended to echo the city's forthcoming fleet of new JCDecaux public toilets, the new BART entrance canopies on Market Street and the Bi-Rite Café at Civic Center Plaza. 
"All three contending designs meet our requirements conceptually: They are durable, hard to tamper with, easy to service and aesthetically pleasing," acting Public Works director Alaric Degrafinried said in a statement.
Salt & Pepper (pictured below left) is somewhat similar to the current green cans' design, with space for recyclables up top and refuse down below. The city says its single, "snorkel-like" upper opening is designed to be tamper-proof, and that its ribbed design will deter graffiti.
The narrower Slim Silhouette (center) is designed to promote more space on the sidewalk. It also visibly separates trash and recyclables, and its small entrance chutes are designed to prevent rummaging. 
Finally, Soft Square (right) bears more of a resemblance to the privately funded Bigbelly cans that have proliferated around the city, with a mouth that can be opened via pulling a bar or by foot pedal. The interior has separate openings for trash and recyclables. 
All three can designs feature curved tops, to discourage people from leaving trash on them. Public Works has launched a survey to get the public's feedback on their favorite look.
All three of the new cans will also offer a similar feature to the Bigbelly cans: sensors that send alerts when they are nearing capacity, so they can be emptied before they overflow.
However, it's not clear if the sensors will actually be heeded. When the Castro/Upper Market Community Benefit District (Castro CBD) decided to remove their five Bigbelly trash cans earlier this year, executive director Andrea Aiello cited the sensors as ineffectual.
"The Bigbelly trash cans have been on the same emptying schedule as all the rest of the trash cans," Aiello said in May.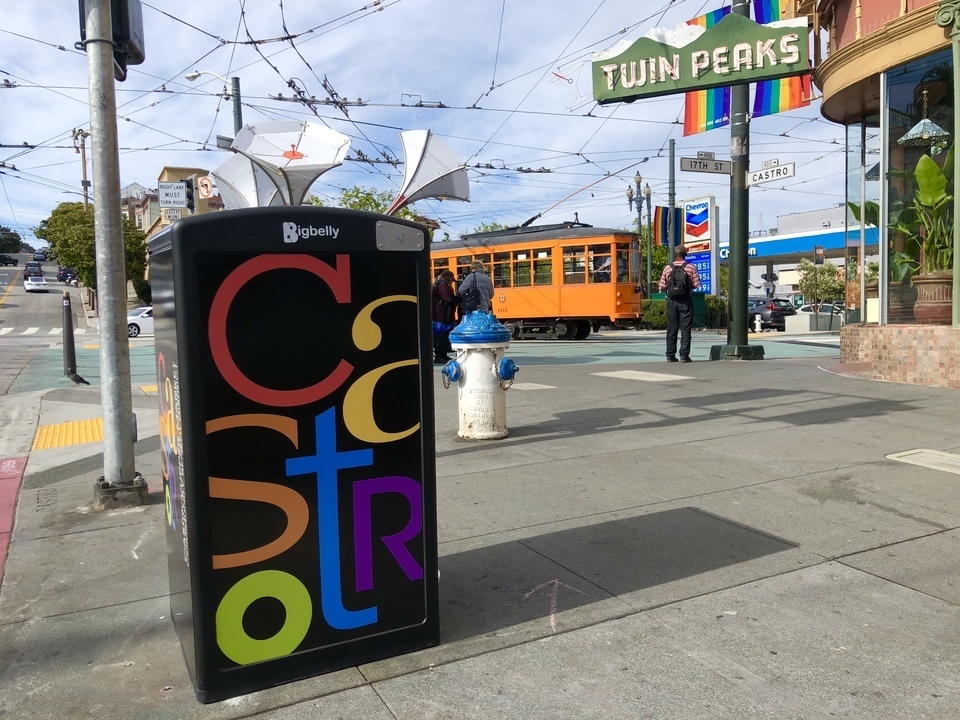 During the multi-year wait for a new can design, many of the city's community benefit districts (CBDs) turned to Bigbelly's rental cans, which they said are more capacious and less prone to tampering than the city cans. (The Tenderloin is the most recent CBD to have installed the Bigbelly cans, adding a fleet of 63 in June.)
Public Works' now-ousted director, Mohammed Nuru, had opposed expanding the Bigbelly cans citywide, arguing that their high costs (they can't be purchased, only rented) were a waste of money, and that they're susceptible to graffiti. 
But it appears another factor may have been at play: Nuru, who's been charged with fraud by the federal Department of Justice, awarded a $5.2 million contract for the green metal cans to the son and daughter-in-law of local permit expediter Walter Wong.
In June, Wong plead guilty to federal charges of conspiracy to commit fraud and money laundering. He is alleged to have arranged expensive gifts for Nuru from a Chinese developer, who was seeking permits for a construction project at 555 Fulton St. (Wong's son and daughter-in-law have not been charged with any crimes.)
"[It's] a terrible garbage can — it's a joke, everyone in the town of San Francisco knows it," District 3 Supervisor Aaron Peskin said of the situation in February. Peskin, who held a hearing on the contract with Wong's family, said he believes it was the reason for Nuru's recalcitrance on replacing the cans. 
Earlier this year, SF Public Works spokesperson Rachel Gordon said that the city's contract with Renaissance, the producer of the metal cans, had ended. She cited the COVID-19 pandemic as the reason for the delay in testing new cans. 
On September 21, the three designs will go before the SF Arts Commission's civic design review board for approval. If it gives the green light, Public Works will manufacture five of each can, installing them around the city for real-life testing.
The agency did not give a date for selecting the final can design, but said the choice would be undertaken with feedback from residents, non-profit partners, Recology, merchants and Public Works crews.