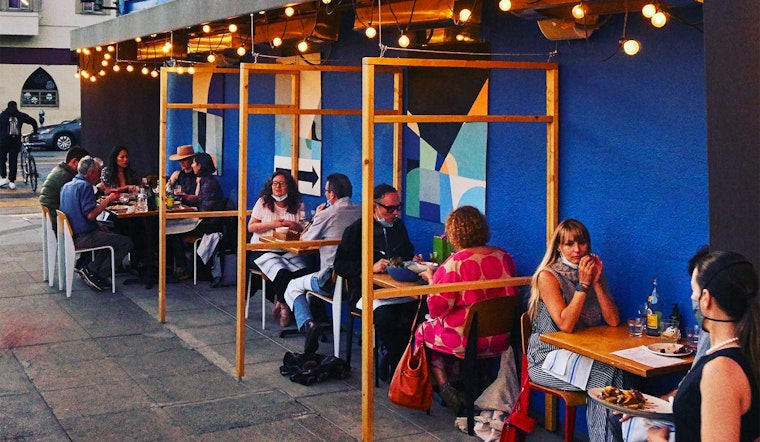 Published on October 01, 2020
The restaurant has been surviving, like so many, on takeout and delivery these last few months. But now you can go enjoy the Michelin-starred AL's Place experience once again, in person, at socially distanced, plexiglass-separated tables.
It's been like opening week all over again for the five-and-a-half-year-old restaurant at Valencia and 26th, and Chef Aaron London and his crew seem more than excited to be back in the saddle doing what they do best — and not having to stuff it into to-go boxes.
"Opening week has been a blast and we could not be happier to be serving our community once again," the team writes on Facebook. "We never could have imagined back in March that our doors would be closed for six whole months. And we feel so blessed to be able to welcome you through those doors again." 
Diners now have the choice between outdoor, sidewalk tables with plexiglass dividers, or sitting indoors in the airy restaurant at a distance from other tables — with restaurants in SF allowed to operate indoors at 25-percent capacity as of this week.
Reservations are being taken now only up to two weeks in advance, with a maximum of four people per table. COVID-related precautions at AL's place including single-use menus, face coverings worn while not eating or drinking, and plenty of hand sanitizer. And reservations are for one and three-quarter hours, with extensions available only if no other parties are waiting. (Under city guidelines for indoor dining, there's a two-hour limit on tables indoors anyway.)
More tables in an outdoor parklet are reportedly on the way.
Fans of Aaron London's food will be excited to see the new menu, with new items like a cured trout starter with crispy potatoes and bagna cauda, and campanelle pasta served with Indian-style tikka sauce and "limey tomatoes." Tablehopper has already stopped through and raves about the new cornbread with "peanut butter" as well. 
AL's Place debuted in 2015 to near immediate acclaim, after London had done a well received stint at noted vegetarian restaurant Ubuntu in Napa several years earlier. AL's Place went on to be named the best new restaurant in the country by Bon Appetit later that year, and it's enjoyed plenty of success since then.
London expanded with a fast-casual concept, AL's Deli, at 18th and Guerrero in 2019, serving some delicious falafel and shawerma sandwiches as well as rotisserie chicken. But that business was one of the early casualties of the pandemic, having not yet established itself and having been dependent on catering revenue at downtown offices. It closed permanently in early March, one week before the city's shelter-in-place order began.
AL's Place has suspended doing takeout service for now, while they get back in the groove of actual dining.