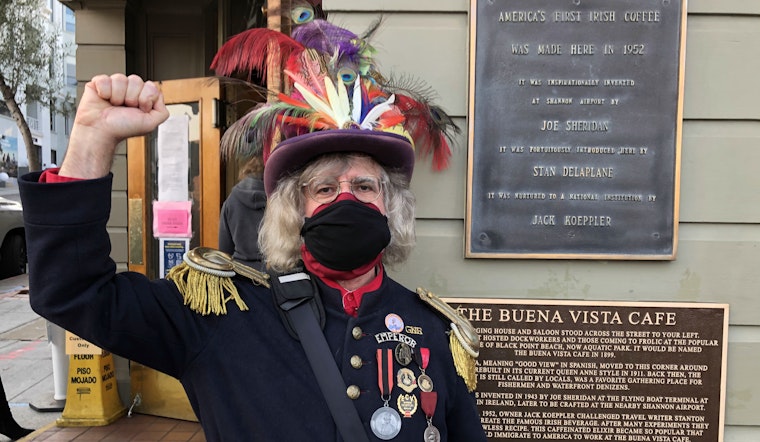 Published on October 05, 2020
There's probably no bar, saloon, or establishment in San Francisco more associated with one particular alcoholic beverage than the Fisherman's Wharf hangout Buena Vista Cafe. The drink was not invented there (it is, after all, genuinely Irish in origin). But the 1950s-era tale of then-owner Jack Koeppler and Chronicle writer Stanton Delaplane duplicating the Irish beverage, then recruiting its inventor Joe Sheridan to come sling them at the cafe, is retold in a historical plaque that was officially unveiled at the Buena Vista Cafe this past Saturday morning. 
This is not an official San Francisco city landmark designation, but instead a plaque bestowed by an alcohol-enthusiast historical society called E Clampus Vitus, colloquially known as "Clampers." 
"We put up plaques to historic sites, usually involving liquor," says the well-known Emperor Norton impersonator Joseph Amster. "There's also the Comstock Saloon, the Old Ship Saloon, Hotaling Alley, all have Clamper plaques." The group is also responsible for the restored Emperor Norton plaque at the Salesforce Transit Center.
 The Buena Vista Cafe has been around since the early 1900s, but the Irish coffee thing didn't kick in for another 50 years. "We've been doing the Irish Coffee since 1952 here," the cafe's general manager Kevin Jones tells Hoodline. "On a busy weekend, we would do 2,000-2,500 Irish Coffees a day here. We're the biggest buyer of Tullamore Dew whiskey in the world. Prior to COVID, the prior year, we went through 48,000 gallons of Tullamore Dew whiskey. That's 13 gas trucks, out of this little location."
And they've been selling Irish coffees to-go long before the
COVID-19 to-go cocktail
 era, thanks to the proper liquor licensing, and the magic of little airline bottles of whiskey. "We've been doing that for ten years," Jones says.
The new landmark plaque details how the Buena Vista Cafe originally opened in the mid-1800s on the opposite side of the street of its current Hyde and Beach Street corner. It was initially a boarding house, then converted into a saloon in 1916 that quickly became popular among fishermen who enjoyed grabbing a drink in their downtime. It's been the Buena Vista Cafe for more than a century, though obviously, the place is having one its most difficult stretches ever as COVID-19 has rendered the place an outdoor-only establishment with barely any tourists to serve. 
"We decided not to do indoor, we're doing outdoor," Jones tells us, even though limited indoor dining is now permitted. "If we're going to indoor, we want to make sure we're smart. We don't want to just open up just because the city says we can open up. I want to make sure it's going to be safe for my employees."
"Because if someone gets sick, then we close," he adds. "We're going to wait and see what everyone else is doing, then we're going to look at the results of people opening up indoors. Does it raise the COVID [infection rate]?"
So the place remains an outdoor cafe, jazzed up with hanging lights, umbrellas, and otherwise-unsightly bright-orange water barricades that are now decorated with lovely original paintings by local muralists Kurt Schwartzmann and Deirdre Weinberg. 
"We've got another four weeks of nice weather," Jones thinks. "And then as soon as the weather starts getting cooler and the rain starts coming, then we have other options, putting a tent outside. But I want to minimize what we have inside."
The seating area is often at capacity by social distancing rules, but that doesn't mean business is booming. "It is difficult. We're probably at 25% of what we used to do," Jones says. "Before we had shared tables. You could have a table of four, and two pairs of people could sit at the table. None of the tables are shared anymore. And that was kind of the fun of the Buena Vista. You never knew who you were going to meet, who you were going to sit next to, what country they were from. It was a great conversation starter." 
The Buena Vista Cafe is pretty much the only place in Fisherman's Wharf that has much cachet among locals. It's a tourist attraction to be sure, but one with legitimate cultural street cred. And thanks to the new historical plaque from the Clampers, its rich and creamy history is now visible literally from the street.