Muni history fans looking for an escape from recent political upheaval and public health crises should find some relief in SFMTA Transit Planner Paul Bignardi's A Fleet History of the San Francisco Municipal Railway. The multi-colored, self-published tome chronicles the agency's history, its vehicle choices, and the evolution of its properties and infrastructure over time.
"Muni has a great history, everything from its variety of vehicles to how the agency was set up," Bignardi told us.
Muni is reported to be the first publicly owned, municipally operated transit system in the United States and its fleet spans everything from cable cars to low-emission hybrid buses.
Muni's history is a "mixed bag of successes and failures," mostly due to outside factors, Bignardi said. While it's clear that the Muni system is hugely meaningful to much of San Francisco, residents have run hot and cold over time on supporting bonds to finance major upgrades. For example, a proposition to use bond financing to construct a subway down Geary Street was voted down in 1966 only four years after city residents approved BART by a wide margin in 1962, he said.
The author is a San Franciscan who has a history degree and an entrenched interest in transit, so his friends and colleagues often ask him questions about different vehicles or events in Muni history.
An "older generation of rail fans and historians" kept detailed notes up to 1981, he says, culminating in the publication of The People's Railway and Inside Muni, two other deep dives into the fleet's history, Bignardi said.
When digging up answers to some of the more in-depth questions thrown at him, Bignardi found that much of the information related to more recent history, especially about fleet vehicles, was harder to find.
So he started compiling data, initially in a spreadsheet, about vehicles in Muni's fleet after 1981. He initially planned to create a resource available internally to the agency, but then decided to publish it so that other rail history fans could use it as a reference. The project evolved over time — from just the vehicles to include information about facilities and different divisions "and other aspects of Muni that most people have no idea about," he said.
System Failures
While the most recent issues with Muni's rail system are relatively unprecedented, the system has faced disruptions multiple times over its more than 100-year history.
In the late 1940s, for example, Muni started transitioning its fleet from predominantly streetcars to more economical rubber-tire buses. The buses had lower upfront costs and were more versatile, largely because they only required one person to operate them, Bignardi said. Ultimately, around 1947, Muni endeavored to get rid of the cable cars, too. It bought 10 experimental buses that were sold as capable of getting up San Francisco's steepest hills, with different motors on each axle. But the buses failed — the operators struggled to get them up the steepest grades and the brakes weren't reliable going down them.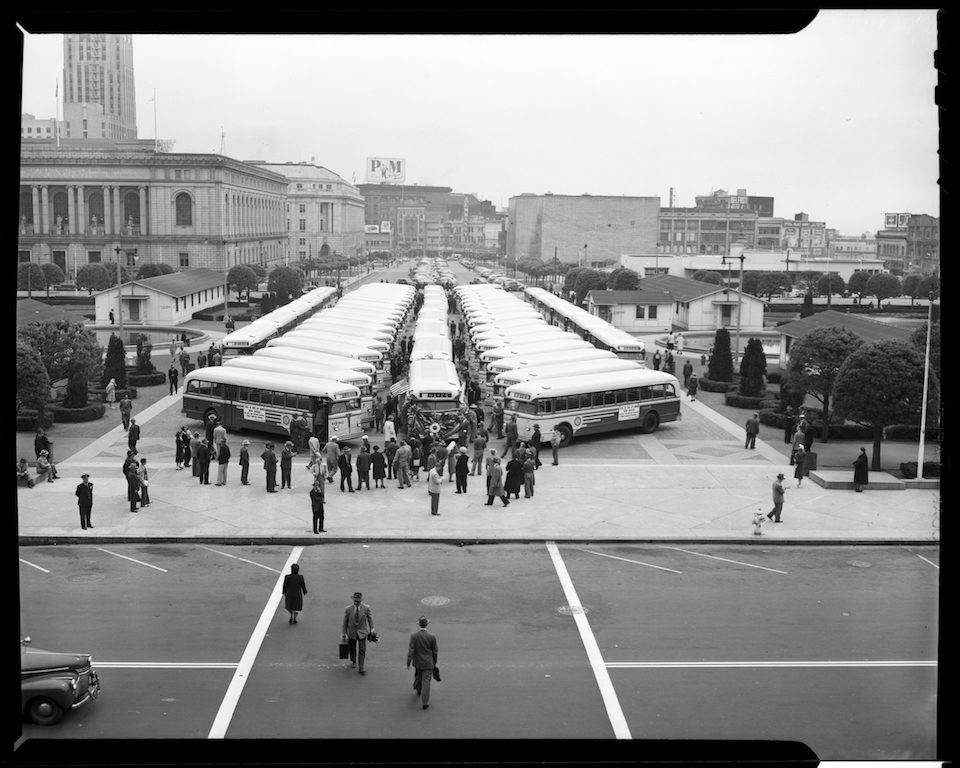 55 new buses by the White Motor Coach Company on Display at Civic Center Plaza on June 4, 1948. | Photo: SFMTA Photo Archive | SFMTA.com/Photo X1681

All of the 10 experimental buses were retired, and the cable cars remained running. One of these buses returned to San Francisco, and Muni, about 30 years ago. It is currently being restored in expectation of it being rolled out for operation in 2022, on the 75th anniversary of its original operation.
Some system disruptions have led to happy additions the Muni's operating system. In September 1982, Muni's cable-car system was closed entirely for a two-year rebuild. Muni "cobbled together a tourist alternative" of running historic streetcars on Market Street in summertime streetcar festivals that ran 1983-1987, according to Bignardi. The festivals used a combination of historic Muni streetcars that had been restored, and cars loaned by museums and other cities.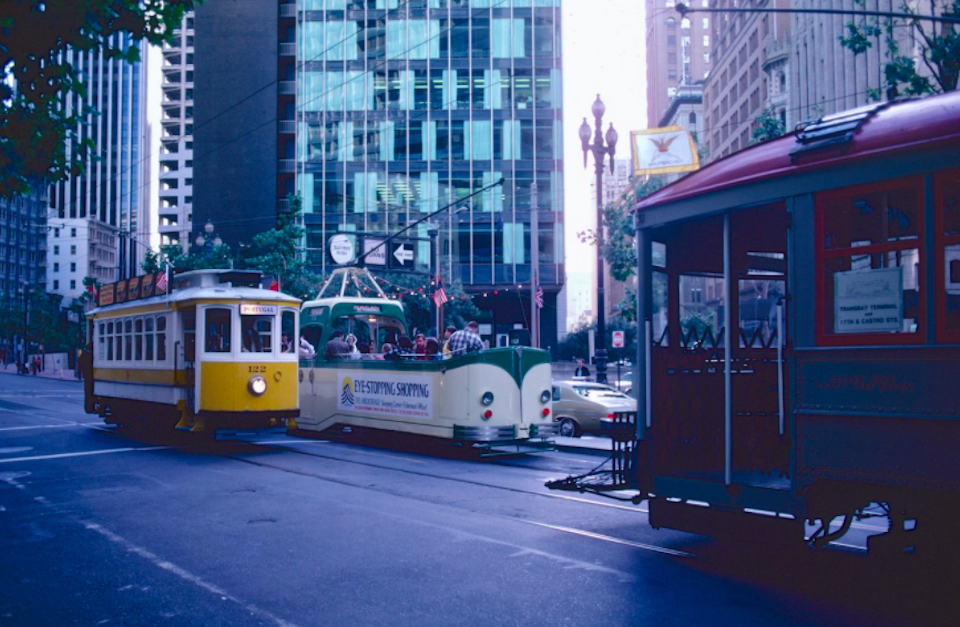 Porto 122, Blackpool "boat" 226 and Muni car 1 during a July 2, 1983 restaging of the June 23, 1983 Grand Opening parade. | Image: Steve Morgan/Wikipedia
"At that time, Muni had some hard-core rail fans on staff — from division level to senior management," Bignardi said, "and they made the festivals a success."
The festival fleet included a few 1940's President's Congress Committee (PCC) streetcars. Later, several of the historic cars were acquired, rebuilt, and given a fresh paint job and those became the bulk of the F-line cars when the F-line began service in 1995.
"The multi-color paint schemes became a bigger hit than anyone could have imagined."
A unique and Hand-crafted fleet
Bignardi still marvels that all of San Francisco's cable cars have always been handmade. The first cable car, designed by Andrew Hallidie, debuted in San Francisco based on a system used for pulling ore from mines and building suspension bridges that his father patented in Great Britain. The historic fleet of 42 cable cars are now worked on in Muni's Woods Division shop in the Dogpatch neighborhood, where staff are typically rebuilding two cars at a time to the tune of about $1.3-$1.5 million each.
Last year, Cable Car "Big 19" returned to service for the first time since 1942. It is the oldest publicly owned transit vehicle in the United States.
The hand-built cable cars are well documented in the media, but what few people know is most early streetcars were also handmade, and sometimes transit companies built them in-house. Muni's private competitor, The Market Street Railway, hand-built 257 new streetcars between 1920 and 1933 at the Elkton Shops, which was at the current location of the Balboa Street BART station and the Curtis E. Green Light Rail Center, Bignardi tells Hoodline.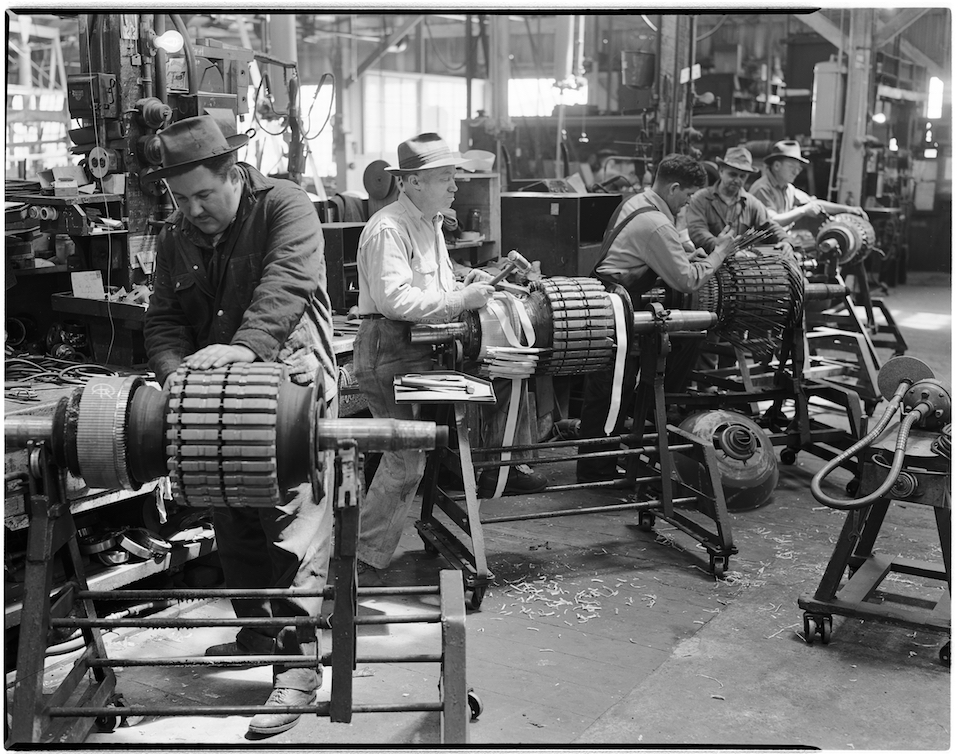 Elkton Shops Workers Overhauling Streetcar Motor Armatures on April 24, 1947. | Photo: SFMTA Photo Archive / SFMTA.com/Photo X1241

That is equivalent to the entire current light-rail vehicle fleet being built by hand over a 13-year period, he added. When Market Street Railway merged with Muni in 1944, most of those hand-built streetcars were scrapped by 1950. Car Number 798, which was sold in 1946 for $75 is the last surviving streetcar of the 257 hand-built at Elkton Shops. The buyer moved it to Gold Country where it was converted into part of a jewelry store. A group of railfans bought it back and gave it to Muni in the 1980s.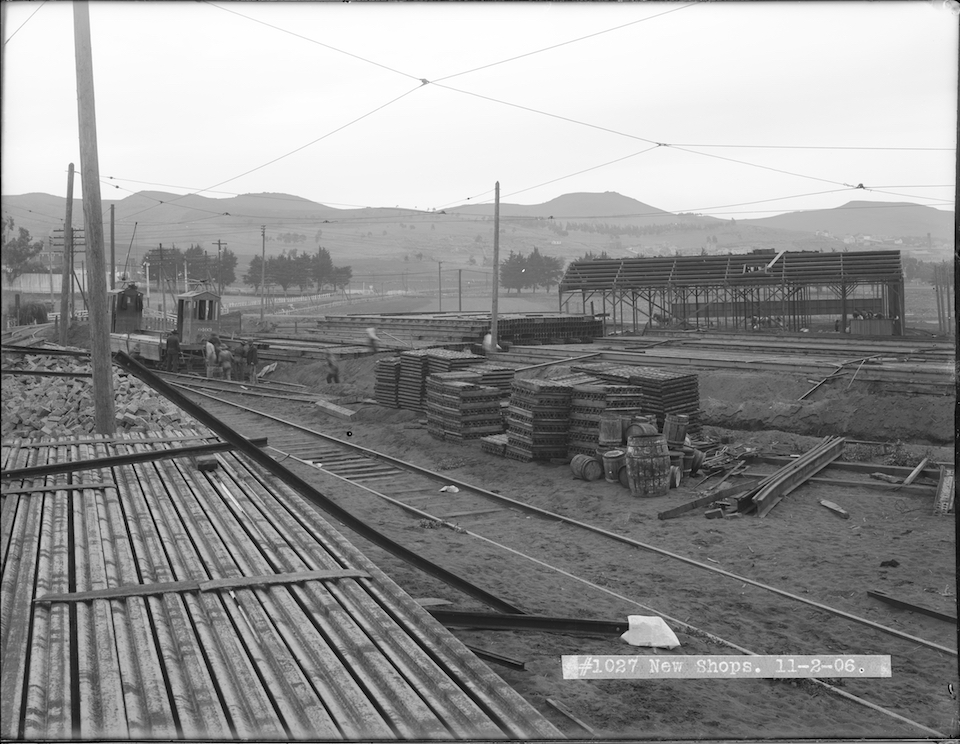 Construction of Streetcar 0103 and wood frame of Elkton Shops under construction on November 3, 1906 | Photo: SFMTA Photo Archive / SFMTA.com/Photo U01027

Muni spent $300,000 on restoration of the sole survivor of the historic fleet back in the 1990s, but the project stalled before completion, Bignardi said. After spending another quarter-century years in storage, Car 798 is currently scheduled to be included in a future contract to rebuild multiple old streetcars, and it could very well come back into regular service 100 years after it was built in 1924, he added.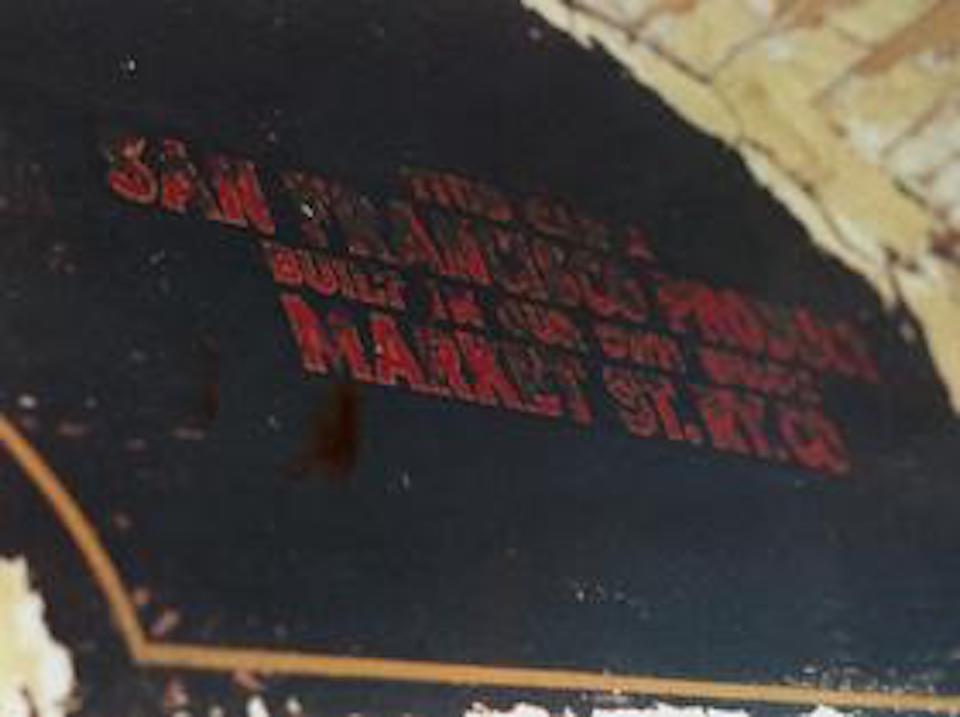 Cars built at the Elkton Shops each had the same decal, preserved here on Car No. 798: "This Car a San Francisco Product, Built in Our Own Shops. Market St. Ry. Co." | Photo: Market Street Railway

Bignardi's book itself is handcrafted. After shopping around for a publisher, he decided to self-publish, and he taught himself how to use layout software. He shared drafts with rail and transit history experts, so the final product is peer-reviewed. Because most of the historic pictures are black and white, Bignardi decided to color the background of the pages to make the book more interesting. Different colors represent topics in the book, so red is for the rail section, blue is for buses, and so on, he said.
The book has been out for about a year and while he has only sold about 1,000 copies, they've been distributed worldwide.
"It has sold reasonably well in England for some reason," he noted. "If they're transit fans, they find Muni interesting." It's a small niche of a market, but it is global. The book also recently won a finalist award for reference in the National Indie Excellence Awards competition, which celebrates achievements in self and independent publishing.
You can pick up your own copy by ordering it online through Muni's conservation partners, the SF Railway Museum, which is putting proceeds toward the preservation of the F-line's historic street cars.