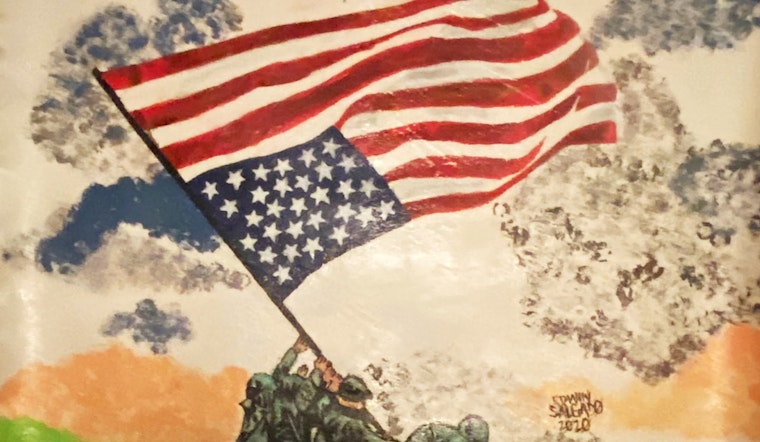 Published on November 11, 2020
An exhibit designed to amplify the voices of local veterans will be on display at the Walt Disney Museum starting tomorrow.
To create Veterans' Voices: Painted Realities, the museum partnered with Veterans Alley, the non-profit mural project in the Tenderloin that offers free materials and space for veterans to use art to express themselves. Veterans Alley founder Amos Gregory engaged fellow veterans to expand their work from mural creation to "more traditional methods of art-making," he said.
The exhibit focuses on three different communities of veterans: African American veterans living in the Bay Area, rural veterans served by the VA Medical Center in Eureka, and deported veterans. Several of the artists featured in exhibit are also part of the Deported Veterans Mural Project, which Gregory co-founded with Fabian Rebolledo and Hector Barajas, who were able to return to the states, to provide an outlet for veterans who have been deported after serving the United States military.
Art was shipped from all over the world for the exhibit, from as far away as Kenya and Jamaica, but there are common themes reflected in each piece, including trauma, citizenship, race, homelessness, isolation, and healing.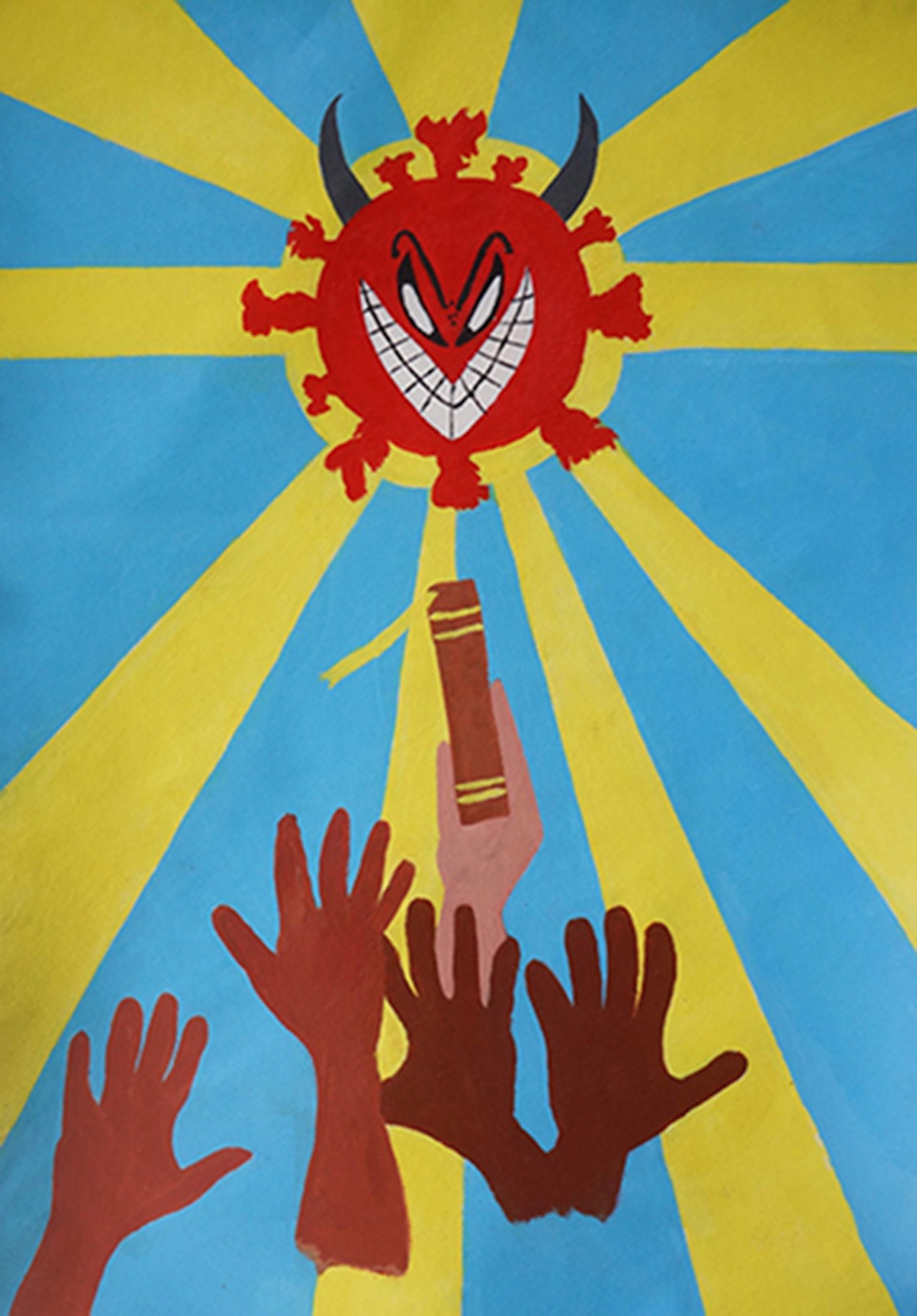 Amos Gregory (United States); Blinded by the Light | Image courtesy of Veterans Alley
"This art exhibition showcases what we began as a grassroots effort almost a decade ago," Gregory said, adding that he continues to work with veterans on new murals in Veterans Alley, which runs between the 500 block of Geary and the 400 block of O'Farrell Street on the southern end of Shannon Alley. There are some areas of the alley that remain under legal dispute after the Union Square Business Improvement District painted over several of the veterans' murals earlier this year, he added.
"Though we have made so much progress in telling our own stories in a public fashion we still face challenges with censorship, loss of physical spaces and access to proper care… but Veterans Alley amplifies our own voices, whether it is on the street in the Tenderloin, on the U.S. Mexico border fence or in a museum," Gregory said.
The Disney museum provided materials, studio space, shipping expenses, and curatorial support for Veterans' Voices: Painted Realities, and helped secure a grant from the Sharon D. Lund Foundation to scale the exhibition.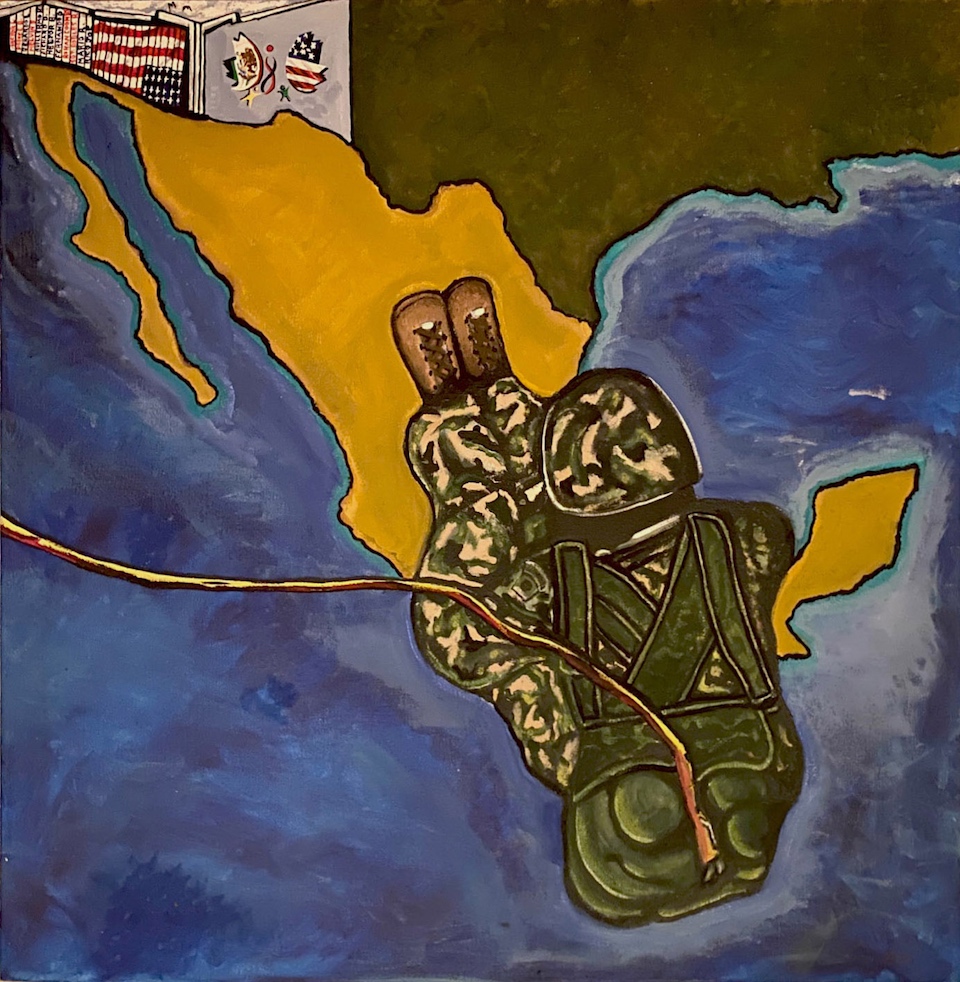 Mario Rangel (Mexico); My deployment to my country of origin, Mexico. | Image courtesy of the Deported Veterans Mural Project
Veterans' Voices is the museum's fifth Community Access Exhibition, and will run concurrently with another special exhibition The Walt Disney Studios & World War II. According to the museum, the two exhibits stem in part from Walt Disney's service in the Red Cross Ambulance Corps during World War I and his studio's extensive contributions to the Allies efforts during World War II. The museum is also working to make the exhibition into a virtual 3D gallery and expects to host a virtual artists' reception sometime later this year.
"Our goal is to expose museum visitors — both in person and in the virtual space — to the creativity and individual experiences of both our local veteran community and the community that remains abroad," Walt Disney Museum executive director Kirsten Komoroske said in a statement about the exhibit.
You can visit the exhibit at the Walt Disney Museum in person starting November 12, 2020, by reserving tickets online. Access to the exhibit is free for any active or retired military personnel, as well as their spouses and dependents.