By
Matt
- Published on December 31, 2020.
It's estimated that Indigenous people — those of Native American descent — make up just about .03% of San Francisco's total population. But a new heritage hub expected to be built near 56 Julian Avenue hopes to bring both awareness and support to the historically underrepresented population.
Earlier in March, the American Indian Cultural District (AICD) was established in San Francisco, making it one of the first established cultural districts of its size in the United States, solely dedicated to acknowledging and celebrating American Indians. The AICD also became the ninth cultural district in SF, joining the likes of other revolutionary community neighborhoods like SoMa's Leather District and LGBTQ District Cultural District and the Calle 24 Latino Cultural District in the Mission District.
The Village, a planned resource and cultural center for American Indians — which may also double as an office for the AICD — is hoping to bring visibility to the demographic in San Francisco and elsewhere in the country. Though, The Village wouldn't be the first center of its kind to ever exist in San Francisco. (The American Indian Culture Center in San Francisco was erected sometime in the 1940s, located between Mission and Valencia streets. It ran all the way up until 1969 until it was, unfortunately, burned to the ground in a fire.)
"There used to be an American Indian Center when I was growing up," says Peter Bratt, a filmmaker and former board member of the Friendship House — the nonprofit helping organize the funding efforts needed to see the $80 million project to fruition — to the SF Examiner. "We would spend our summers there, after-school programming. It was really a kind of a unifying force in the community. We haven't had [an] American Indian Center in a long time, decades."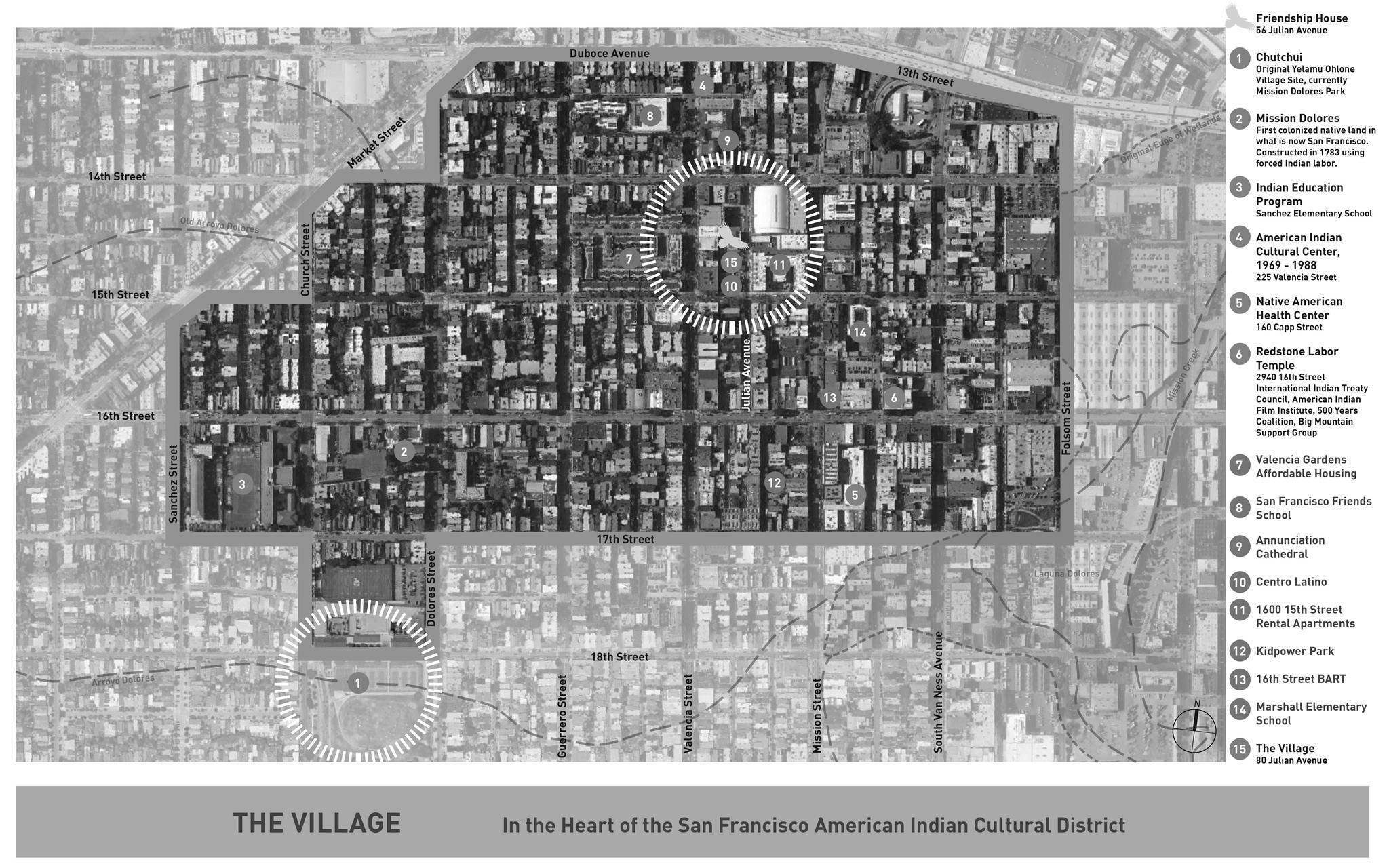 The Village is expected to be built next to the Friendship House's inpatient drug and alcohol center along Julian Avenue; the current timeline projects construction of the 46,400-square-foot-building — which will tower six-stories tall — to start in 2023, with the entire project being completed sometime in 2025.
But the culture and legacy hub will exist as more than a reminder of the role American Indians played in the Bay Area's history. The Village will also serve as a support touchstone to help locals find medical and dental assistance, education and labor resources, and even supportive housing; 15 to 22 supportive housing units will be included to help home formerly unhoused American Indians, as well as an additional 10 or so designated for American Indians seeking out vocations in social work.
The Women's Lodge, a Friendship House-affiliated treatment and relief center for in-need Native American mothers with young children less than five years of age, has plans to relocate their services to the new multi-story building, as well. Community elders will also have specific resources available to them at The Village.
At its core purpose, The Village will endure as a "home place" for many in the community who have been pushed out of their homes, their work, and their otherwise stable lives to again find footing and community support.
"The Village is a response to tribal communities being forced to relocate to San Francisco, without support, because of government politics in [the '50s] and the continuing years of economic inequalities which pressed people to relocate for work,'' reads a statement in a press release sent by Friendship House about the project's guiding purpose. "[...] we have a responsibility [to our Native communities and people] to help them find a home place so they may prosper and provide support to each other and our neighbors. We are all related to each other and like relations, we must take care of each other and [ensure] a homeland to our family members."
The Village coalition partners intend to raise $65 million in capital funding to complete the American Indian culture and resource center, which will be done in three phases, by 2025.
To learn more about the project, visit friendshiphousesf.org/the-village.