Among other things, 2020 has been a year of creativity, as people have found new ways of connecting under pandemic-prompted social distancing — including a resurgence of drive-in and drive-through options for everything from movies to dining to religious and community celebrations.
In keeping with that spirit (and COVID safety), North Peninsula Chabad and San Jose's Congregation Sinai are both hosting drive-in Hanukkah celebration this year, and numerous other South Bay congregations and organizations are holding virtual Hanukkah events.
Both drive-in events will celebrate the Festival of Lights with juggling and light shows that guests can watch from their vehicles.
"The cutting edge light technology will capture your imagination in an illuminating experience the whole family will love," declares an announcement on the Congregation Sinai website, which asks participants to bring masks and stay in their cars.
The North Peninsula Chabad event will also include live music, a menorah lighting and jelly doughnuts.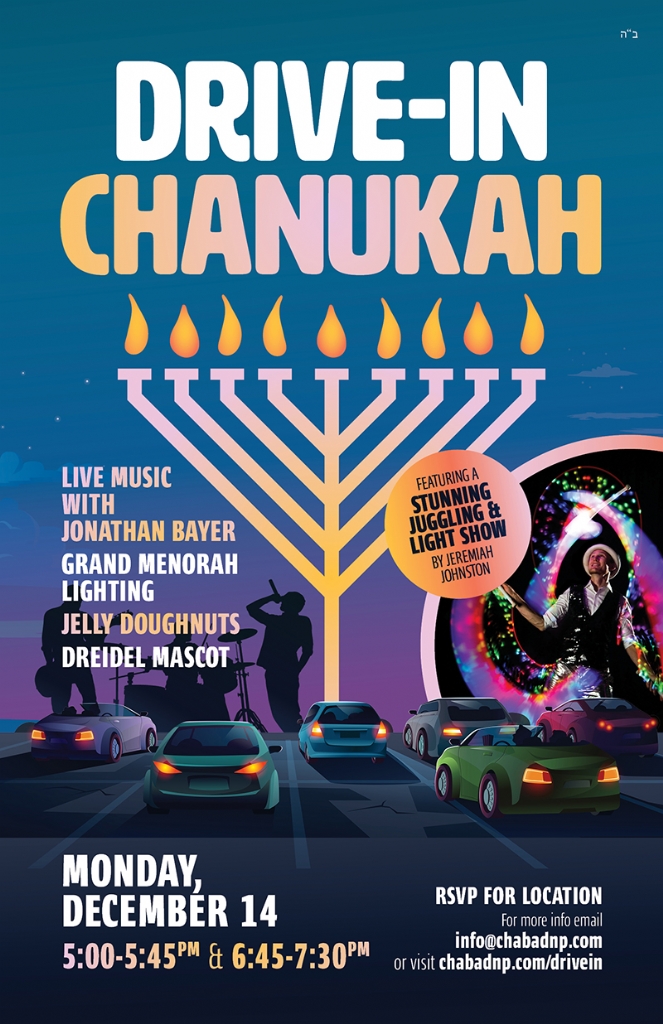 Flier for North Peninsula Chabad's drive-in event Courtesy of North Peninsula Chabad
North Peninsula Chabad's "Drive-In Chanukah" will take place from 5-5:45 p.m. and from 6:45-7:30 p.m. on Monday, Dec. 14. To RSVP, find out the location and get more information, visit www.chabadnp.com/drivein.
Congregation Sinai's "Parking Lot Chanukah" will take place at 6 p.m. on Tuesday, Dec. 15. Congregation Sinai is located at 1532 Willowbrae Ave. For more information and to register (required), visit www.sinai-sj.org/chanukah.
For South Bay residents who prefer to stay home, Congregation Sinai's event will also be livestreamed on the congregation's Facebook page, and there are a variety of virtual Hanukkah celebrations and activities from organizations in the area, including:
The Peninsula Jewish Community Center is also holding online Hanukkah Family Bingo. Download a bingo card of fun family activities from the PJCC website.
Makom Yoga of Silicon Valley is hosting online Hanukkah yoga from 4:00-5:00 p.m. on Friday, Dec. 11.
Peninsula Temple Beth El Tree of Life is holding a virtual family service, menorah lighting and Hanukkah story at 5:30 p.m. on Friday, Dec. 11.
"Latke-pa-Zoom-sa" is an all-ages menorah lighting and sing-along for the Peninsula community via Zoom, featuring local musician Isaac Jones, from 5:30-6 p.m. on Sunday, Dec. 13.
Palo Alto's Congregation Kol Emeth is organizing an online menorah lighting featuring local singer-songwriter Neshama Carlebach and author A.J. Jacobs, from 5:30-6:30 p.m. on Thursday, Dec. 17.