The pandemic has cemented our love affair with comfort foods — chief among them pizza and to-go cocktails. DamnFine (3410 Judah Street), one of the newest restaurants to grace the Outer Sunset, is intent on being a one-stop destination for all that and more.
We've all become accustomed to ordering takeout from our favorite eateries and watering holes; it's one of the many lifestyle byproducts to come from the pandemic. (In fact: I pose as much as even to say that our palettes have expanded over the past ten or so months — now that we're all at the mercy of our living room and coffee tables, which can now stand in for Michelin-starred experiences). Pizza remains a steady source of pleasure in our new year of semi-isolation. And DamnFine's artisanal, wood-fired pizzas are vying for a top spot amongst the best pies in San Francisco.
Though, as a recent trip proved, you still need to reheat the pie after getting home.
I took it upon myself to visit the new pizza spot from pizza-maker and owner Laura Seymour, housed in a former massage parlor, last week, and I arrived at an all-too-familiar sight for San Franciscans these days: a propped-up wooden table gating the entry, where a Square register was saddled next to miscellaneous paraphernalia, among which included ballpoint pens placed in either a container labeled "clean" or "dirty."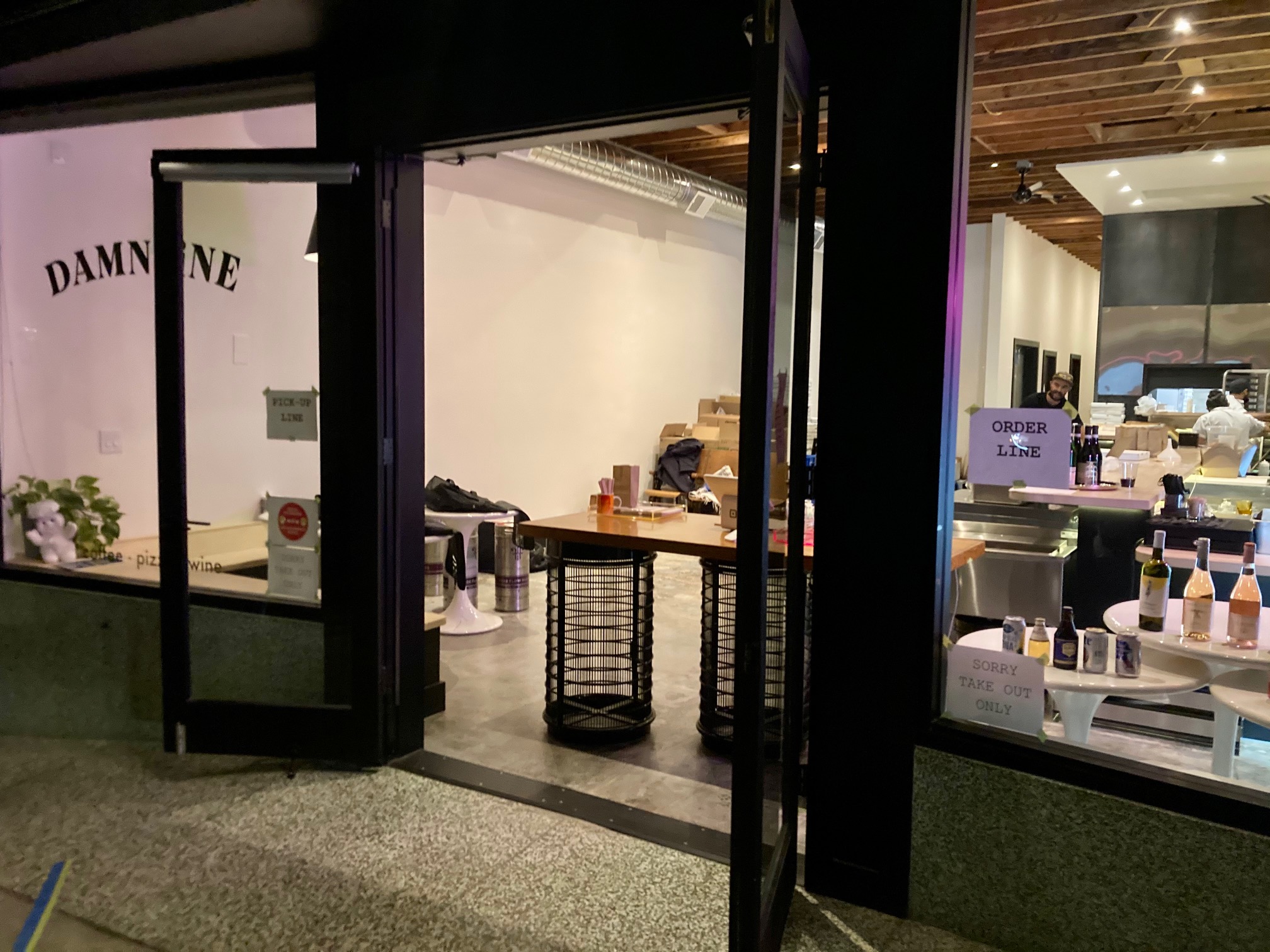 Photo: Matt Charnock/Hoodline
I scrolled through the pizzeria's online takeout menu prior to arriving, and in addition to an array of appetizers and salads, eight signature pizzas also make up their current menu, including the Sausage and Sage, Potato Pesto, and Clam It Up pies. (DamnFine also offers the chance to add extra toppings to each of their options, and each comes in a single size that measures around 14 inches.) However, in the name of keeping things simple and straightforward, I went with a tried-and-true classic: a single Margherita pizza.
Waiting for my pizza to be discovered amongst the collection of cardboard boxes — each sheathed inside an insulated black delivery bag — the tiered bar commanded a glance. Unable to pass the erected table, we took in the industrial backsplash and a few peculiar, domed lighting structures fixed to the wall from afar.
DamnFine's bar menu presently offers a selection of Italian wines and some to-go cocktails. Seymour's business partner and partner-in-life, Colin O'Malley, who also operates Sunset Cantina, the tequila bar directly next to DamnFine, plans to expand its offerings soon; coffees and espressos, morning pastries, and other baked goods are expected to become available at Damnfine in the near future.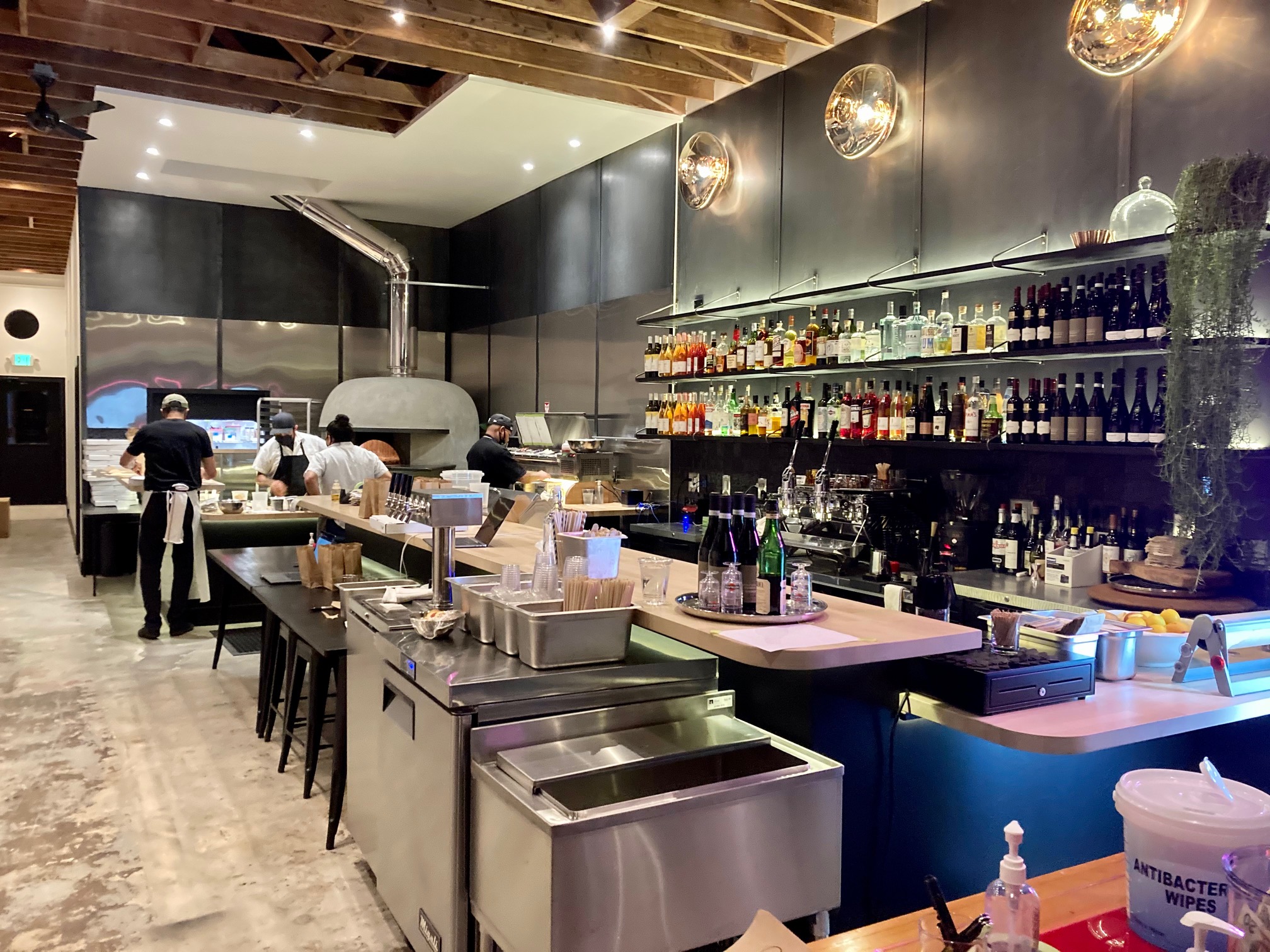 Photo: Matt Charnock/Hoodline
Opening issues and overall busy-ness are impacting the timing for getting one's to-go orders — and we all know that wood-fired pizzas are best eaten fresh out of the oven, so takeout-only rules (which thankfully end this week) are putting pizza places like DamnFine at a disadvantage. I was told to pick up my pizza about an hour after ordering, but what was in the box already appeared to be lukewarm by the time I received it and colder by the time I got it home, so refreshment in a 400-degree oven was necessary.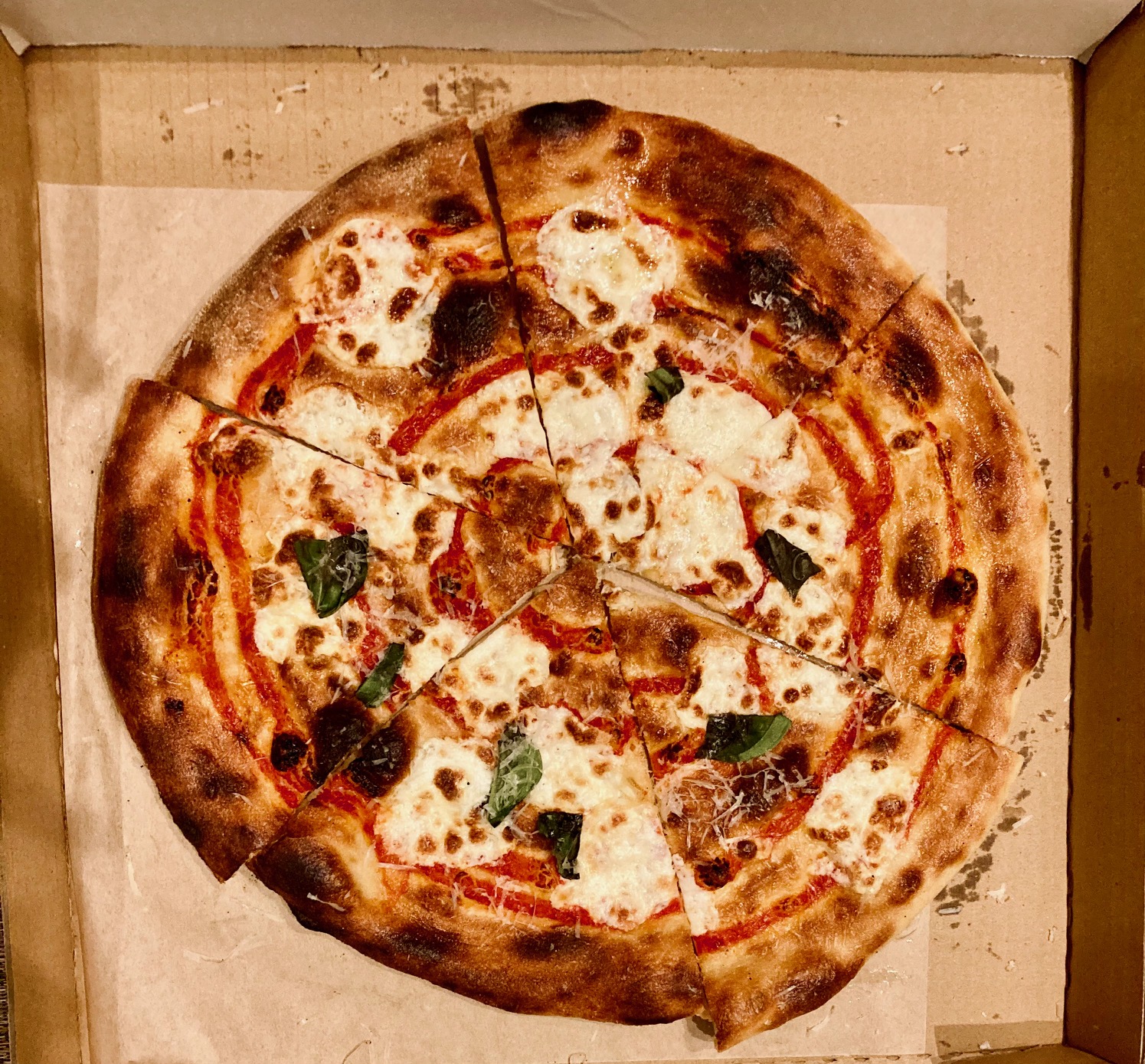 Photo: Matt Charnock/Hoodline
The char on the crust — made from a high-protein flour mix and allowed a three-day cold fermentation for easier digestion and better flavor — offered a welcome acidity to the otherwise muted mozzarella. Sprigs of fresh basil, tomato sauce, and a generous drizzling of olive oil all came together in what was, truly, a damn fine pie.
If the quality pizzas coming from DamnFine's wood-fired Stefano Ferrara pizza oven remain consistently this good, we may have another great pizza contender on our hands — and one that residents of the westside especially will be flocking to for years to come.
Damnfine is open Wednesday through Sunday at 3410 Judah Street, between 5 p.m. – 9 p.m.; estimated prep times are usually around 30 minutes per order and walk-ups are also welcomed. For more information on Damnfine, as well as to peruse their current takeout-only menu, visit damnfineco.com.