It's a better time than any in recent memory to support the local restaurant scene and splurge on a New Year's Eve meal kit or takeout package. San Francisco restaurants, some of which were able to open for outdoor dining for a few months before shutting that down again earlier this month — and a few of which tried doing indoor dining while that lasted — are hurting. So before you think about cooking your thousandth meal of the year for the last night of 2020, check out some suggestions below for how to treat yourself while also supporting a local business.
View this post on Instagram
Acquerello
Start the evening with parmesan budino, a caramelized onion and creme fraiche tart topped with caviar, and foie gras mousse. Move on to quail with black truffle-brioche stuffing and delicate braised beef lasagna. And finish with coconut mousse with whipped lime ganache and assorted sweets — all perfect with Champagne. This Michelin-two-star-at-home experience will run you $350 for two — and it will require a little light cooking at home. Order here for pickup.
Birdsong
Chef Christopher Bleidorn is prepping a casual-luxe menu for NYE at his SoMA spot, featuring a "surf and turf" lobster roll kit, including lobster, steak tartare, and more. "Our New Year's Eve menu is more than a little bit extravagant," the restaurant says on Instagram. "We are obstinately hopeful that it's predictive of 2021." The kits start at $195 for two and go up with add-ons like caviar creampuffs for $105. Order here for pickup.
View this post on Instagram
Che Fico
Chef David Nayfeld is serving up several decadent options, sized for either two or four people, including lasagna Bolognese smothered in Perigord black truffle (pictured above), caviar options, and a dinner that features an aged rib roast and potato gratin ($285 for 4). Place orders here by Dec. 28.
Ittoryu Gozu
This downtown Wagyu spot has been offering elaborate, fancy-pants bento boxes for a while now. And the New Year's version, they say, "is comprised of multiple preparations of Japanese beef, sea life, truffles, and other delicacies, both traditional and modern." It will run you $198 for two, plus add-ons. Order here for pickup.
Lord Stanley
Michelin-starred Lord Stanley is keeping it seafood-centric for NYE, with shrimp cocktail, cured salmon on rye, and two lobster courses. There are pickup and delivery options here.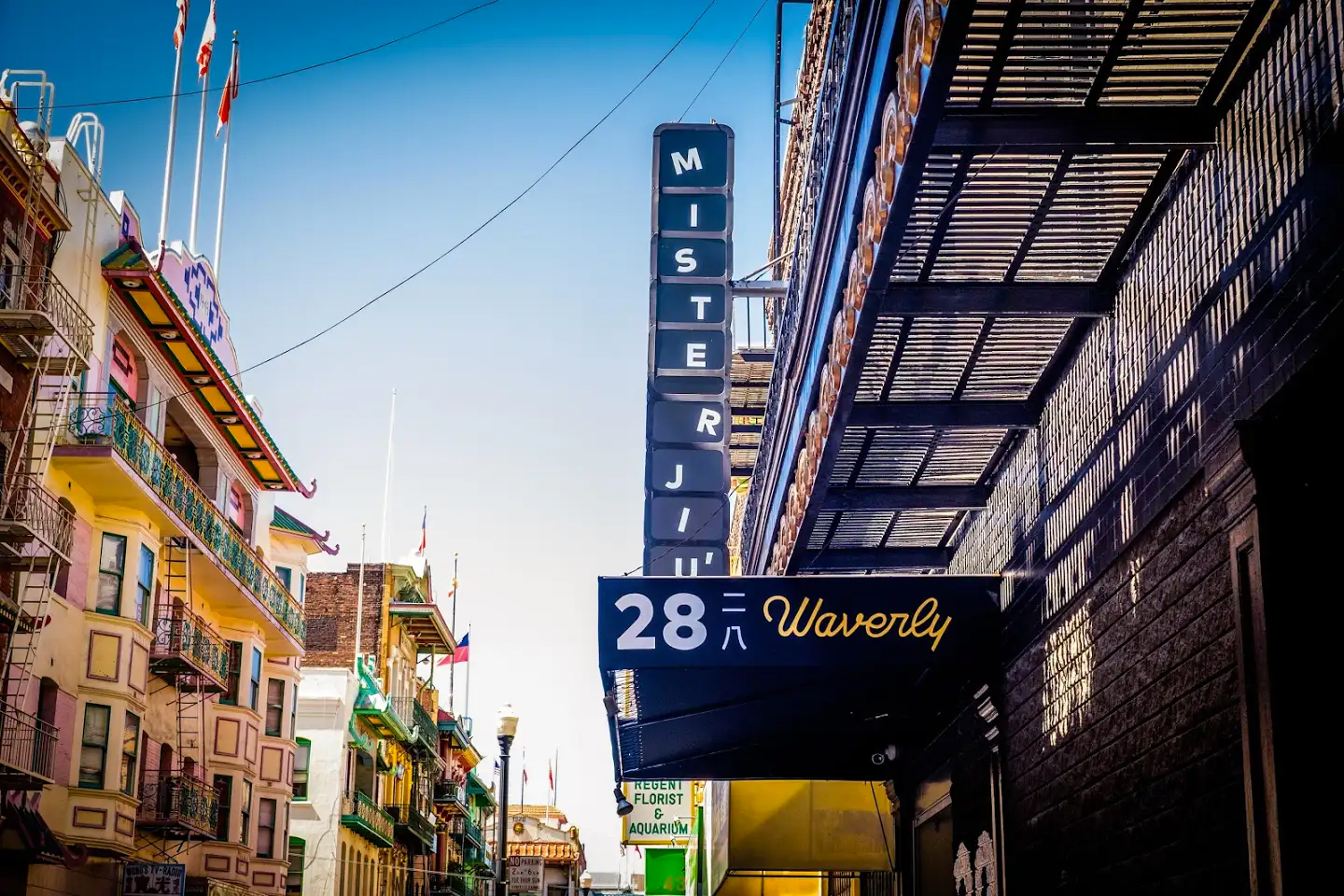 Mister Jiu's | Photo via Tock
Mister Jiu's
Chef Brandon Jew is offering a five-course menu for NYE for takeout or delivery, which includes Dungeness crab congee, and a choice of quail with goji berries and pine nuts or cod with ginger and scallions for the entree. This one will run you $145 per person. Order here.
The Morris
They're doing their regular takeout spread in addition to a few special a la carte items at The Morris for a special at-home NYE, including half a deep-fried chicken with caviar and a flaky biscuit ($60), a steak with black truffle bordelaise ($75) and a foie gras terrine with truffle and brioche ($30). Also, there are Champagne cocktail kits ($70 for four), and there are plenty of other add-on options including uni toast and caviar. (Sadly, the smoked duck is listed as "out of stock.") Order here for pickup.
Nari
Contemporary Thai spot Nari, the offshoot of Kin Khao that opened last year, is offering a feast option for vegetarians ($40 per head) — in addition to one for meat-eaters ($50 per head). The Panang curry can come with duck confit or squash, and both options include a winter citrus salad and a cabbage dish. Order here for pickup.
View this post on Instagram
Nightbird
Mostly in hibernation since the pandemic began, Chef Kim Alter's Hayes Valley spot is doing a selection of decadent party snacks that pair perfectly with Champagne, like crab-sunchoke spread on foccacia, caviar on brioche, beef tartare and truffle fondue tarts. You can add more caviar and other things if you like, but it starts at $100 per person. Order here for pickup.
Perbacco
Downtown Italian go-to Perbacco is popping back to life doing a four-course dinner that starts at $100 per person, and includes a ribeye steak with Barolo wine reduction, and agnolotti with truffle fonduta. See more and place orders here.
View this post on Instagram
SPQR
The Michelin-starred, modern Italian Pacific Heights spot is doing a la carte cold appetizers like smoked salmon crespelle ($65 for two) and caviar on toast ($120), as well as handmade pastas like squid ink-striped crab triangoli ($48 for two), and mains like porchetta-style pork shoulder ($68 for two). Order here for pickup.