Online retail behemoth Amazon has not exactly "announced" their plans for what they're going to do with the six-acre Recology site they bought in mid-December, merely saying in a statement at the time "We are excited to make this investment in San Francisco that will create jobs and help ensure we can reliably and efficiently deliver to our growing number of customers in the Bay Area." But SocketSite noticed that Amazon's plans were quietly posted to the Planning Department website Thursday morning, and these four very technical PDF files shed some light on what Amazon's intends to do.
It is rather difficult to dig up plans at the Planning Department website, and as such, we can only post screenshots because the site does not allow for direct links. If you want to see the plans for yourself, you have to go to the SF Planning Property Information Map, type in the address "900 7TH ST," and then click on the field Planning Application. You'll see a list of the four PDFs, which are just submitted plans, and have only begun their review and approval process.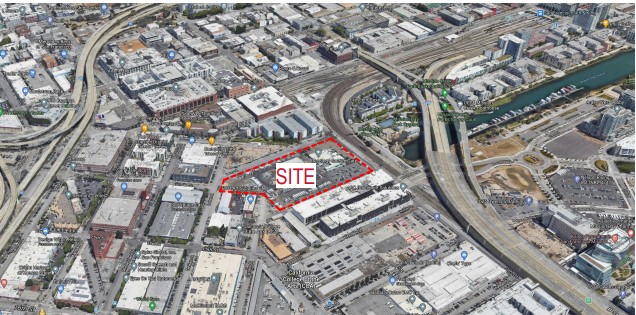 There are no fancy artist renderings like you see when housing and condo projects are proposed, mostly just pictures of the seven fairly gritty lots, and architectural drawings to make little sense to a lay person. "The Project proposes to merge the seven existing lots into a single lot, demolish all existing structures on the Project Site," according to the Preliminary Project Assessment (PPA) Amazon submitted.

The Cliff Notes summary here is that the company wants to build a three-story warehouse structure, with 650,000 square feet of delivery center and 17,400 square feet of offices. They also promise "An approximate 13,700 square foot publicly accessible open space would be provided at the corner of 7th and Berry streets."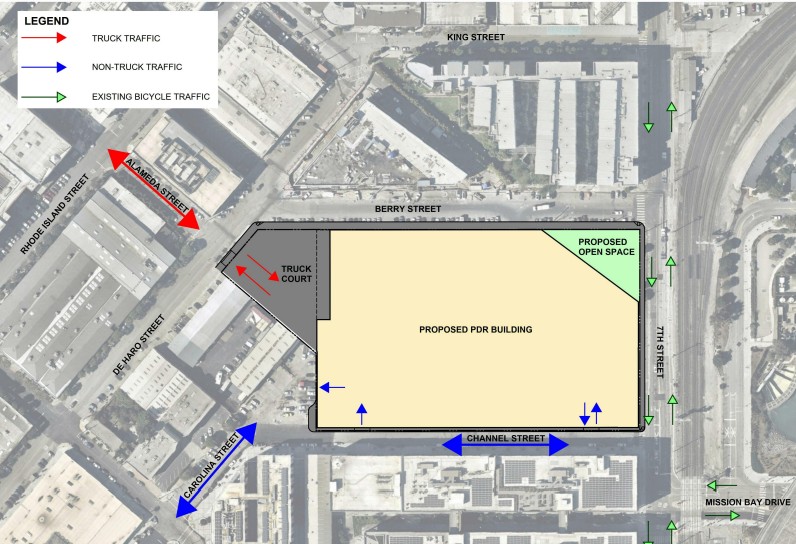 Each floor would be more than 200,000 square feet. The first level would just be a delivery station, the second floor is garage space for delivery vehicles, the third floor is a mix of garage space and office space. Employees would park in an open-air parking lot on the roof.
Do not expect smooth sailing for this proposal from either the Planning Commission or the Board of Supervisors. The facility would be in Supervisor Shamann Walton's District 10, and he's previously had words about the general unkemptness of an Amazon Fresh facility in Dogpatch.
"Their site in Dogpatch has caused continuous problems for neighbors, and they have been extremely dilatory in presenting and providing solutions," Walton told the Chronicle in December. "They would never treat neighbors at their facility in Seattle the way they have in my district. That needs to change."
Again, these are merely plans submitted by Amazon, and they've only started the city review and approval process. No dates have been announced for these plans to be heard by the SF Planning Commission.