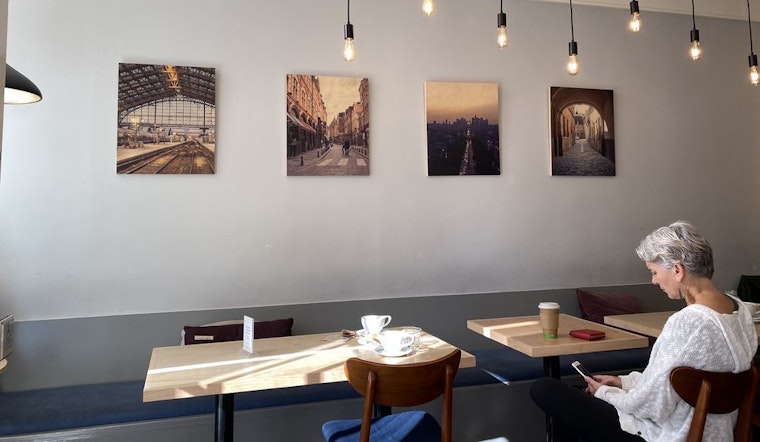 Published on February 08, 2021
The coffee is still steaming hot from the February 1 grand opening of Souvenir Coffee's third location on Divisadero Street in San Francisco, the first SF outpost of the popular coffeeshop that opened in 2017 on Claremont Avenue in Berkeley, which added a second location a few miles north in Albany two years later. Eater SF reports that the SF spot was sort of a Plan B "after negotiations to open in Oakland slowed," but now owner Jeremy Bled is poised to execute on both his Plan A and Plan B for expansion. According to Berkeleyside, the Oakland Souvenir Coffee location came through too, and will open at some point "in March."
The change is brewing at Swan's Market, the upscale food court and salon spot at Ninth and Washington Streets in Old Oakland. Souvenir Coffee will open at the market's shuttered Coloso Coffee location that closed in March 2020.
"I want to give people jobs!" Bled said to Berkeleyside of his suddenly aggressive expansions. "If you care about people right now, you want to get as many people employed as possible."
The San Francisco location debuted just over a week ago in the former Native Twins space (262 Divisadero), which was also formerly home to Repose Coffee.
While their net number of sales has declined in the pandemic, average orders are larger, as Souvenir Coffee has pivoted toward bulk bags of coffee beans, a larger sandwich menu, and a line of baked goods and syrups.
"No one I know in coffee is doing better than before the pandemic, but a number of us are able to hold on because of our regulars," he told Berkeleyside. "By and large, if you're a coffee shop and you have a good following, a good group of people before the pandemic, you can survive and do OK."
Each of the three (soon to be four) Souvenir Coffee locations has its own different house blend based upon the tastes of that particular neighborhood, and the Swan's Market shop will too. Bled notes that the foot traffic aspects of Swan Market's "great sidewalk presence" creates other unique opportunities there. "The plan is to do outside seating, and beer and wine, and have a little bit of food," he told Berkeleyside.
As Eater reports, the SF location features a lighter-roast blend, as well as pastries from SoMa-based patisserie Les Gourmands — run by fifth-generation French baker Sylvain Chaillout and his parents Catherine and Serge, who all relocated to San Francisco several years ago. (You may recall the media seizing on the fact that they were selling a handmade loaf of brioche for $29. But the baguettes are $3.80 and the croissants are $5.50, and brioche is a lot of work!)
Souvenir Coffee is now open at 262 Divisadero Street between Haight and Page.
The Swan's Market Souvenir Coffee will open in March 2021 at 917 Washington Street, between Ninth and Tenth streets in Old Oakland.