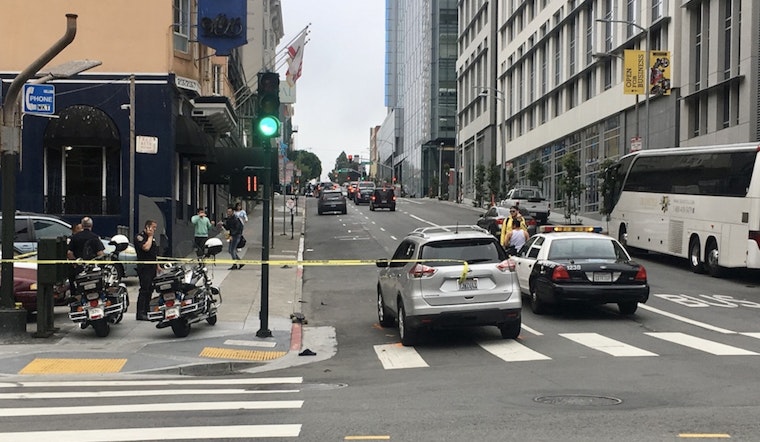 Published on February 11, 2021
The Tenderloin may see a neighborhood-wide decrease in vehicle speed limits, and restrictions on right turns on red lights, if two proposals posed by the San Francisco Municipal Transportation Agency (SFMTA) are approved.
Both proposals will be considered at an SFMTA public hearing scheduled for 10 a.m. on February 19, 2021. While the right-turn-on-red proposal could be imposed directly following the public meeting, the 20 miles-per-hour (mph) speed limit proposal must still be approved by the full SFMTA board, following next Friday's public hearing. If both proposals are adopted, they will result in changes to the city's transportation code, SFMTA spokesperson Erica Kato said.
The proposals are part of a broader effort to meet the city's Vision Zero program, which was launched in 2014 with a goal of eliminating vehicle-related deaths by 2024. All of the Tenderloin's streets are part of the High-Injury Network, made up of the 13% of San Francisco streets that see 75% of the city's traffic collisions and injuries.
District 6 Supervisor Matt Haney, who represents the Tenderloin on the Board of Supervisors, applauded the proposal on Twitter yesterday, saying the Tenderloin will be the first entire San Francisco neighborhood with a 20mph speed limit.
The Tenderloin will become first entire neighborhood in San Francisco with a 20mph speed limit.

We are also implementing "no turn on red" at 54 intersections.

Every street in TL is on the high injury network for collisions, which accounts for 75% of city collisions & fatalities

— Matt Haney (@MattHaneySF) February 11, 2021
The reduced speed is expected to reduce the potential for fatal collisions dramatically, based on studies in other regions such as Seattle, according to SFMTA.
A separate proposal would prohibit right turns on red lights at 54 intersections in the neighborhood. An initial concept proposed similar restrictions at up to 80 intersections, but some of those were outside of the Tenderloin neighborhood, Kato said.
"Once our team reviewed the list, we kept all streets [and] intersections that are in the Tenderloin for these two safety improvements," she said. "The gravity of the situation in the Tenderloin means we cannot delay taking actions that will improve safety for everyone in this critical neighborhood."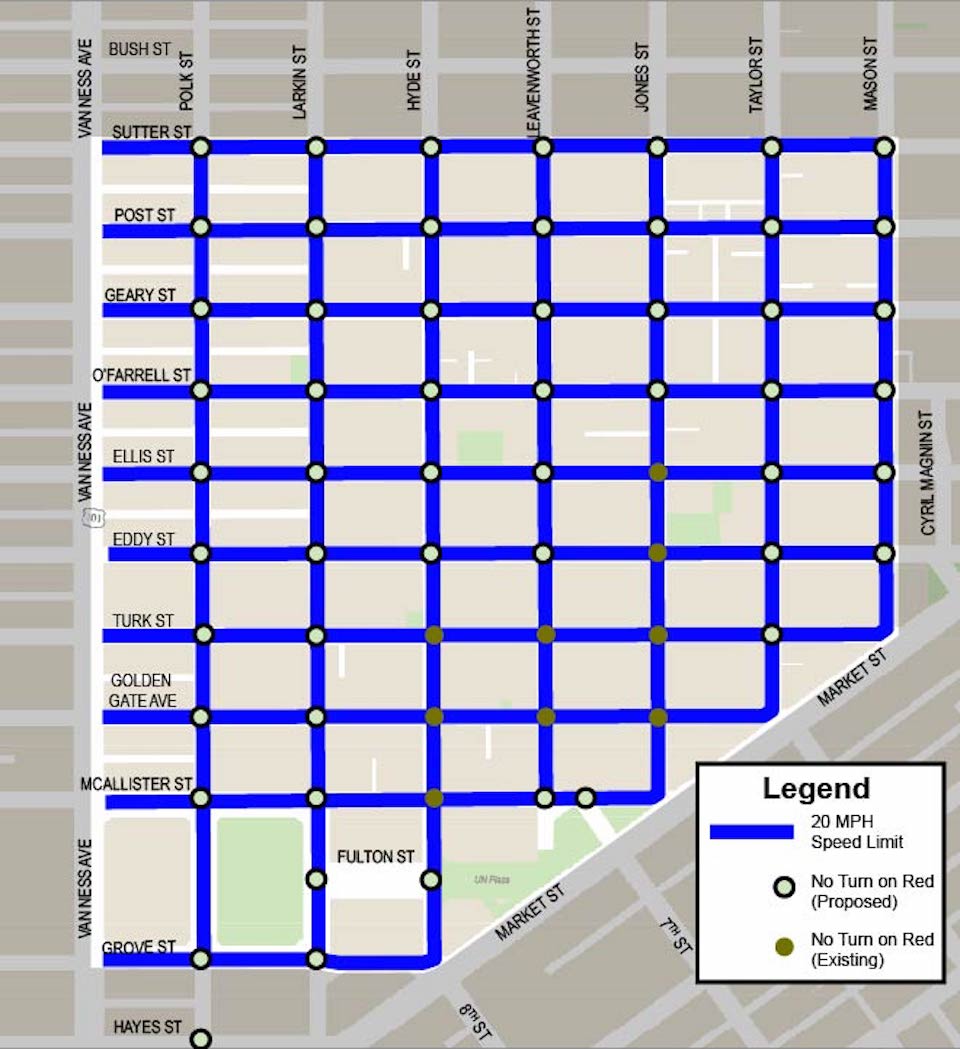 Map of intersections that would prohibit right turns on red lights, if approved. | SFMTA
The intersections targeted by the proposal do not include those that recently-installed pedestrian scrambles or don't have any existing traffic signals.
The Tenderloin is home to many of the city's seniors living in single-occupancy room (SRO) hotels and other senior living facilities, and has more children per capita than any other San Francisco neighborhood. It's also plagued with an escalating drug crisis that often results in incapacitated individuals entering the roadway unexpectedly.
Neither proposal would include any increased traffic enforcement. Instead, the changes and new signage are intended to reduce neighborhood-wide speeds and help ensure any collisions are less damaging to people and property. Community-led alternatives to traffic enforcement are being considered based on a survey conducted by the San Francisco Bike Coalition and the Tenderloin Community Benefit District (TLCBD).
Both the lower speed limit and no-turn-on-red concepts were developed in partnership with several groups of Tenderloin community advocates, including the Tenderloin Traffic Safety Task Force, the Tenderloin People's Congress, the Central City SRO Collaborative, the TLCBD, and the Tenderloin Neighborhood Development Corporation.
More information about the proposals and instructions for how to join the virtual February 19 public hearing are available on SFMTA's Tenderloin Traffic Safety Improvements website.