A partnership between two advocacy organizations aims to spark a change in how traffic laws are enforced in the Tenderloin.
The San Francisco Bicycle Coalition (SFBC) and the Tenderloin Community Benefit District (TLCBD) have teamed up to evaluate potential measures to improve pedestrian and cyclist safety through community-led enforcement.
Since September, the two organizations have been designing a survey to gather Tenderloin resident feedback on potential changes in traffic enforcement. The campaign, which started with an investigation of other community's work on similar issues, focuses on improving equity while improving safety, SFBC's advocacy director Janice Li told us.
SFBC's mission is to ensure a bicycle can be used for everyday transportation, safely, Li said.
A piece of that has always been enforcement, but as 2020 escalated calls for social justice and increased awareness of the potential injustice that could occur during traffic stops, SFBC is internally re-thinking what enforcement looks like. Its board formally ended the coalition's relations with the San Francisco Police Department and it has shifted more toward teaming up with other like-minded organizations around the Bay Area, Li said.
The partnership with advocacy organizations in the Tenderloin dates back to before Li's time with the coalition, with the installation and enforcement of bike lanes along Golden Gate Avenue. But it was only this more recent shift in SFBC's thinking on enforcement that formalized the partnership with the TLCBD, Li said.


Vehicles traveling in the freshly-painted Golden Gate Avenue bike lane |Photo: Randall Dietel/Twitter
For the TLCBD, the Bicycle Coalition's advocacy and professional attention to solving safety issues solidified the partnership, executive director Simon Bertrang said. He says their partnership naturally "expanded beyond supporting bike lanes together to collaborating on a community-driven effort that thinks about everyone who uses Tenderloin streets and sidewalks."
There have been some obvious improvements in the neighborhood, largely thanks to the Tenderloin Traffic Safety Taskforce, which includes representatives from both organizations and different resident and business groups in the Tenderloin. The Taskforce, which advocates for physical changes to improve traffic safety, led the way in getting new pedestrian scrambles installed as well as winning the Tenderloin's long-delayed access to the Slow Streets and Shared Spaces programs designed to offer residents more space to move during the ongoing shelter-in-place.
"But, we need more, better enforcement that we've been getting from traditional mechanisms," Bertrang said. The TLCBD still partners with SFPD to address violent crimes, drug-related issues, and other law enforcement needs. For traffic enforcement, though, "we need to avoid unintended consequences," he added.
Also, it's clear the armed enforcement of traffic safety laws in the Tenderloin isn't working, and never was, Li said. That's why the campaign to identify community-led alternatives was launched.
Across the city, the number of deaths and major injuries on the streets in the high-injury network, which includes all of the Tenderloin's streets, hasn't really changed, Li said. Data from Vision Zero, which was launched in 2014 with a goal of eliminating traffic-related fatalities in San Francisco by 2024, show the five-year average death toll is actually trending higher. The SFBC and TLCBD's campaign is looking for new strategies to meet the Vision Zero goal using community-based alternatives.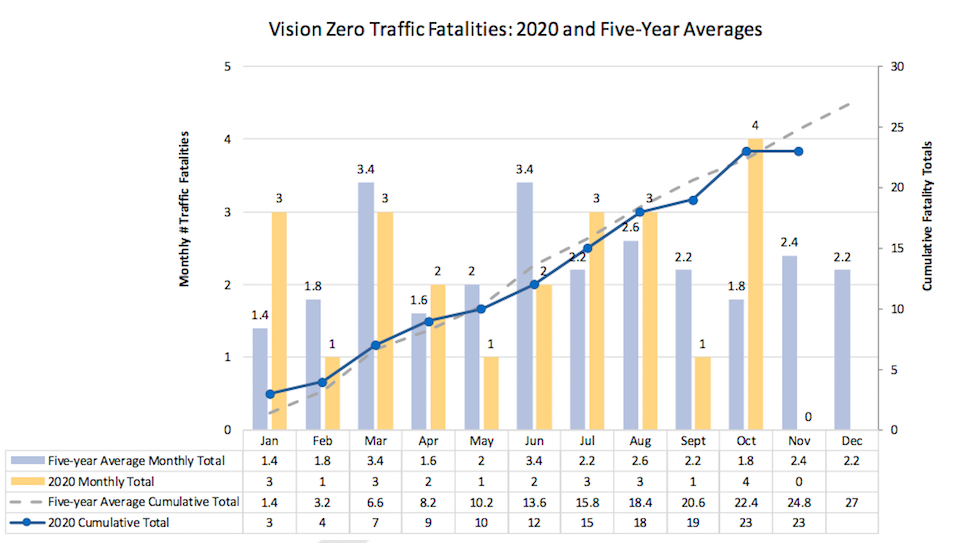 Data from Vision Zero show an increasing trend in traffic fatalities when averaged over the past five years. | Map: Vision Zero SF
The first step in the campaign is to conduct a survey of people who live and work in the Tenderloin to hear about what they've seen working, or not working, in the neighborhood, what strategies they want to see more of, and what other ideas they want to see tested. The survey is live now, and the organizations plan to do an outreach push through other Tenderloin advocacy groups in January, as well as host virtual focus groups. The hope is to also leverage the TLCBD's pedestrian safety team, led by Safe Passage, to do more in-person outreach if it is safe to do so early next year, Bertrang added.
SFMTA and District 6 Supervisor Matt Haney have been great to work with, Bertrang and Li said, adding that SFMTA especially is "eager to figure this out." While a proposal was recently floated to lower the speed limit across the whole neighborhood, its effectiveness will hinge on whether the 20 miles-per-hour limit could actually be enforced.
Automated enforcement, such as red light and speed tracking cameras, is one tool, but the goal is to learn from Tenderloin residents' experience and ideas. For example, Safe Passage ambassadors are visible, consistently present each weekday morning and afternoon, and they're insistent - by getting into the middle of the intersection physically — but never aggressive —Bertrang said. Safe Passage was launched in 2008 by volunteer mothers wanting their kids to get to school safely, and was integrated into the TLCBD's program line up in 2016.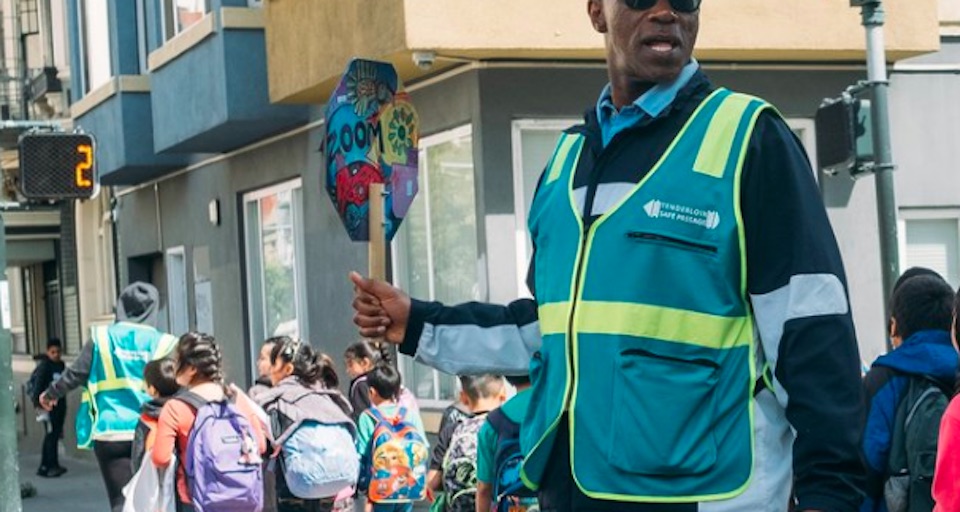 Safe Passage Ambassadors help kids and seniors cross Tenderloin streets safely | Photo: TLCBD
Identifying similar community-first strategies and ramping up that type of visible, consistent community presence could identify a first-in-the-nation model for traffic enforcement, Li added.
"We could be setting a new standard by testing ideas that haven't been tried anywhere," she said. It will be a resident-driven versus a policy-planning perspective, and there are few — if any — examples of that for police alternatives to traffic enforcement that have been tested in US cities.
After the community outreach and survey results are tabulated and compiled, likely in March or April of next year, SFBC and TLCBD will work with SFMTA, Haney's office, and other city agencies to pilot proposals in the neighborhood. The goal is to identify strategies that are likely to effective in the Tenderloin, and leverage community ambassadors to pilot them, Li said.
Tenderloin Station Captain Carl Fabbri told us that the Tenderloin police station is "not involved with the campaign at this point." No one from Supervisor Haney's office responded to requests for comment.
If you live or work in the Tenderloin, you're encouraged to take the survey and watch the SFBC and TLCBD's newsletters for next steps.