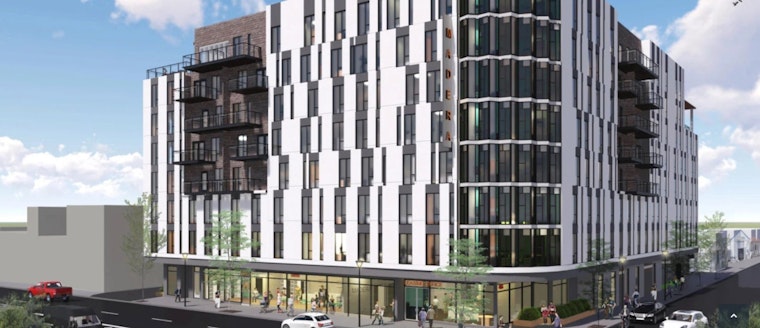 Published on March 19, 2021
Another piece of downtown San Jose's revitalization puzzle has gotten the green light. A large, new housing development called 'Madera @ Downtown West' hopped over a major hurdle this week when the San Jose Planning Department gave the project final approval. The location will be right next to the proposed Google Village campus and Diridon Station which are two cornerstones of the city's effort to transform downtown into a more appealing place to work, live, and play.
The developer, San Jose-based Urban Catalyst, released a rendering of the single building which appears to be 8 to 9 stories and would sit at 498 West San Carlos Street. It will feature 184 housing units along with some commercial spaces on the ground floor. The website describes the project as a multi-family project that will contain studios, two-bedroom, three-bedroom, and four-bedroom apartments.
The Mercury News spoke to the founder and managing partner of Urban Catalyst, Erik Hayden, who says his company and the city of San Jose are both ready to quickly start building. He says he will submit a building permit application within the next couple of weeks. "We are in a housing crisis, and the city of San Jose has made this crisis a priority. This approval is great news for the community and for our investors. It is proof that the city's process to streamline residential projects is working," Hayden told the Mercury News.
Urban Catalyst is one of several developers that have new housing or office projects working their way through the approval process with the city. Hoodline reported earlier this month on a plan from San Jose developers Westbank to build a massive mixed-use building called 'The Energy Hub' which is slated to contain 194-residential units and 314,000 square feet of office space. So far though, there is no completion date for that project.
Madera @ Downtown West is one of the only projects to get final approval from the planning department but it also doesn't appear to have a completion date. According to the Mercury News, Urban Catalyst bought multiple properties at the intersection of West San Carlos Street and Josefa Street for $10.2 million dollars so they could have more planned for the busy corner, like retail, restaurants, offices, or even other housing projects.