Something new is in the works that could dramatically transform the skyline of downtown San Jose. Developers Westbank and Gary Dillabough have put forth renderings of a uniquely-designed highrise building that is unlike anything the Bay Area has today. It's called "The Energy Hub" and according to the Mercury News, the building will be home to the so-called "urban room" that will pump up activity in the area and make it more lively.
The 21-story curved building would sit at 35 South Second Street, which is now a parking lot. It would be a mixed-use structure that would contain several levels of both offices and housing. The plans call 194-residential units filling up the bottom 10 stories and 314,000 square feet of office space on the top 10 floors. The developers say that the residential units would be placed into the two legs of the tower beneath the arch. Stores and shops would line the street-level floors of the two pillars. The floors 10 stories and above would all be offices.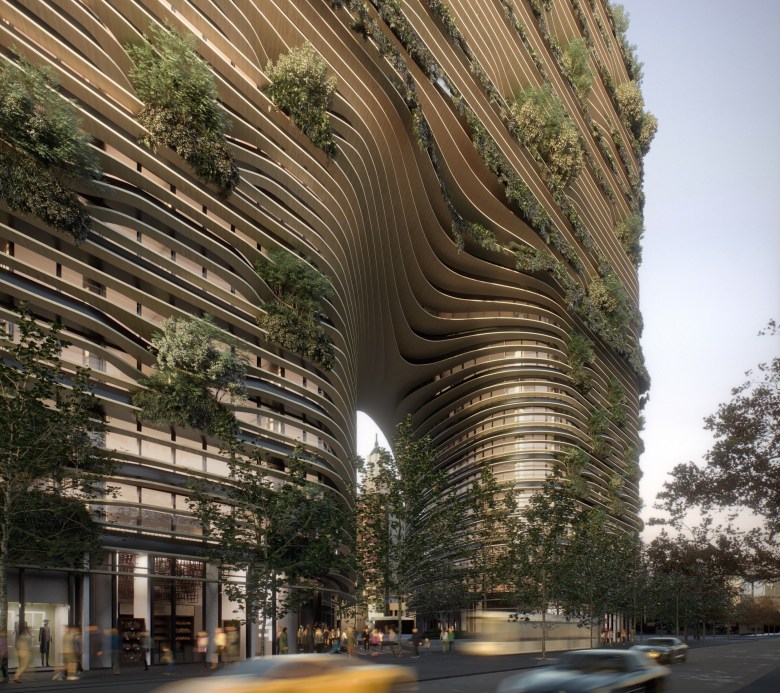 "The Energy Hub" | Rendering by Haves Davidson/Westbank
The design of the building goes against the way traditional mixed-use highrise buildings have been designed over the past few decades. Most buildings have office spaces on the lower stories of the buildings while leaving the upper-level spaces with better views for one- and two-bedroom apartments and penthouses. "The placement within the structure of the retail, commercial, and residential space is different and exciting," said Brian Corbett, a design committee member of the San Jose Downtown Association, told the Mercury News.
The centerpiece is expected to the huge, atrium-style public lobby called the "urban room" that can be accessed from the sidewalks or from inside the building. The roomy feel is expected to be achieved by using five full floors of space. The building will be topped by a large forest-like setting on the roof which will also be loaded with activity areas and amenities, including a running track, lounges, dining zones, and quiet spaces.
The Mercury News reports that The Energy Hub and the nearby Bank of Italy building, which Hoodline reported in November will soon be undergoing a major renovation by the same developers, will have a connection point along Fountain Alley and will offer even more new opportunities for lively businesses along that alley, and several others that intersect the downtown area around the two buildings. The goal is to create a lot more foot traffic.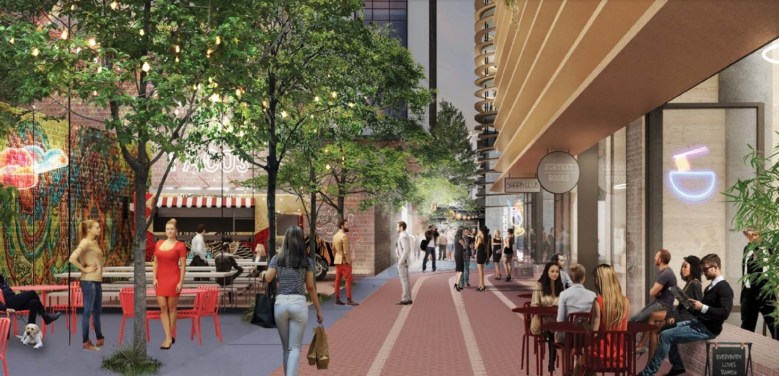 Fountain Alley near "The Energy Hub". | Rendering by Hayes Davidson/Westbank

At this point, The Energy Hub is still in the early stages of the city's planning and approval process. A completion estimate was not released.