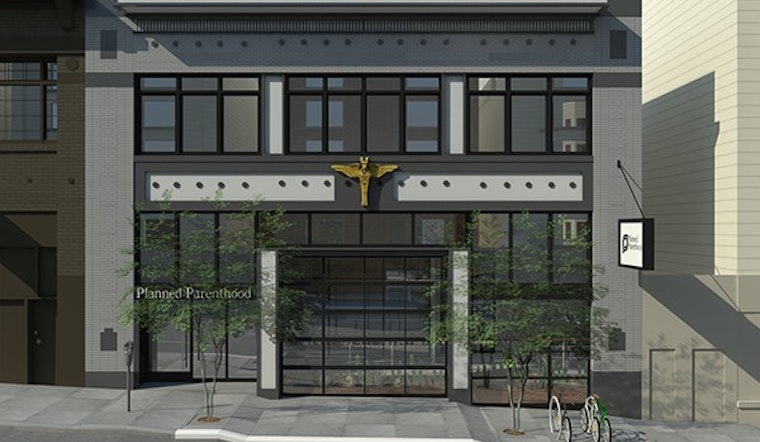 Published on March 08, 2021
San Francisco's Planned Parenthood locations have traditionally served the highest volume of patients of any Planned Parenthood of Northern California health centers, but as such, wait times for appointments were often a week or more, and those appointments would sometimes begin behind schedule. The organization thus set its sights on a new and much larger SF clinic back in 2015, and that goal will now be realized as Planned Parenthood opens its new SF facility on Tuesday, March 9 at 1522 Bush Street (at Polk Street).
According to a release, the facility opening Tuesday "offers access to a range of care, including wellness exams, birth control, cancer screenings, STI testing and treatment, gender-affirming care, and abortion." The release adds that "PPNorCal anticipates receiving 20,400 visits and 13,000 patients annually at the brand-new health center and expects a three-day decrease in appointment waiting time."
The new center has been in the works for a while, and is already listed on the Planned Parenthood website. SF Weekly reported in 2017 on plans to open the flagship site at the location, which had previously been an automotive shop. According to the Planned Parenthood of Northern California website, "We expect that this central location will reduce the booking time for appointments by half (from an average of six days to three) and increase our visit capacity by 20%."
The entire cost of the $22 million center was funded through private donations, and according to Planned Parenthood, the amount was "generated by a total of 877 individuals and organizations." These individuals and organizations are understandably not named, though the release does mention the Hellman Foundation, of Hardly Strictly Bluegrass Festival fame.
With the opening of the new office and clinic facility, there will be three Planned Parenthood locations in San Francisco. There's the Valencia Street location that's known to attract protesters, and a less-discussed location in Good Samaritan Family Resource Center in Potrero Hill. Planned Parenthood seems to acknowledge the protesters in their release for the new location, saying that they proceeded with constructing it "despite multiple and elevated threats starting January 2017," i.e. right after Trump's inauguration.