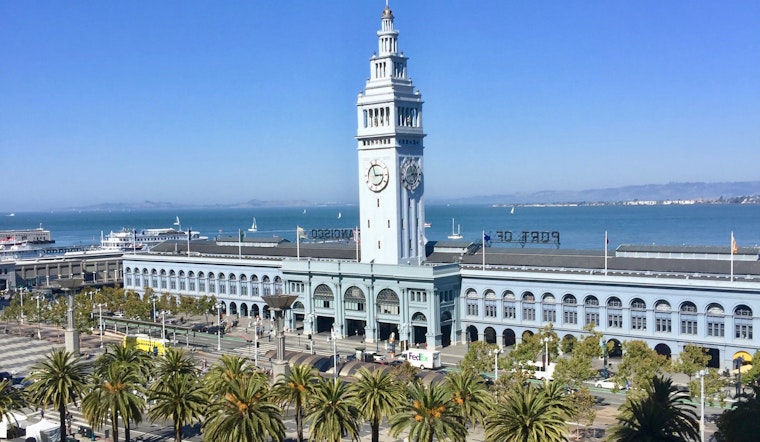 Published on April 20, 2021
A spate of high-profile closures at San Francisco's once-thriving Ferry Building is being followed by some more positive news, as four new businesses announce openings at the iconic shopping and dining complex.
First up, open as of this week is chef Anthony Strong's SuperStella. Strong sadly had to shutter his first solo restaurant last summer, Prairie, which arrived in late 2018 several years after he departed the kitchen at Locanda, which he opened in 2011. Strong already tried an experiment in non-traditional food businesses in 2017, launching a delivery-only restaurant — a chef-driven "ghost kitchen," if you will — called Young Fava. The concept took off so quickly that Strong said he couldn't keep up with orders, and he soon paused the business in order to search for more permanent digs, which ultimately led to the opening of Prairie.
Now, Strong is selling out his small-scale SuperStella catering operation, which is serving out of (and inside of) a 1989 Volkswagen camper van. He's previously been set up at SPARK Social in Mission Bay, but now, as the SF Business Times reports, SuperStella is debuting in Ferry Plaza, behind the Ferry Building.
"Our experience is 'Glamping at its finest' for up to 4 guests at a time," Strong's website reads. Strong says he's been a camping fan since growing up in the Midwest, and with this SuperStella concept he is "preparing great local ingredients over a Mesquite charcoal grill and hosting truly unique dinner parties."
Each evening begins with cocktails in folding chairs outside the van, and the dinner table is inside the van, with four courses running you $88 to start, with add-ons that can go up to double that per person, plus wine pairings. At present, there's no availability showing — and given Strong's history, you may want to sign up for email updates and grab a chance for this unique experience before he's on to bigger projects.
Opening later this month at the Ferry Building, on April 30, is a new outpost for Oakland-based Red Bay Coffee, as previously announced in March. Hoodline just covered the opening of Red Bay's new roastery and headquarters in Oakland last week, and now San Franciscans will have quicker access to Keba Konte's coffee.
Also on the way, in time for Mother's Day, is a pop-up from San Francisco-based floral design outfit Flowers By Romy. And, per the Business Times, Oakland street food vendor Cholita Linda will be coming to the Ferry Building this summer — though it's unclear if that is in a permanent stall, or something else.
The Ferry Building has appeared beleaguered in recent months, impacted along with everything else by the combination of a pandemic and an ongoing retail shopping downturn. Cowgirl Creamery and its companion Sidekick Cafe recently closed, with Cowgirl being one of the last "original" tenants of the Ferry Building marketplace from its 2003 redevelopment and reopening. San Francisco Fish Co. closed at the Ferry Building last year, and pre-pandemic we lost MarketBar, Mijita, and Brown Sugar Kitchen.
But perhaps there are signs of some turnaround for this prime piece of real estate, with the openings mentioned here, and with recent openings as well by Epicurean Trader (where you can still buy Cowgirl cheeses for your picnics), and Carmel Honey Co.
Also, eventually, Slanted Door and Out the Door are expected to reopen after lengthy closures as well.