A baby whale tangled up in fishing line that was first spotted off the Southern California coast last week appears to be heading towards the Bay Area, and rescuers hope the public can help locate it.
Experts trying to save the whale think it has headed through the Monterey Bay and may now be in waters north of there. The calf was swimming with its mother as part of the annual gray whale migration from up the California coast when it was spotted off Orange County with fishing line caught in its mouth, dragging a buoy. Members of the public are encouraged to keep their eyes out for the calf and immediately report the location if they spot it.

Rescuers try to save the whale Video: Pacific Marine Mammal Center Volunteer Team, Scott Struthers
According to the Pacific Marine Mammal Center in Laguna Beach, a whale-watching vessel first spotted the calf in trouble. The first mate on a Captain Dave's Dolphin Safari boat, who also happened to be a volunteer with the center, alerted the center. A rescue team from the Pacific Marine Mammal Center and NOAA soon arrived on the scene, but they weren't able to free the massive baby.
"The team was not able to remove the main entanglement around the head as the team needed to attach to the whale to slow it down and keep it at the surface but each time the team successfully attached to the line trailing the whale, the entangling line would snap," the center posted on social media.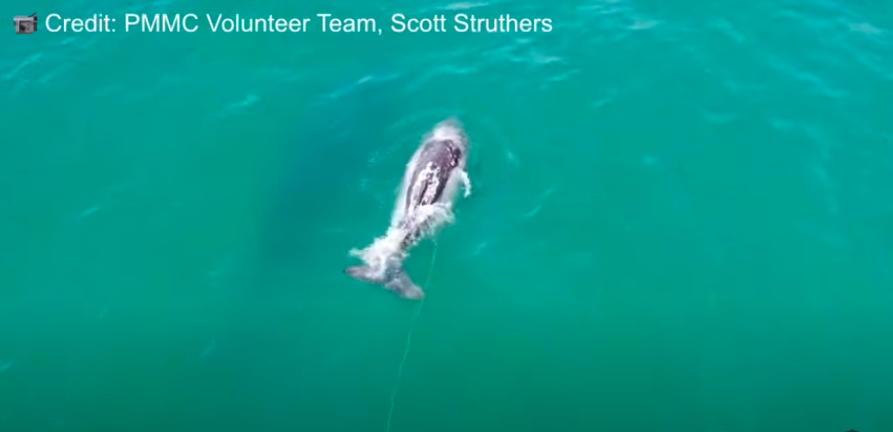 A still from a video of the baby dragging a buoy behind it. Photo: Pacific Marine Mammal Center Volunteer Team, Scott Struthers
Not only is maneuvering around these giant animals difficult and dangerous, but the mother whale also wasn't so sure about these human interlopers trying to get close to her baby. "In addition to the line challenges the mom was also very protective and kept positioning herself between the calf and the rescue boat," the center posted.
When, or if, rescuers catch up to the entangled baby again, they'll try again to cut it free.
Karen Grimmer of the Monterey Bay National Marine Sanctuary described to the Mercury News the possible outcomes of the calf's predicament: "Sometimes the whale can throw the gear off," Grimmer said. "Other times we can cut all of the gear or most of the gear off. Most of the time that occurs. The third scenario is that we don't see the whale again and it dies. It's a very dedicated group of very passionate people who put their lives at risk. They take it very seriously. They are often successful."

The entangled baby swims next to its mother Video: Phil Kreis / Youtube
If you see the whale (or any other entangled whale), report the location to 1-877-SOS-WHALE.