This week, Santa Cruz is dispersing several encampments located near highways while discussing city policy on camping in general, putting its homelessness problem again in the spotlight. Yesterday, police removed several long-term campers, many of whom had been living on state-owned highway mediums for months. Caltrans crews followed, removing hundreds of pounds of debris, according to KSBW News.
On Tuesday, the Santa Cruz City Council was set to consider an ordinance that would effectively ban camping within city limits, though officials plan to offer 150 alternatives sites "where sanctioned, nighttime camping could occur safely, legally and hygienically," according to Good Times Santa Cruz, who quoted the proposed ordinance.
The City Council rejected a similar ordinance in April. The "Temporary Outdoor Living Ordinance" caused a public backlash, with residents concerned that campsites might pop up in neighborhoods. Santa Cruz mayor Donna Meyers said the city wanted to take care to prevent large numbers of people from living in public parks and spaces, according to KSBW. Both ordinances have targeted "daytime camping"; a ban on tents set up during the day would effectively prevent long-term encampments.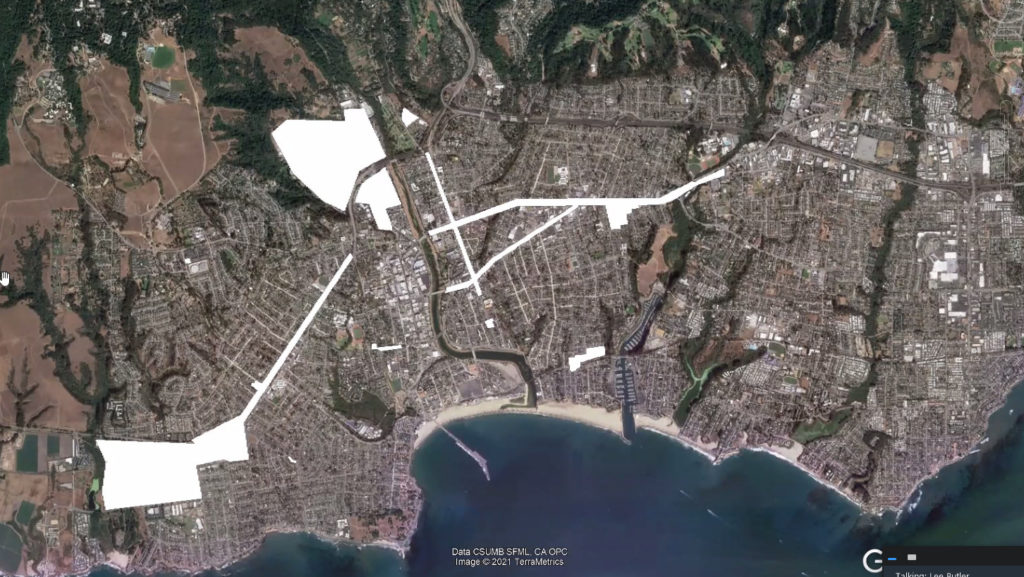 The white blocks show areas where homeless camping is proposed to be legal: Areas that are zoned commercial industrial — on the far Westside, Harvey West and a small area of Seabright — and along Mission, Ocean and Water streets and Soquel Avenue. Source: City of Santa Cruz via santacruzlocal.org
In March, a federal judge prevented Santa Cruz city officials from removing its largest homeless encampment, the longstanding one in San Lorenzo Park. According to the Santa Cruz Sentinel, a city attorney requested that the judge allow the city to remove occupants of camps in smaller parks, thus leading to the razings this week.
Santa Cruz has an especially large homeless population relative to its size, according to The Mercury News. In 2019, the city estimated that some 1,200, or about 2%, of its residents were homeless. During the pandemic, it's not clear if the homeless population grew, but local homeless advocates on Facebook and elsewhere repeatedly called on police and the city to stop sweeps of homeless encampments — which were also going on in neighboring Salinas throughout the year.
But other Bay Area municipality's homeless communities tend to garner more attention — and funding — for the homelessness issue. The Mercury News reported that the U.S. Department of Housing and Urban Development awarded Santa Cruz County, which includes the cities of Santa Cruz and Watsonville, $3.7 million in grants in 2019, or about $1,690 per unhoused resident. By contrast, Santa Clara County gets $2,962 per unhoused person, Alameda County gets $4,514, and San Francisco gets $5,514.