As California heads into the height of summer during one of the state's driest years in history, the water provider in the Bay Area's largest county has declared a water-shortage emergency. The Santa Clara Water District, or Valley water, which serves some two million residents in the San Jose area, announced on Tuesday that customers must curb their water usage by 15% of 2019 levels.
"Santa Clara County is in extreme drought; we are in an emergency," Valley Water board chair Tony Estremera said in a statement yesterday. "To better deal with these threats, my fellow board members and I unanimously declared a water-shortage emergency condition in Santa Clara County." Estremera said that yesterday's declaration was among the strongest actions allowed under the law to implement restrictions on the delivery and consumption of water.
"We also are urging the County of Santa Clara to proclaim a local emergency, and join us in underscoring the seriousness of the threats posed by the extreme drought," Estremera said in the statement.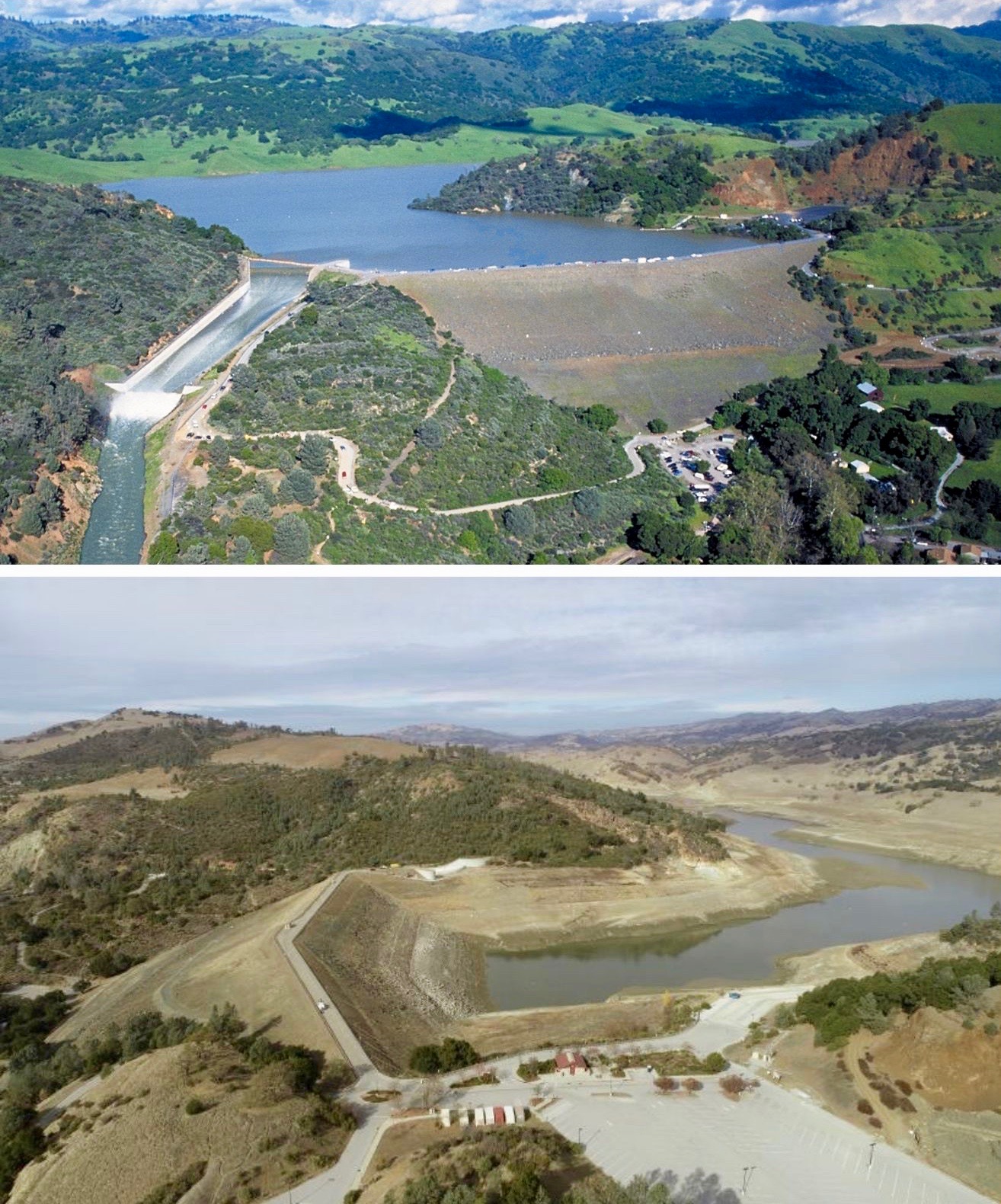 Top photo: In 2017, Anderson Reservoir reached its capacity for just the tenth time in almost 70 years. Bottom photo: Anderson Reservoir, which is Valley Water's largest, has been emptied for major earthquake repairs; the district's 10 reservoirs are at just 15% of their capacity, according to the Mercury News. Santa Clara County was also affected by the federal government's decision to cut water allocations to cities by half from the Delta due to a meager Sierra Nevada snowpack, the Mercury News also said. Source: Valley Water
Exactly how private water companies will get their customers to make the 15% reduction remains to be seen, according to NBC Bay Area. Methods might include limits on lawn watering, swimming pools, and requiring restaurants to only provide water to those who ask. Valley Water has asked dozen of cities and private water companies in Silicon Valley to limit landscape watering to no more than three days a week, and to crack down on water wasting, acccording to the Mercury News.
Several Bay Area cities still have water-wasting ordinances on the books from California's "historic" drought from 2012 to 2016, where residents of Santa Clara County had severe mandatory water restrictions imposed on them. The Mercury News reported that some cities and private water companies might consider raising water rates, levying penalties for overuse, and re-imposing water allocations for each home as tools to achieve conservation goals.
When will the Drought end? California's last El Niño event, or a period of above-average precipitation, was in 2019, which was among the wettest years in recent history, according to the Sacramento Bee. El Niños, which are characterized by a band of warm ocean in the central and east-central equatorial Pacific, typically occur every two to seven years.
Because of low reservoir levels in Santa Clara County, Valley Water will have to rely on pumping local groundwater, as well as buying high-priced farm water from other districts, the Mercury News reports, adding that if there's another dry winter and a continuation of the drought next year, local groundwater levels could fall to dangerously low levels.