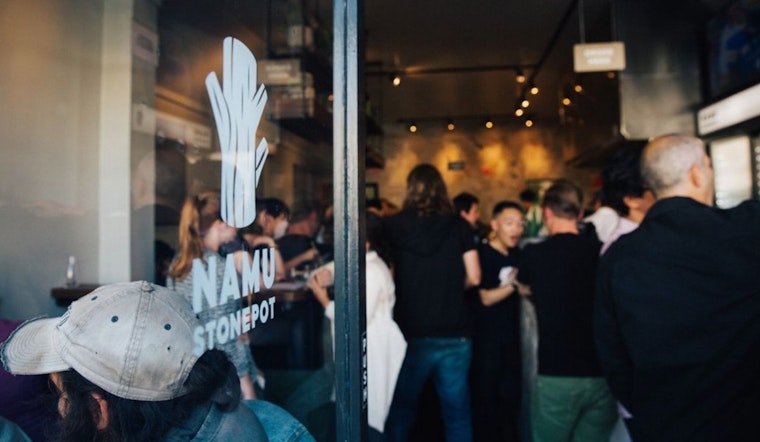 Published on June 09, 2021
Namu Stonepot (553 Divisadero) is no longer serving its loco moco bowls and stonepot rice from the Divisadero space where it's lived since 2017. Chef-owner Dennis Lee announced the closure on Instagram on Sunday, saying that that would be restaurant's last day. Namu Stonepot remains open for takeout, dine-in, and delivery in the former Namu Gaji space catty-corner from Dolores Park on 18th Street, however. And the team has a new restaurant/beer hall on the way any day now in SoMa.
"We're so appreciative of the supportive community we've been able to be a part of the past few years," Lee writes. "Our timing has been cut short of the four-year mark, but so much has happened in our time with being able to feed our community through food and conversation. We look forward to the new exciting changes that are in store, and we hope you'll continue to follow us along our journey with the Namu Family!⁠"
View this post on Instagram
Namu Stonepot was a spinoff of Namu Gaji, which itself was a spinoff by Lee and his brothers from their original Richmond restaurant Namu, that opened over a decade ago and put Korean tacos on the map in SF. A signature dish of stonepot rice became the basis for the fast-casual concept, and as the SF scene has evolved to embrace more of these quick-service restaurants, Namu Gaji ceased to be a more formal sit-down affair before the pandemic. The restaurant had been forced to close for an earthquake retrofit in early 2019, ⁠and by July of the that year, the Brothers Lee announced they were taking over the former Perennial space on 9th Street, adjacent to mid-Market.
That project is still in the works, but it's evolved into more of a food hall that combines both Namu Stonepot's food, and a new sourdough pizza concept that was born during the pandemic. As Eater reported in December, Sunset Squares began as a sort of delightful mystery, based entirely on Instagram with DM'd orders and payments on Venmo, with focaccias, deconstructed salads, and delicious Detroit-style pizzas with toppings like mapo tofu, bulgogi, and kimchi. Lee initially refused to identify himself as the talent behind it all, but then Sunset Squares launched on Tock and DoorDash, and he had to come clean.
View this post on Instagram
The 9th Street space, the name of which has not been announced, will be a combo of Namu Stonepot and Sunset Squares, along with Filipino pop-up Uncle Tito, and plenty of local beers on tap. The team wants it to have a beer-hall / street food vibe, and it was said to be "weeks" away from opening in late April.
As Dennis Lee told the Chronicle in April, "It's always fun when people can go somewhere where you can have inexpensive beer and wine and order off multiple menus, almost like a street food truck [market]." And, he added, regarding the demise of Namu Gaji, "Operating a full-service restaurant is extremely challenging as is. With all of the delays and new challenges brought on during the first two shelter-in-place orders and uncertainty of the coming year, we had to make the difficult decision to end that business."
Lee also says that he's ultimately planning to open more Sunset Squares "slice shops" at other locations around the city.
But given how nimble the Lees have been with their pivots in the past, who knows what will come next.