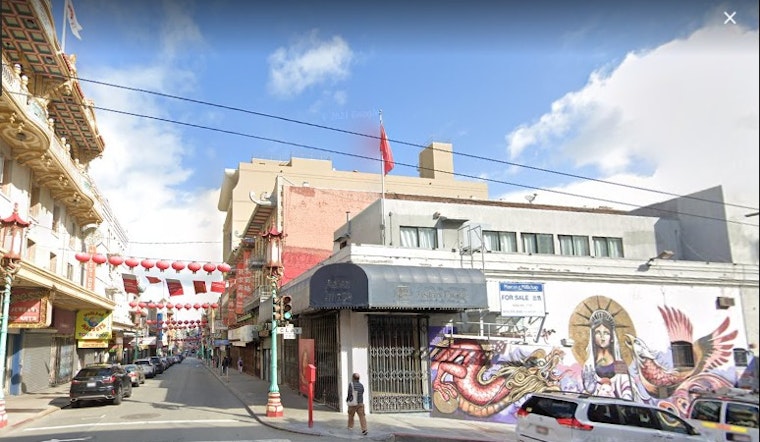 Published on July 16, 2021
The attacks on Chinatown seniors are one of many factors that have made this a brutal last 18 months for San Franciusco's oldest Chinatown in the U.S, but also conceals a comeback story that's been quietly advancing for months. The 100-year-old Far East Cafe has been saved from closure, the long-empty Empress of China has finally opened its new incarnation Empress by Boon, and now, a vacant storefront at Grant Avenue and Clay Street is about to get a nearly $30 million upgrade. Bay City News reports on a $28.6 million arts and media center coming to that address, to be called Edge on the Square, and funded with money found in the state budget by Assembly Budget Chair Phil Ting.
Proud to announce $26.5M from the #CaBudget to help the Chinese Arts & Media Center establish a center in SF's Chinatown. It aims to create a fresh narrative of equity & inclusion, while also fostering greater understanding amid #API hate incidents. #StopAAPIHate pic.twitter.com/1xlHhEaRV9

— Phil Ting (@PhilTing) July 15, 2021
"Edge on the Square will be a place to learn and open minds, while also giving our API community a safe space to be seen and heard," Ting said in a statement. "The alarming increase in hate incidents against members of the API community tells us we must invest in ways to educate people by promoting the numerous contributions and value that APIs have brought to the fabric of California and this country."
Announcing $26M in state funding to launch "Edge on the Square," a new SF Chinatown arts & media center to promote equity & inclusion while uplifting our community from the pandemic & anti-Asian hate. Much thx to @PhilTing & great API community leaders for realizing this vision. pic.twitter.com/jvT1AAzg0T

— David Chiu (@DavidChiu) July 16, 2021
The 800 Grant Street location, just a block from Portsmouth Square, will transform into Edge on the Square, and be managed by the Chinatown Media and Arts Collaborative (CMAC). That organization says Edge on the Square will bring "a fresh narrative of equity and inclusion, fostering greater understanding through the works of artists, performers, activists, technologists and educators."

"After years of discussion, I'm thrilled that Edge on the Square will move forward so Chinatown emerges stronger after the pandemic, recession and anti-Asian hate," said assemblyperson David Chiu. "By uplifting our community's experiences, this once-in-a-generation project will celebrate equity, inclusion and social justice, and ensure Chinatown is a beacon for generations to come."

The storefront at 800 Grant Street has a pretty impressive mural, but is otherwise an abandoned and dilapidated space next to the bustling parklets of Oriental Pearl restaurant. Edge on the Square is expected to complete construction and open its doors in late 2024.