A significant decrease in COVID-19 cases and the recent silencing of former president Trump heaping blame on the Asian community has not put a stop to the uptick in racist attacks on Asian Americans during the pandemic. In San Francisco's Anza Vista neighborhood, the late January killing of 84-year-old Vicha Ratanapakdee is believed by his family to have been racially motivated, and just days later, three separate assaults occurred in Oakland's Chinatown. Scores of other recent attacks on Asian Americans in the Bay Area have gotten less publicity.
San Francisco Peace Collective founder Max Leong, speaks in SF at the Civic Center Plaza about the forming a walking patrol in SF last year to protect Chinatown elders but how walking patrols are unsustainable and not a long-term solution. (1/2) pic.twitter.com/G35YTge8tv

— Sarah Belle Lin (@SarahBelleLin) February 14, 2021
As Lunar New Year celebrations are underway in San Francisco, activist groups have formed community foot patrols to look out for and protect elderly residents, according to NBC Bay Area. They're also distributing whistles, and SFPD has added more officers to patrol the Chinatown neighborhood.
"This isn't a new issue," Chinatown Community Development Center executive director Malcolm Yueng tells Hoodline. "This surge in attacks and robberies of the vulnerable members of our population, which are typically seniors, women, and in some instances young folks, this has been going on for years."
In addition to the increased SFPD patrols for Lunar New Year, a new SFPD Community Liaison Unit has been established specifically for Chinatown.
"It models over the Hate Crime Task force they have in New York," says Asian Pacific Islander American Public Affairs Association (APAPA) advisory board member Steven Lee. "If you're an Asian immigrant, a lot of times you don't want to report trouble. But if you have a Chinese or Asian officer, or someone of your own language skills, then they feel comfortable talking to you."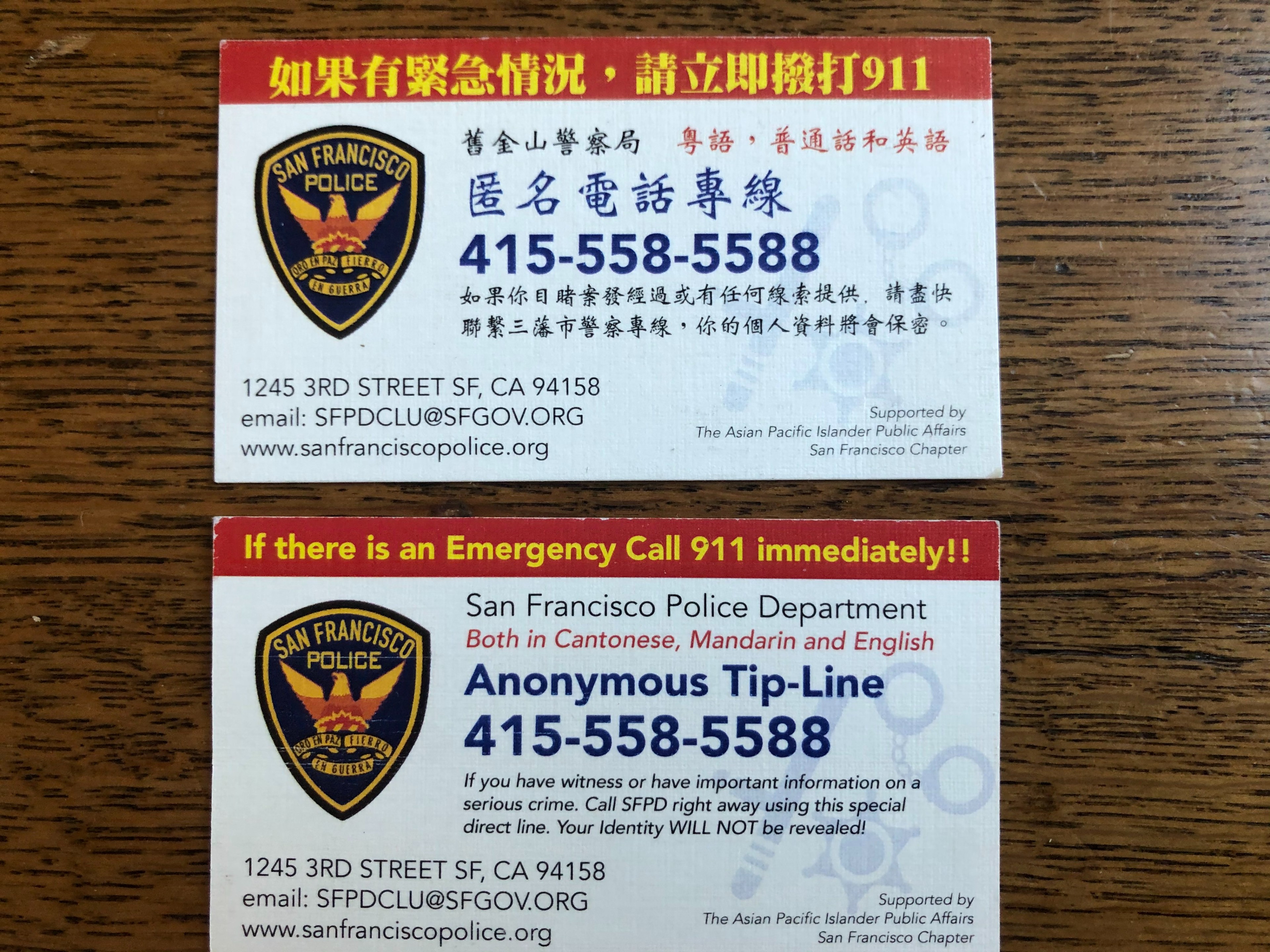 Photo: Joe Kukura/Hoodline

APAPA also funded and is circulating business card-sized handbills with emergency numbers and the SFPD anonymous tip line, with information printed in both Mandarin and Cantonese.
"If you put it in the newspaper or on the media, you get a one-shot deal," Lee tells us. "Nobody's going to know. But if you put that in your pocket or wallet, you'll remember."