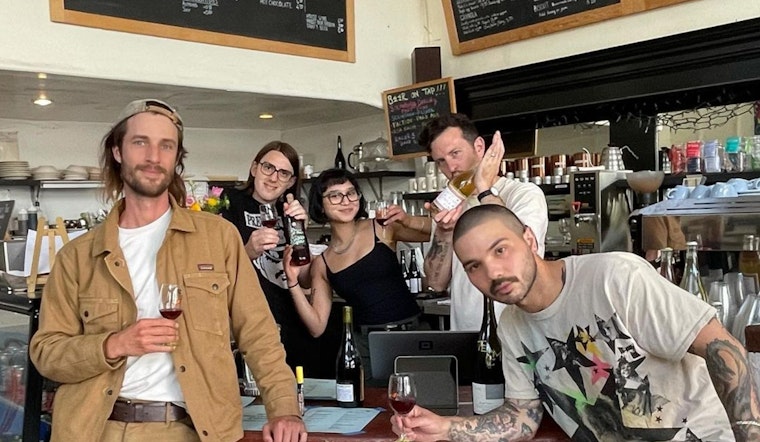 Published on July 12, 2021
A new wine bar with dance bar aspirations is coming to the former Thieves Tavern space at 496 14th Street (at Guerrero), and it's called Bar Part Time.
Bar Part Time, and its founders Justin Dolezal, Jeremy Castillo, and Dan Small, have gained a following as a pop-up at Mercury Cafe in Hayes Valley — with the first dance-y pop-up having happened in early 2020, shortly before pandemic lockdowns began. They pivoted to delivering their natural wines and waited for restrictions eased before they began doing the pop-up once more, and now they're ready to open a place of their own, aiming for an early fall opening.
Unlike most wine bars around the city, especially those that focus primarily on European natural wines that have zero additives or preservatives — including sulfur — the vibe isn't intended to be stuffy, but actually the opposite. And they're planning to stay open until midnight on weekends.
As Castillo, who's also a DJ, tells the Chronicle this week, "I've always thought of wine as something to drink into the wee hours of the morning."
And Dolezal tells the paper, "I think people have really identified with the vibe and the scene we've created. The wine is the centerpiece, but sometimes it feels like we're an entertainment company."
There will be some food available, but the focus will be on by-the-glass natural wines, inspired in part by Castillo's time working at Ruby Wine in Potrero Hill. And in addition to producers from Europe, where the natural wine scene is more prevalent, they tell the Chronicle that some California producers will be featured like Stagiaire, Mountain Misery, and Slow Dance. You can get an idea for their tastes via their current delivery menu.
Thieves Tavern was an early casualty of the pandemic along with sister bar The Blind Cat. As Hoodline reported in May 2020, onetime owner of multiple bars Paul Bavaro decided it wasn't worth it to continue losing money not knowing what the rest of the pandemic would look like.
Follow Bar Part Time on Instagram for updates on the opening, and any pop-ups between now and then.