By
Matt
- Published on September 30, 2021.
On the heels of Estiatorio Ornos opening up in the FiDi, The Vault Steakhouse — an upscale steakhouse by Hi Neighbor Hospitality Group (Trestle) — is set to begin serving downtown diners tomorrow, October 1, inside the 555 California Street building.
San Francisco has no shortage of steakhouses. Between longtime local staples like Alexander's Steakhouse and promising newcomers — among them being Epic Steak, Niku Steakhouse, Morton's, the still new Mastro's, Tyler Florence's brand new Miller & Lux at the Chase Center — well-marbled red meats are not too hard to come by in the city. And now The Vault Steakhouse is set to become another eatery vying for your reservation when they debut to the public in FiDi tomorrow, October 1.
This is the Hi Neighbor group's pivot for the space that pre- and mid-pandemic had been operating as The Vault, with a range of high-end food that didn't center on steak.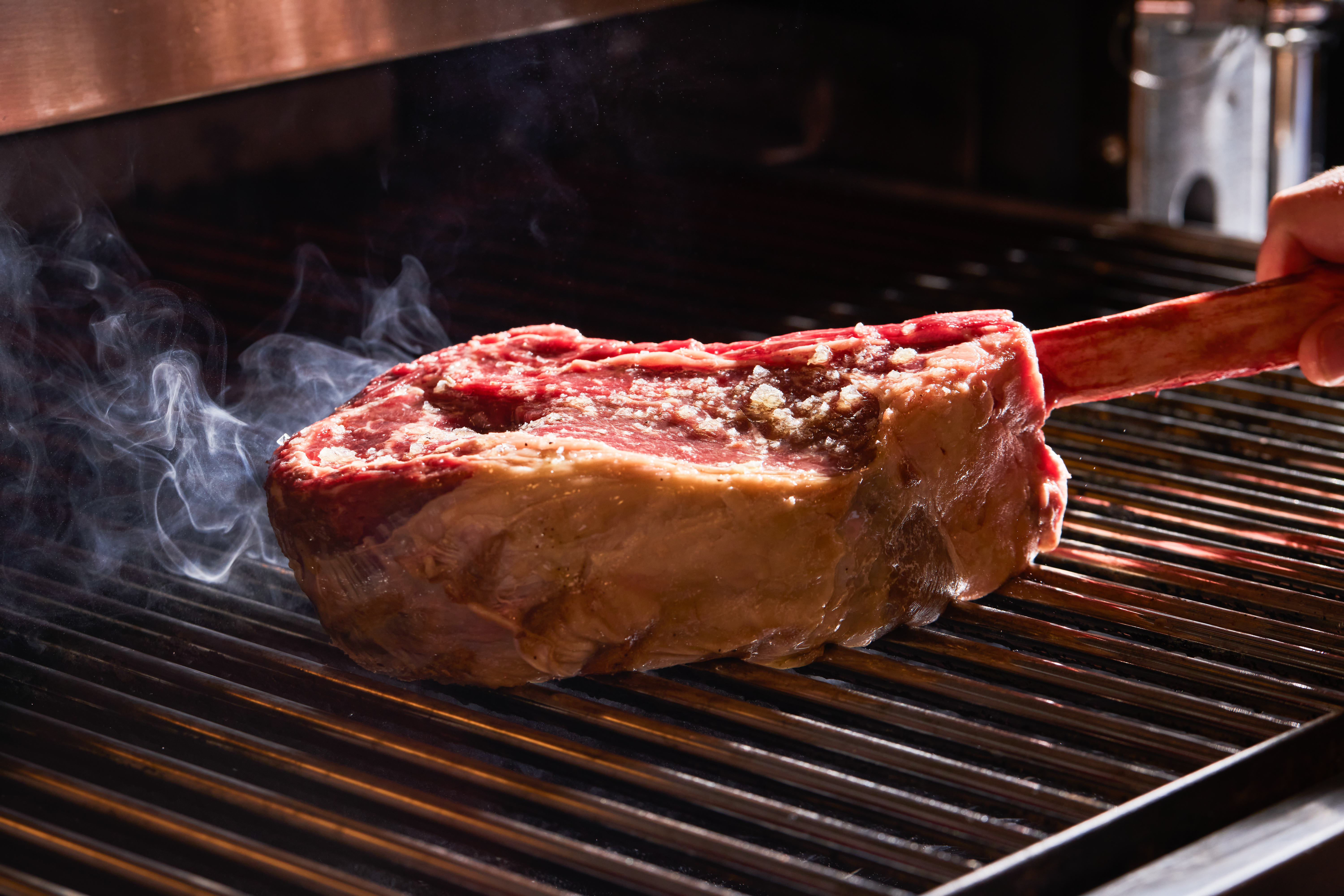 In reference to the restaurant's unique space, which was originally an old bank vault, The Vault Steakhouse's menu will include an elevated, yet approachable menu from Executive Chef Ryan Cerizo. Though The Vault Steakhouse has its fair share of innovative dishes, it's expected to retain its classic steakhouse interpretation, featuring traditional steaks and seafood — with fresh, unexpected sides like maitake mushroom and $11 french fries.
Diners can also expect cart services, twists on classic cocktails, and a lofty wine list. Guests will also be able to choose their own steak knife, too.
"The Vault Steakhouse honors its location in the landmark 555 California Building with intimate service, ongoing events, and private dining space for meetings or celebrations. When our team came together to discuss what concept we wanted to put in this location, we kept returning to one thing that we all crave in our own lives: the comfort of a steakhouse," said Ryan Cole, of Hi Neighbor Hospitality Group.
The space, itself, is a modern, sleek space that makes use of upscale finishes and textures to summon a sense of luxury. Stained sliding glass doors open into the eatery; blue velvet and dark leather upholstery are prominent throughout the space; a slatted wood ceiling pays homage to the venue's past — including the repurposing of safety deposit boxes as decor and storage behind the bar. The glassware selection, too, includes vintage low-ball glasses trimmed in gold.
Any one of the 215 guests that The Vault Steakhouse can accommodate can look forward to indulging in dishes like truffle-stuffed chicken, beef fat-fried rice, and, of course, a selection of Wagyu and Black Angus steaks.
But at $150 for a cut of premium A5 Japanese beef, prepare yourself to enter into your own bank account and empty a good chunk of money from it.
// The Vault Steakhouse (555 California Street) opens Friday, October 1 from Tuesday through Thursday from 5 p.m. to 9 p.m and Friday and Saturday 5 p.m. to 10 p.m; reservation can be made by phone or online here; all dinner must show proof of vaccination and abide by San Francisco's mask-wearing COVID-19 safety protocols, thevault555.com