Published on December 22, 2021
Longtime Castro Merchants administrator Richard Magary died Tuesday, December 20. Magary was 81.
The Castro Merchants shared the news of his passing through an emailed statement.
"It is with a very heavy heart that we today learned of the passing of Richard Magary," said Castro Merchants president Masood Samereie. "A man who was not just the longtime Castro Merchants administrator but someone who exhibited the very heart and soul of our organization."
Magary served for 15 years as the Castro Merchants administrator before retiring in May 2020. Magary also served as the president of the Buena Vista Neighborhood Association from 1988-2013.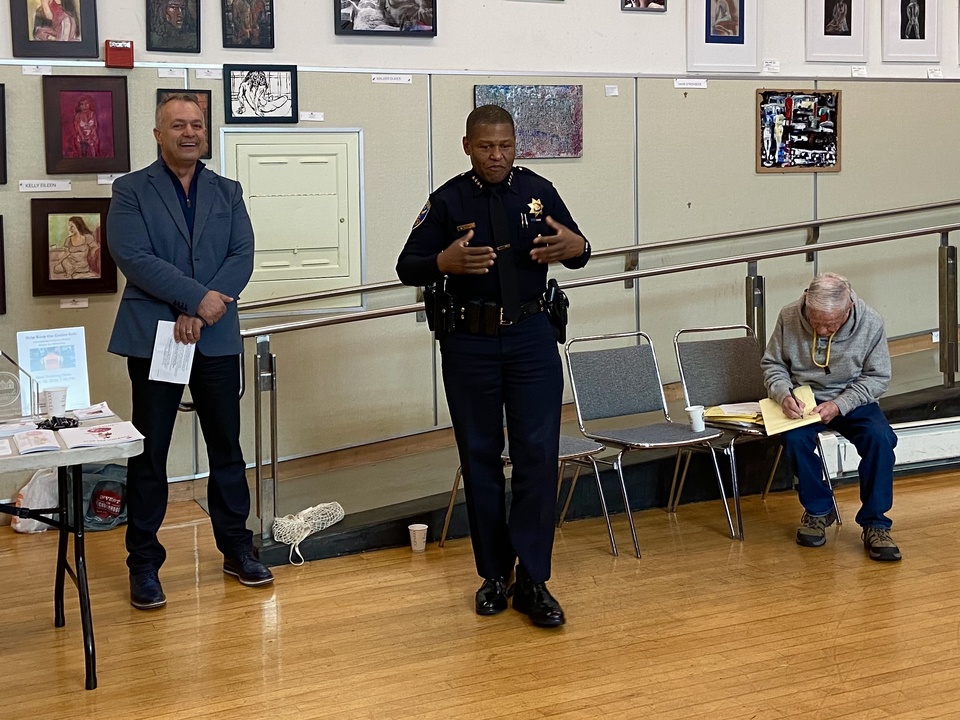 Richard Magary (right) keeps detailed notes while SFPD Chief of Police Bill Scott speaks. | Photo: Steven Bracco/Hoodline
"Richard was a master of organization and project management, leading such important programs as our annual membership drive, the printed Castro Guide, fundraising, holiday celebrations, Gilbert Baker's Rainbow Flag, and so much more," said Samereie.
"There is nothing that Richard wouldn't volunteer to do and his vast love and knowledge of the Castro was immeasurably valuable and appreciated," added Samereie. "He was also a vocal member of the community, standing and shouting side by side with neighborhood heroes to protect our little hamlet and move it forward."
"Richard was Castro Merchants' 'can-do, go-to' guy," Samereie said. "If something needed to be done for the neighborhood, Richard could always be counted on to help. He was a true citizen of the Castro, and his passing is a tremendous loss."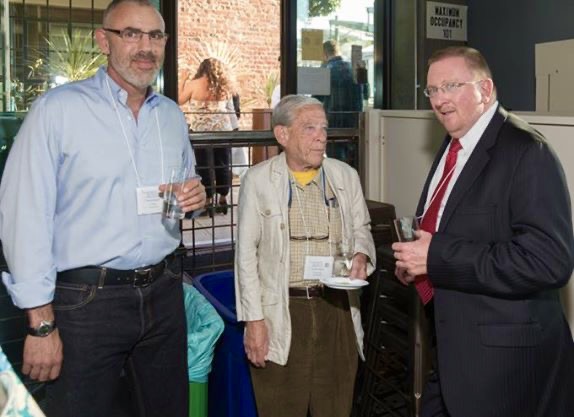 Daniel Bergerac (left), Richard Magary (center), and Stephen Adams (right). | Photo courtesy of Daniel Bergerac
Former Castro Merchants president and Castro CBD board member Daniel Bergerac tells Hoodline, "Richard was my friend, mentor, confidant, and right-hand man. "I was fortunate to spend hours working with Richard as we shared stories, gossip, and had lots of laughs. Richard was insightful, cranky, and a delight to be around."
"I am devastated to learn about the passing of Richard Magary," said District 8 Supervisor Rafael Mandelman on Facebook. "He spent more than 15 years supporting the Castro Merchants and was a neighborhood advocate in Ashbury Heights, where he lived."
"This holiday, let's all light a candle for Richard Magary, one of the brightest lights the Castro has ever had the good fortune to witness," said Samereie.