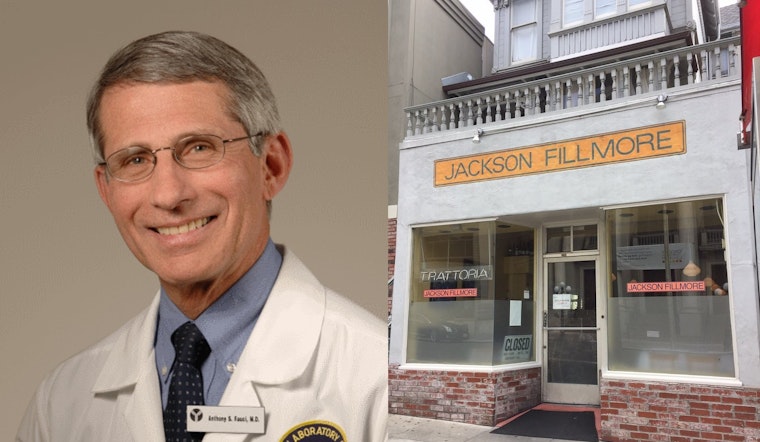 Published on February 03, 2022
An amusing outburst at a Senate hearing last month has led to a fascinating bit of trivia about the San Francisco restaurant scene. At a January hearing, National Institute of Allergy and Infectious Diseases (NIAID) director Dr. Anthony Fauci was caught on a hot mic saying "What a moron" with regards to Kansas senator Roger Marshall. The senator had just asked about Fauci's financial disclosures and investments, claiming that "the big tech giants are doing an incredible job of keeping it from being public." But a simple Google search shows the Center for Public Integrity reporter Liz Essley Whyte already published this information in August 2020.

Image: Center for Public Integrity
Eater SF Looked through them and found a San Francisco connection. Fauci is a "legacy investor" in Jackson Fillmore Trattoria, the Pacific Heights Italian restaurant that opened in 1985 at the corner of, well, you can probably guess which street corner from the restaurant's name.
"I haven't seen Tony in years," Jackson Fillmore owner Jack Krietzman admitted to Eater, while acknowledging that Fauci is indeed an investor. "He was way too busy during COVID to talk to me."
View this post on Instagram
The 42-page disclosure shows that Fauci is a rather minor investor here, having put up between $1,000 and $15,000. The vast majority of Fauci's investments are in money markets and mutual funds, and to the disappointment of conspiracy theorists, he does not hold any stock in Pfizer, Moderna, or any pharmaceutical companies. And Jackson Fillmore is literally the only restaurant in which Fauci has an investment. Why does Fauci have a small investment in a neighborhood SF Italian restaurant 3,000 miles from his Washington, D.C. home?
View this post on Instagram
Fauci was visiting SF in the late 70s and early 80s researching the new mysterious HIV, which at the time we called "gay-related immune deficiency" (GRID) or simply "gay cancer." Around that time, Kreitzman was a cook at North Beach restaurant Vanessi's (it moved to Nob Hill in 1986, and closed in 1997), and the place was something of a celebrity magnet. Fauci was no celebrity at the time, but he is known to love Italian food. He struck up a friendship with Kreitzman, and when Kreitzman opened his own restaurant, Fauci put up an investment.
View this post on Instagram
Kreitzman says, though, that he and Fauci have never been terribly close. "I've only met him a few times," he tells Eater SF. "I think he's only been to Jackson Fillmore a couple of times... I really don't know. I don't talk to him. I don't talk to any of my partners. They're just investors."
Fun fact, though!