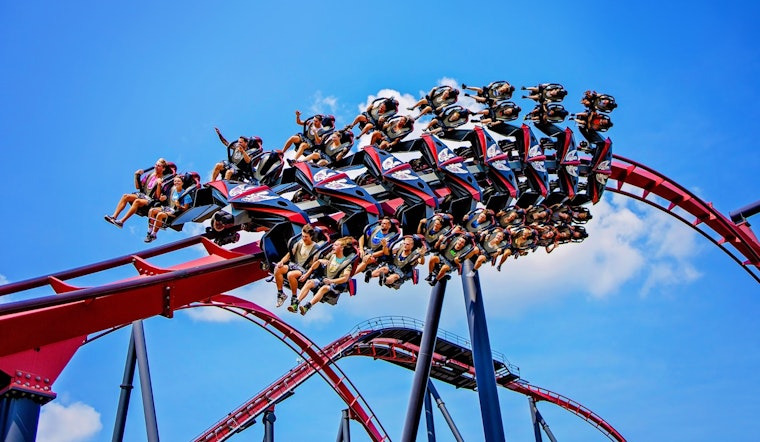 Published on June 28, 2022
Silicon Valley theme park Six Flags Great America will eventually be closing after a high-value land deal with a Bay Area mega-developer. The prime land in Santa Clara where the amusement park sits has been sold for $310 million dollars. The land will eventually be redeveloped into offices, industrial complexes, housing, and/or a host of other possibilities. As of right now, there is no exact plan in place for the land.
San Francisco-based developer Prologis agreed to immediately lease the land back to Great America for six years. As part of the deal, park operator Cedar Fair will have the option to extend the lease by five years for a total of 11 years. But the lease deal also has a contingency that allows Prologis to end the deal early by giving Cedar Fair two years' notice. So far, no official closure timeline has been released.
"We chose Prologis as our partner because of their deep ties in the Bay Area and their reputation for working closely with local communities on large developments," Cedar Fair CEO Richard Zimmerman told the Mercury News.
Despite being one of the biggest amusement park operators in the country, Ohio-based Cedar Fair is selling the land as part of a plan to reduce its debt brought on by the pandemic shutdowns that devastated theme parks across the country.
"The sale and lease agreements allow us to monetize a high-value asset in the heart of Silicon Valley at a very attractive multiple," Zimmerman said in a press release. A spokesperson told KPIX that "Cedar Fair intends to use proceeds from the land sale transaction to accelerate progress on its strategic priorities of reducing debt to achieve its $2 billion target."
Cedar Fair started leasing the land for Great America from the city of Santa Clara in 1976. The company ended up buying the land from the city in 2019 in a transaction of $150 million. Great America guests were shocked to hear the news of the deal this week. "It's kind of a bummer you know because we got kids here that enjoy this kind of thing, so shutting it down is not really good unless you open another park better or bigger somewhere else," Great America park-goer Jaime Gonzalez told NBC Bay Area. Once the park closes, thrill-seekers will have to head to Six Flags Discovery Kingdom in Vallejo or Six Flags Magic Mountain in Santa Clarita to ride large-scale rollercoasters.