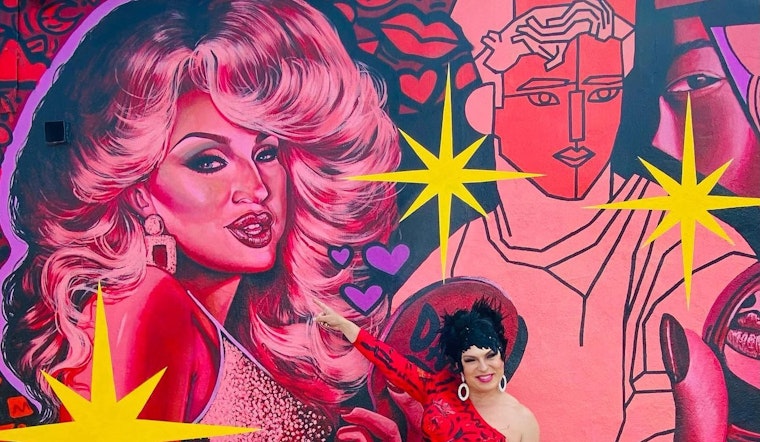 Published on June 03, 2022
We've known for a little more than a month that a new mural was coming to South of Market drag and cabaret nightclub Oasis, after last year's pre-Pride unveiling a mural of disco icon Sylvester at the club. But the newer and much bigger mural premiered Thursday night with a ribbon-cutting ceremony, and these pictures and videos show the massive new mural in its full pride and glory.
The pink-ribbon cutting ceremony of the mural "Showtime" can be seen below, with club owner D'Arcy Drollinger, flanked by one of the mural's artists Simón Malvaez. Other contributing artists include Serge Gay, Jr., J Manuel Carmona, Christopher J. McCutcheon, and Elliott C. Nathan.
"The 2,500 square foot mural will wrap the length of the building on both the 11th Street side and along Burns Court," Oasis explains in a blog post. "It will depict representations of the community as well as highlighting queer and trans trailblazers such as Bambi Lake, Phatima Rude, Felicia Flames, Tippi, and José Sarria; pioneers who have made spaces like Oasis possible."
You'll notice Mayor Breed in attendance, a loaded curiosity given the mayor's recent boycott of the SF Pride Parade over a ban on uniformed police officers marching in the parade. That ban had been smoothed out with a compromise deal just hours before the ribbon-cutting, and so Mayor Breed attended, along with her newly appointed supervisor of the district, Matt Dorsey.
Yet as the Bold Italic reports, Breed and Dorsey received an icy reception of "awkward, mostly clap-free tension." Dorsey, for his part, seems to have done himself no favors as his reported remarks were that he "didn't prepare anything to say." Perhaps adding to the awkward nature of Dorsey's appearance, Oasis owner D'Arcy Drollinger had just been spotted at the campaign kickoff of Honey Mahogany, who is running against Dorsey for the District 6 seat in November.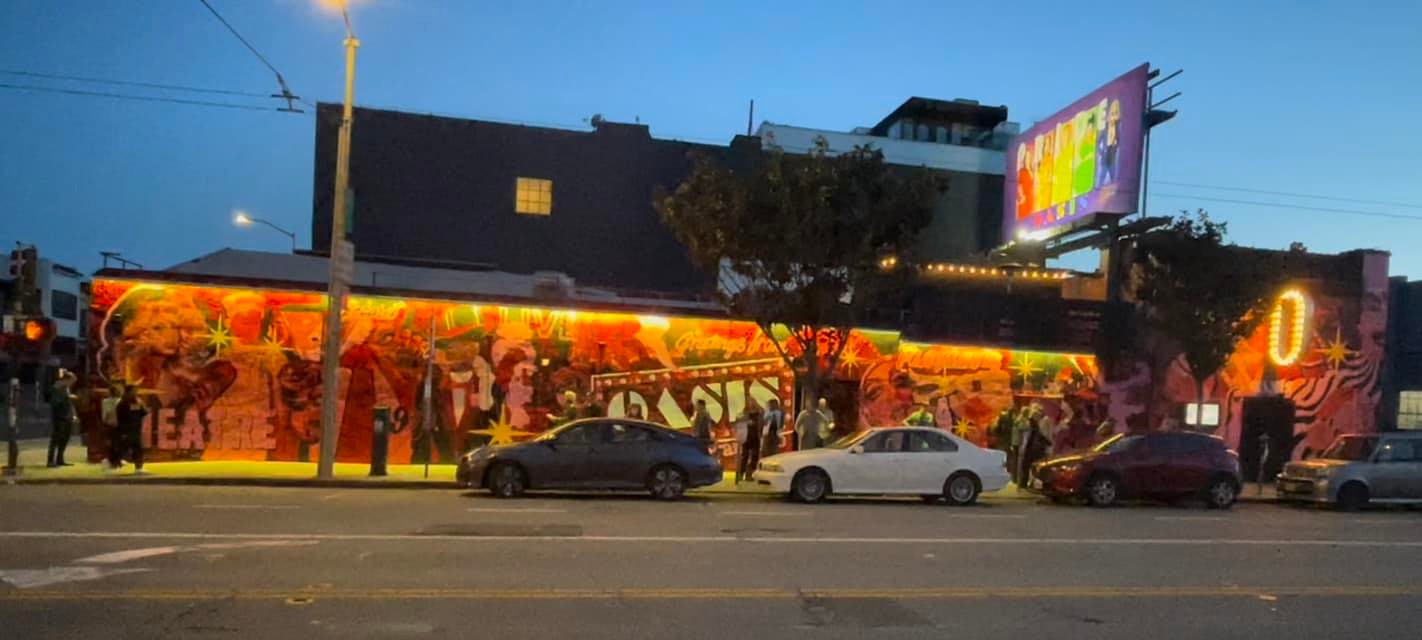 Image: D'Arcy Drollinger via Facebook
If you didn't get a chance to attend the ribbon-cutting, you can take in that mural at plenty of Oasis Pride kickoff events all this weekend. These include Cockettes: Eternal Emissions in the 7 p.m. early show both Friday and Saturday, Question for the Culture - A Lana Del Rey Tribute at 10 p.m. Friday, PRINCESS w/ Daya Betty at 10 p.m. Saturday, and Comfort & Joy's Freak Chic Pride Gala on Sunday, June 5 at 5 p.m.