On Monday, SoMa nightclub Oasis (298 11th St.) unveiled an exterior mural dedicated to SF LGBTQ+ icon and disco legend Sylvester.
The mural was painted by artist Josh Katz and was in partnership with SoMa's Leather & LGBTQ Cultural District public art project.
In the 1970s, long before being gay was broadly acceptable in mainstream American society, Sylvester was a gender non-conforming, pop/disco superstar who came to national prominence. In gay culture of that era, disco hits like "You Make Me Feel (Mighty Real)" and "Dance (Disco Heat)" were nightlife anthems.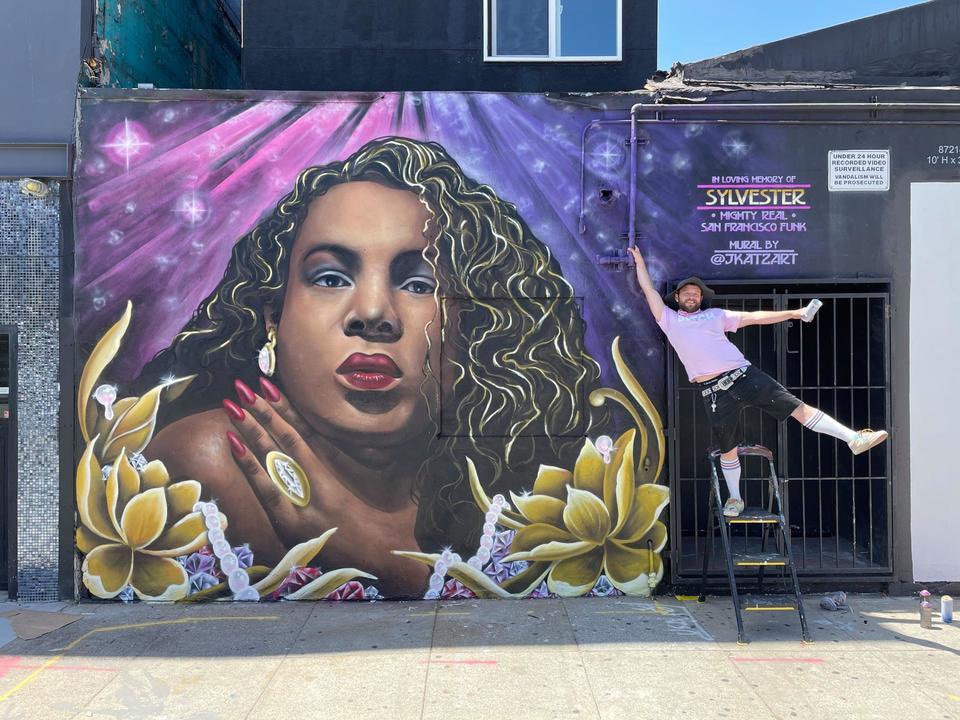 Artist Josh Katz alongside the Sylvester mura. | Photo: Josh Katz/Facebook
Born Sylvester James Jr. in 1947 in Los Angeles, Sylvester created music that underscored the joy many felt for their newly found freedoms, at least in this city. Along with Harvey Milk, the first openly gay elected official in the country, Sylvester helped make the Castro a beacon of hope.
"I'm so excited to unveil my newest mural dedicated to the San Francisco disco legend, Sylvester, and painted at SF Oasis," said Katz. "I've wanted to paint Sylvester for months now and I couldn't ask for a better location for this mural."
Last year, Katz painted a mural of Supervisor Harvey Milk on the plywood boards on Castro's Mudpuppy's and another mural at Italian restaurant Sausage Factory Shared Spaces platform.
"COVID has been especially hard on the Queer community in San Francisco because not only were vital communal spaces closed this past year, but some of our favorite venues like The Stud had to close permanently," Katz added.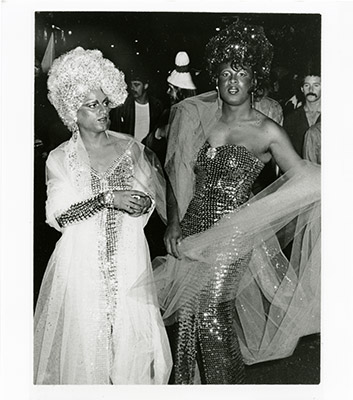 Sylvester (right) during Halloween in the Castro (1976). | Photo: San Francisco History Center/San Francisco Public Library
"To me, Sylvester embodies those classic San Francisco, feel-good funk, disco dance, and glamour vibes that we love and have missed so much," said Katz.
On May 31, 1980, Sylvester was the special guest performer (the performance was videotaped) for "Metro Madness," a grand-opening party for the Muni subway service. Two weeks before subway service launched, attendees rode a shuttle from Castro to Van Ness station for a party on the platform.
"I wanted to paint Sylvester to both honor their memory, and to try to spread some positive energy as we make it through this tough time," explained Katz. "This piece was such a blast to paint and I feel so grateful for the opportunity."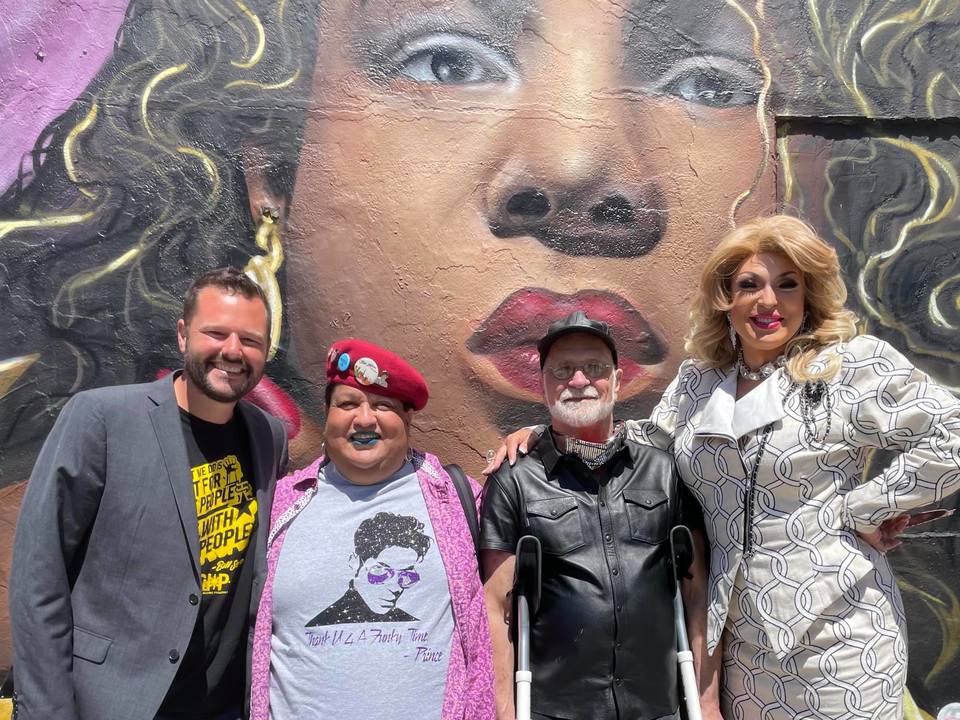 Supervisor Matt Haney, Tina Valentin Aguirre, Cal Callahan, and D'Arcy Drollinger. | Photo: Cal Callahan/Facebook
Cal Callahan, Leather and LGBTQ Cultural District Manager, thanked everyone for their involvement in the project, "I was pleased to be with District 6 Supervisor Matt Haney, Castro LGBTQ Cultural District Manager Tina Valentin Aguirre, and Oasis owner D'Arcy Drollinger."
"Sylvester represents the best of San Francisco's queer cultural legacy," said Aguirre. "I'm happy that Oasis is made more special today with this fabulous mural."
Supervisor Haney's legislative aide Honey Mahogany also blessed the mural on behalf of the Sisters of Perpetual Indulgence.
Hoodline readers may recall that in 2014 Sylvester was previously honored with a Rainbow Honor Walk plaque in the Castro.