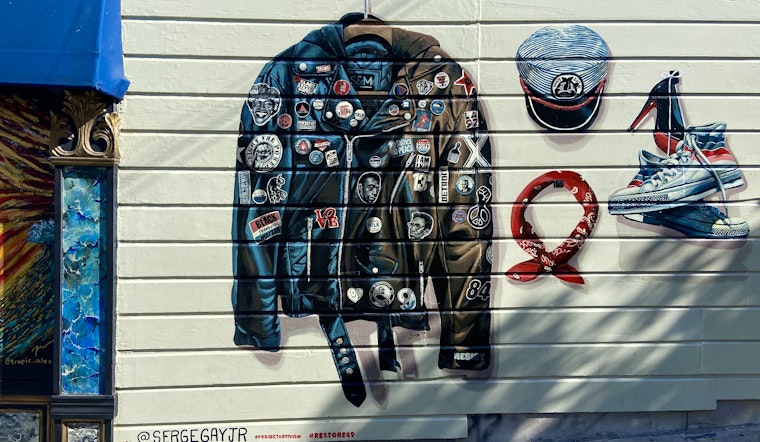 Published on November 10, 2020
Castro residents walking around the neighborhood may have noticed that murals are continuing to proliferate on storefronts and buildings.
As Hoodline readers will recall, early on in the pandemic, boarded-up Castro storefronts became canvasses for more than 20 murals as a way to brighten up the neighborhood, much as has happened in other neighborhoods across the city.
Originally the art program was begun in partnership between Castro Merchants, Castro LGBTQ Cultural District, and Castro residents. In June, Suzie Jennings, owner of Spunk Salon (4147 19th St.) and Castro Merchants board member, took over what has now been dubbed the Castro Art Project (CAP).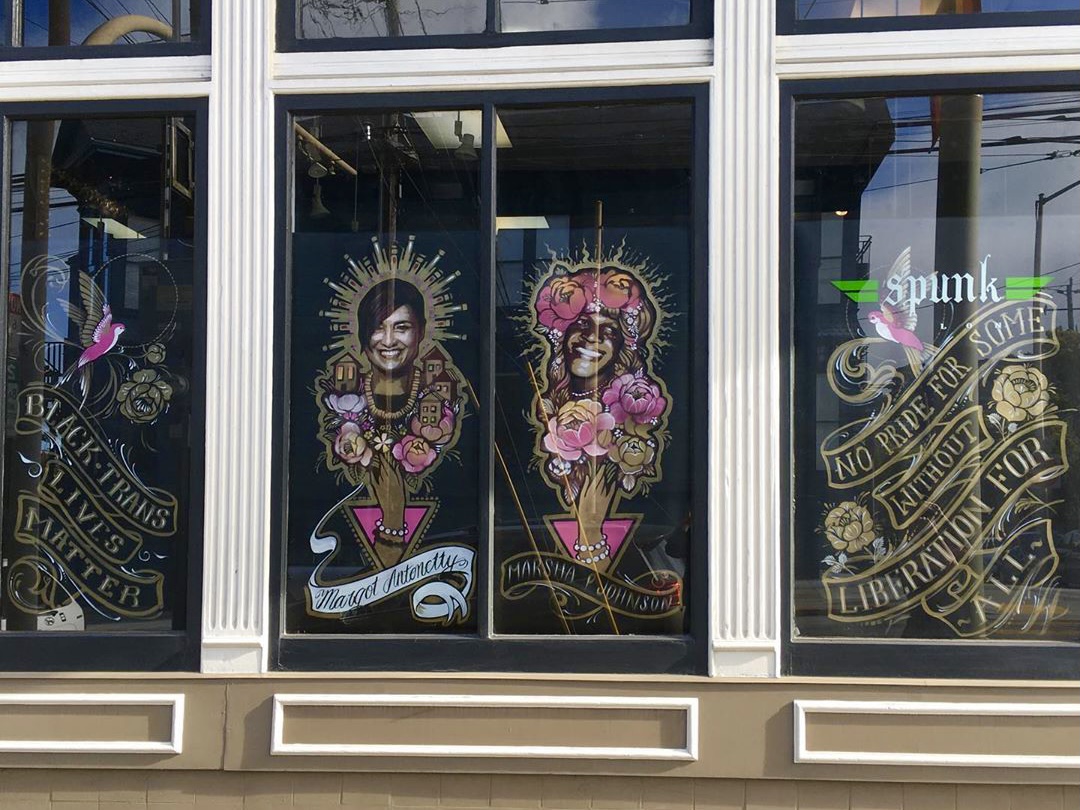 Artist Tanya Wischerath's mural at Spunk Salon. | Photo: Tanya Wischerath/Instagram
Jennings tells Hoodline that while the initial wave of artists did not necessarily represent the LGBTQ+ community, she's now focused on working with artists who represent the Castro community at large including LGBTQ+ and Black, Indigenous, People of Color (BIPOC) artists.
"We're partnering with marginalized artists who haven't been represented as much as we'd like to see happen in the Castro," said Jennings. "We're making sure they're a part of the Castro."
Jennings says CAP is funded by Project Artivism and its Restore 49 initiative, which seeks to connect local artists with closed businesses in an effort to reimagine boarded-up and shuttered storefronts.
At Jennings' Spunk Salon, a mural in the storefront's windows by artist Tanya Wischerath was installed in July honoring LGBTQ+ activist Martha P. Johnson and homeless advocate Margo Antonetty.
"Castro Art Project is important because it brings awareness," said Jennings. "It's important that we educate the neighborhood and show who's doing the work and what's happening in our culture."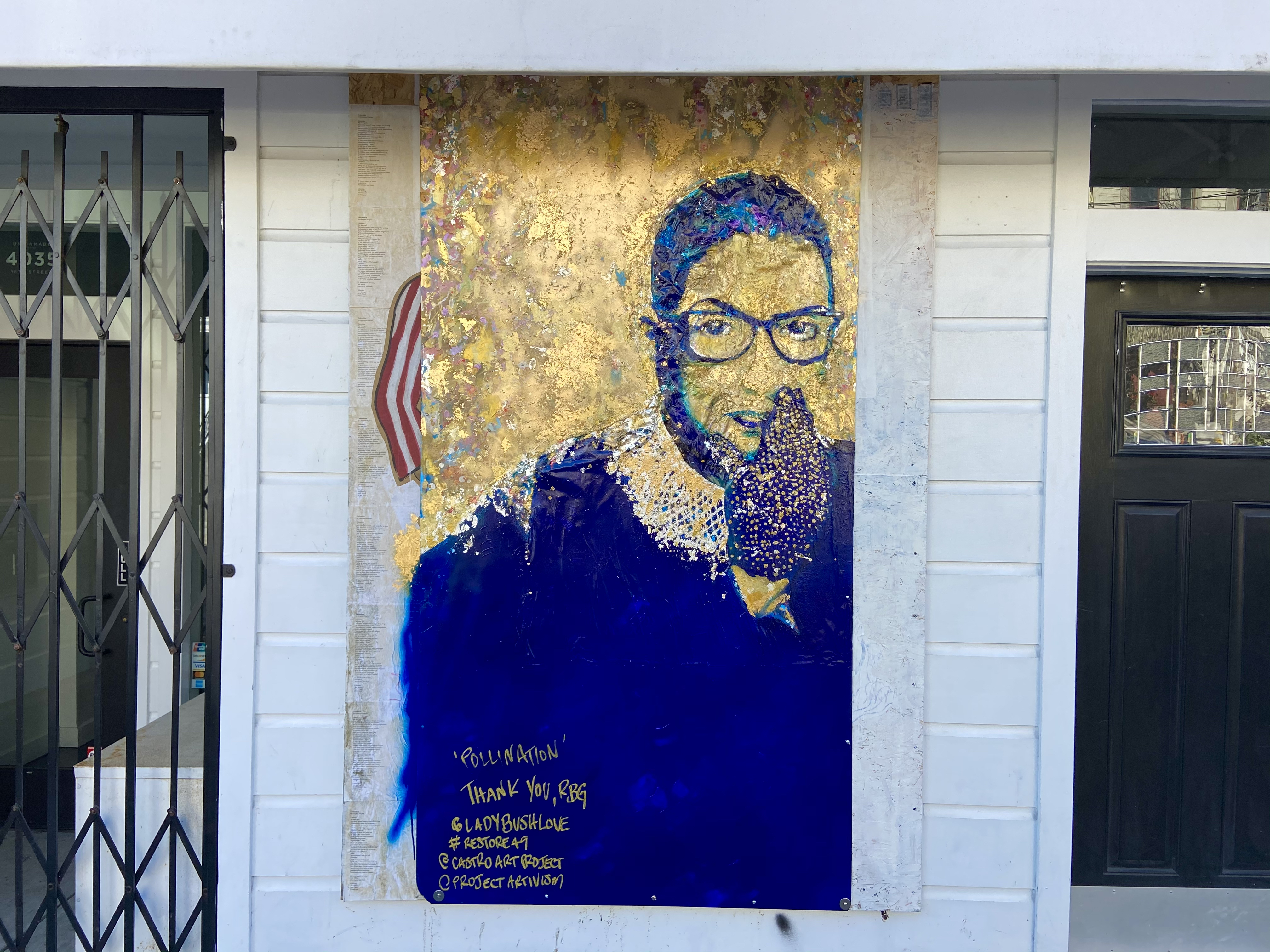 Artist Katie Bush's mural 'Pollination' at the Unionmade Women's store. | Photo: Steven Bracco/Hoodline

Artist Tanya Wischerath with her unnamed mural at Unionmade. | Photo: Tanya Wischerath/Instagram
In the past week, murals were installed at the former Unionmade and Unionmade Women's stores. Wischerath also designed Unionmade's mural honoring LGBTQ+ activist and author James Baldwin, and Janetta Johnson, transgender rights activist and co-founder of The Transgender District.
Artist Katie Bush designed the mural honoring late Supreme Court Justice Ruth Bader Ginsburg at Unionmade Women's store.
Wischerath tells Hoodline her tarot card mural is made up of three panels: past, present, and future. "It's ambiguous enough to lend it to a lot of metaphors," said Wischerath.
Wischerath tells Hoodline she felt it was important to replace typical tarot card figures with important historical and San Francisco icons. "There is a lot of visualization of Harvey Milk and 'white gayness' in the Castro," explained Wischerath. "It was important to include figures who are outside of the 'Adonis narrative' and important to the social justice movement right now."
One of the most prominent mural additions was painted by Haitian American artist Serge Gay Jr. Entitled 'Gear Up,' the mural was painted on the wall outside neighborhood bar Moby Dick (4049 18th). The mural consists of a leather jacket on a hanger with patches, pins, and buttons along with a pair of Converse Chuck Taylors, a red bandana, black heels, and a sailor cap.
Jennings tells Hoodline this mural was a long time coming and was helped by the work of CQCD interim co-chair Mahsa Hakimi.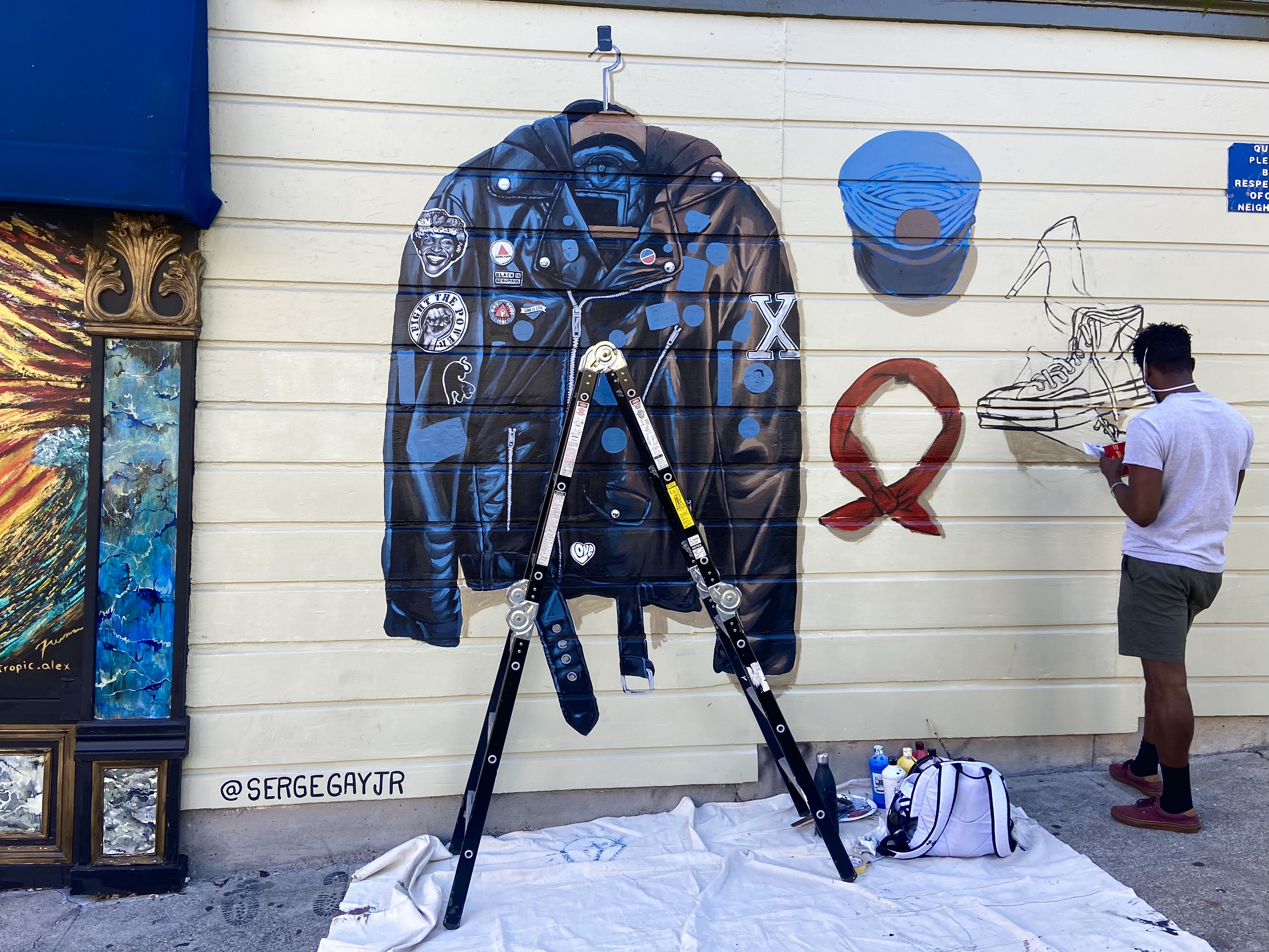 Serge Gay Jr. painting 'Gear Up' outside Moby Dick. | Photo: Steven Bracco/Hoodline
While there was some initial controversy due to Moby Dick's first mural, co-owners Joe Cappelletti and Scot Riffe felt it was important to install Gay's mural. "Moby Dick is proud to act as a canvas for Serge Gay Jr.'s mural," said Cappelletti and Riffe in a joint statement. "We hope it helps to remind everyone in our community that the Castro must be supportive and inclusive of Black Lives Matter, BIPOC, and LGBTQ+ movement."
In an interview with Hoodline, Gay says the mural's inspiration was a custom trucker jacket he designed for Levi's earlier this year. Gay says Levi's sent him a jacket and he painted patches on to it.
Before going into Levi's archives, Gay tells Hoodline he wore the jacket one time during Pride Month's 'People's March & Rally' along Polk Street organized by Juanita More and Alex U. Inn.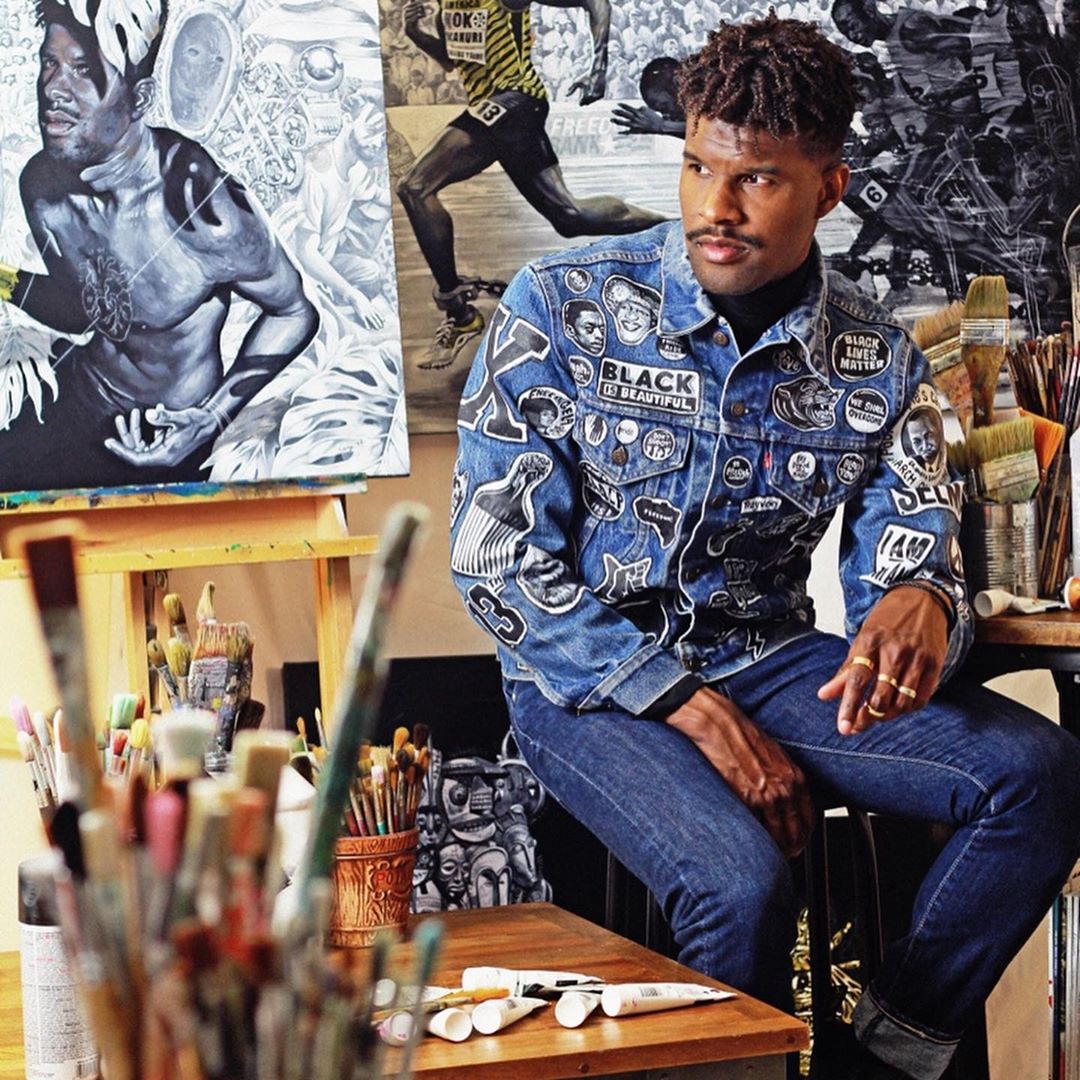 Serge Gay Jr. wearing the trucker jacket he designed for Levi's. | Photo: Serge Gay Jr./Instagram
When asked to recreate the jacket for a mural outside Moby Dick, Gay says he agreed immediately. "Moby Dick is where I met my husband 13 years ago," said Gay. "It was the perfect fit."
The black leather jacket has symbols reflecting the 1960s Civil Rights Movement, Women's Rights, Voting Rights, LGBTQ+ rights and the Black Lives Matter movement. Gay says the red bandana symbolizes the AIDS ribbon in honor of the lives lost by the AIDS Pandemic.
While the jacket has traditional pins, buttons, and patches, Gay says he also added the faces of historical black heroes and heroines like Marsha P. Johnson, James Baldwin, and Malcolm X.
View this post on Instagram

"The jacket symbolizes someone gearing up and getting ready for a battle and march on the streets in protest and to raise awareness," he said. "It could be anyone, it doesn't define gender."
Gay says he was excited to paint a mural in the Castro in order to provide more voices for the black LGBTQ+ and the Black Lives Matter movements. "It's one of those things lacking in the city and this district," he says.
Back in September, a mural in honor of LGBTQ+ activist and former Supervisor Harvey Milk was painted on the wall outside P.O. Plus (584 Castro) by artist Jazz Fuller. Fuller also painted murals at MX3 Fitness and Cafe Flore.
Artist Josh Katz recently painted a mural on Italian restaurant Sausage Factory's (517 Castro) Shared Spaces platform. Castro residents may be familiar with Katz's work as he also painted the Harvey Milk mural on the plywood boards on Mudpuppy's (536 Castro). The Milk mural has since been taken down, but Jennings tells Hoodline she's currently working with Katz and Mudpuppy's co-owner Daniel Bergerac to find another location for it to be displayed.

Artist Jazz Fuller's Harvey Milk stamp mural at P.O. Plus. | Photo: Steven Bracco/Hoodline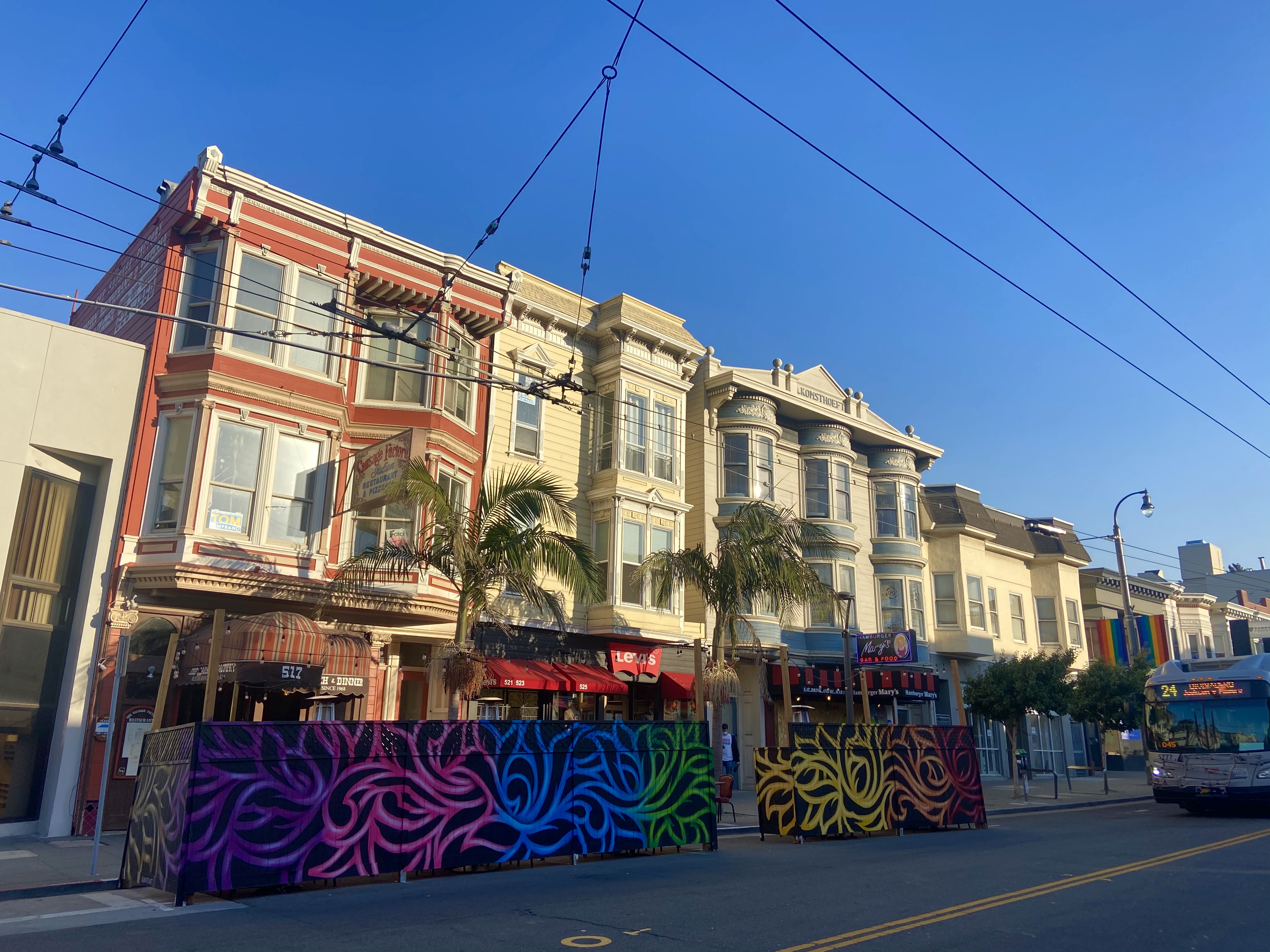 Artist Josh Katz's mural at Sausage Factory. | Photo: Steven Bracco/Hoodline
Additional murals have also gone up at Walgreens Specialty Pharmacy (4129 18th), which was a collaboration between artist Jeremy Novy and Diego Gómez. Novy has also painted a handful of his signature koi fish on Shared Spaces platforms around the Castro.
Artist Felicia Gabaldon also painted another mural at the Walgreens Community Pharmacy (2262 Market). Gabaldon had previously painted murals at Bauerware (3886 17th) and florist shop Blumen (548 Castro) which has since been taken down.
Looking towards the future Jennings says she'd like to see projection art similar to the Sisters of Perpetual Indulgence display on the Castro Theatre honoring Ruth Bader Ginsburg back in October.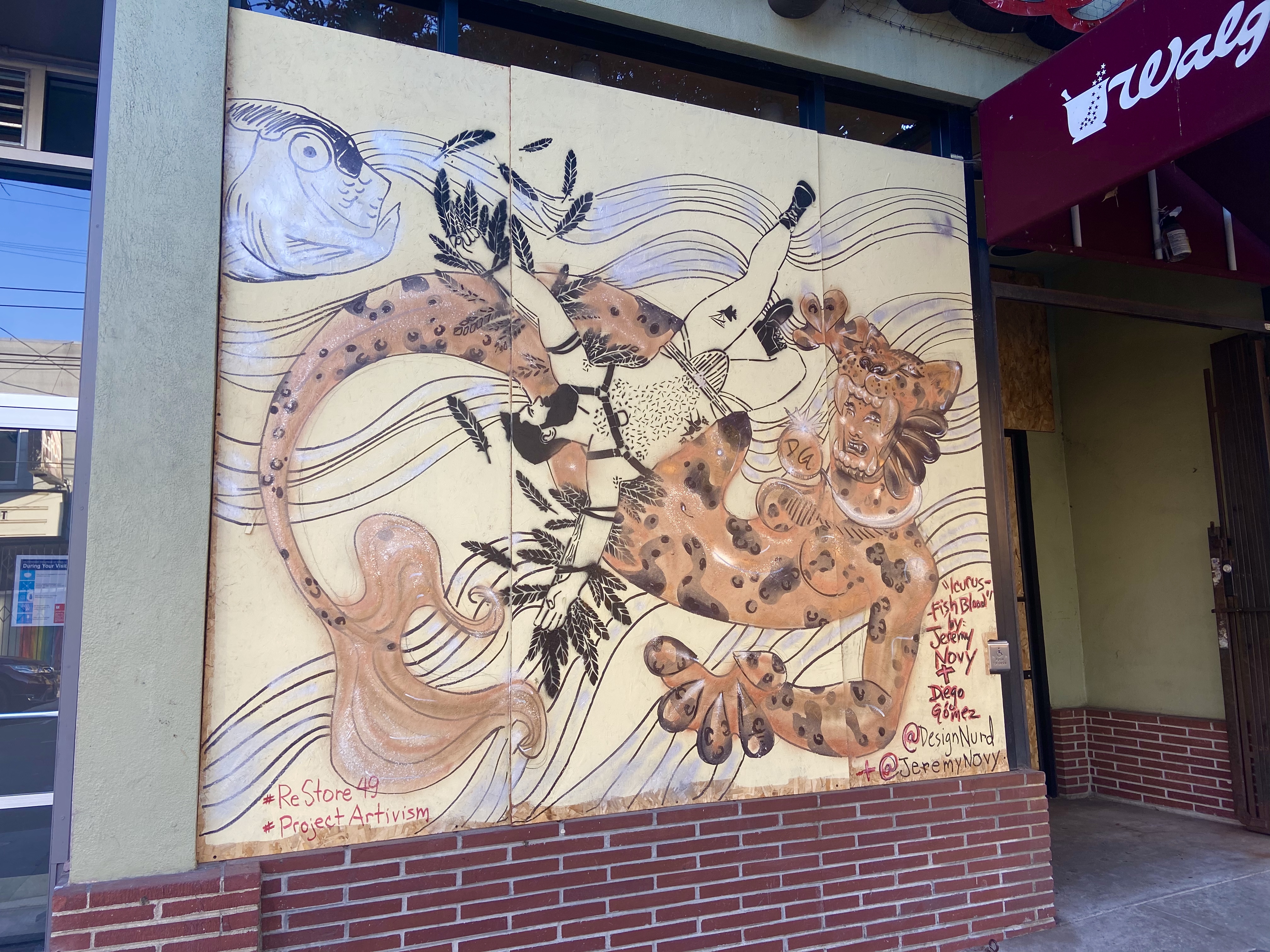 Jeremy Novy and Diego Gómez's 'Icarus Fish Blood' at Walgreens Pharmacy on 18th St. | Photo: Steven Bracco/Hoodline
For artists whose murals are temporary, Jennings says that each one is allowed to take their art should a business owner decide to take them down.
Ultimately, Jennings says she would like to find a permanent location for the art, with the potential of hosting a pop-up shop for all the work down the road.
Jennings is hopeful the art project will continue long into the future. "I think there's a lot more information and people that need to be honored," said Jennings.
"Even if I'm not doing it one day, I think it's a wonderful program that should go on for a long time," added Jennings.