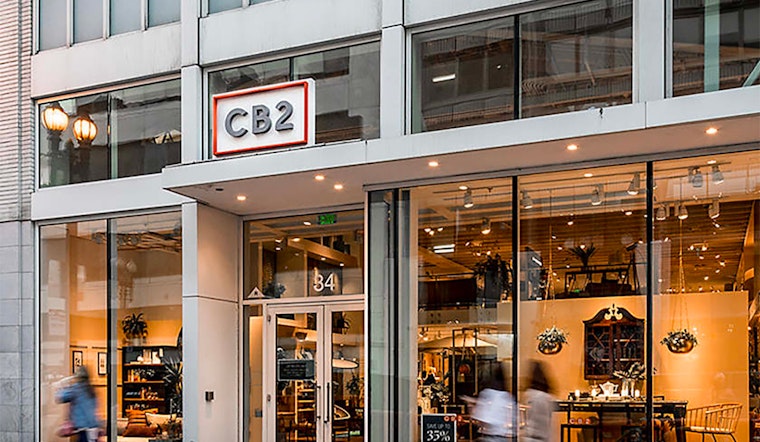 Published on January 18, 2023
Bad news for SF fans of the midcentury knockoff sofas and other modern accouterments sold by CB2 — the brand's 15-year-old store on Ellis Street, next to the newly open Central Subway entrance, is giving up the ghost. This follows the closure of Crate & Barrel, its parent store, last year.
After suffering years of Central Subway construction that left it behind scaffolding and next to an open pit for a very long time, the CB2 store at 34 Ellis Street is closing on Sunday, January 22. SFGate first reported the news, which is confirmed on the store's website.
The store says it is doing a floor sample sale now through the weekend, but there may not be too many deep discounts otherwise, as inventory may just be getting transferred to the company's Berkeley and San Jose/Santana Row locations.
This closure follows the announcement last month that the Container Store, which has a location on 4th Street on the other side of Market, is closing as well, and relocating deeper into SoMa.
CB2 opened this store in 2008, after parent company Crate & Barrel launched the trendier, more modern brand in 2000. Crate & Barrel was founded by Chicagoans Gordon and Carole Segal in 1962, and it maintained a store around the corner and up the block on Stockton for decades. That store closed ten months ago, in March 2022 amid an increasingly depressed retail scene in Union Square.
The only consolation for SF seekers of not-astronomically-priced furnishings and home goods is that IKEA will be opening a downtown location just two blocks away on Market Street, probably by the end of this year.