Fans of longtime Castro dining, drinking, and event venue Harvey's (500 Castro St.) who were surprised by Sunday's sudden announcement of its closure after 27 years in the neighborhood will have one last chance to say goodbye.
Harvey's manager David Facer, employee and drag performer Jason Seneca (a.ka. Christina Ashton), community activist Gary Virginia, and others are organizing "One Last Night With Friends." The marathon event will take place on Saturday, January 28 from 4 p.m. to 2 a.m.
"This is the 'Final Curtain'. Join us as we bid farewell to the end of an era," the announcement reads on social media. "Benefiting the staff of Harvey's, all proceeds will go to Harvey's former employees as we end with the largest party we have ever thrown."
View this post on Instagram
Hoodline stopped by Harvey's and spoke with Seneca and Facer while they were getting the space ready for the event.
"We're going out with a bang," said Seneca, also adding to Hoodline that they wanted to have one last night to help raise money for the former employees.
Facer tells Hoodline that they already have over 23 performers booked for the event. "We're running a marathon," said Facer. "We're inviting all performers, if you're an artist we'd like to have you on stage. We're going all out."
Seneca tells Hoodline they got permission from property and restaurant owner Paul Langley to host the event. Langley also owns SoMA LGBTQ+ leather bar Powerhouse. Hoodline reached out to Langley for comment on the closure but did not receive a response.
Castro residents will recall the restaurant and bar space was previously home to The Elephant Walk in the '70s and '80s. According to SF Gay History, the Elephant Walk was nearly destroyed by a fire in 1988. When Elephant Walk's lease expired in 1995, Langley declined to renew it and instead opened Harvey's in 1996.
Langley named the restaurant in honor of the late district supervisor and human rights leader Harvey Milk.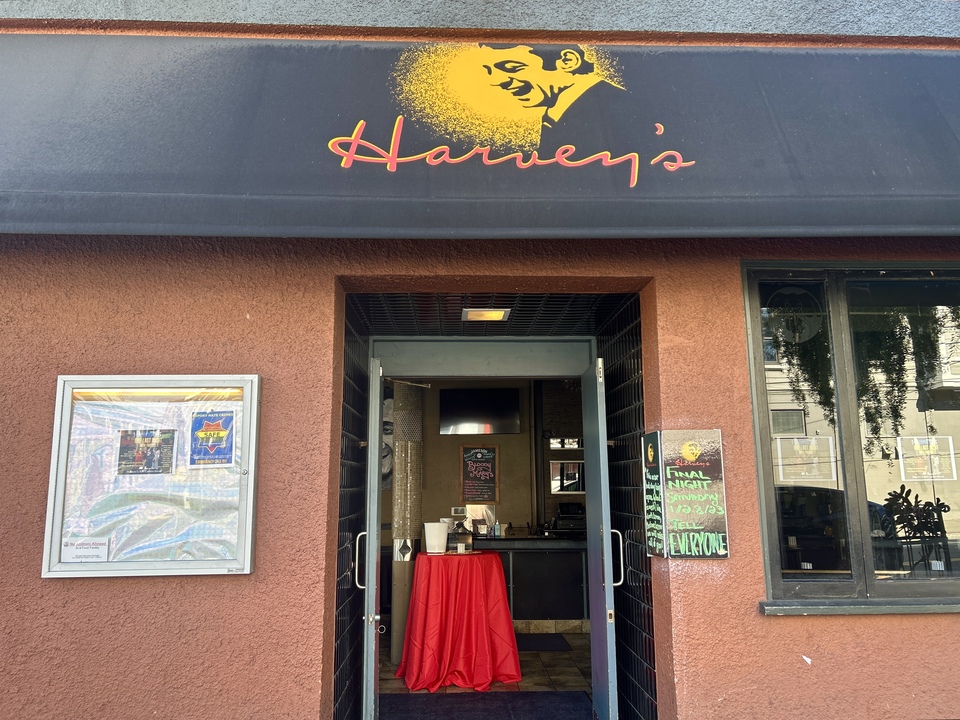 Harvey's is getting ready to say goodbye. | Photo: Steven Bracco/Hoodline
"More performers will be added," said Seneca.
Seneca and Facer are hopeful that RuPaul's Drag Race alum Shangela, who's performing a soldout show at the Castro Theatre on Saturday night, will stop by.
Facer said customers will be able to order cocktails and drinks during the event, however no food will be available. "100% of the profits are going to staff," said Facer.
When asked about the future of the space, Facer told Hoodline a statement from Langley would be released soon. As of publication, Hoodline has not received the statement.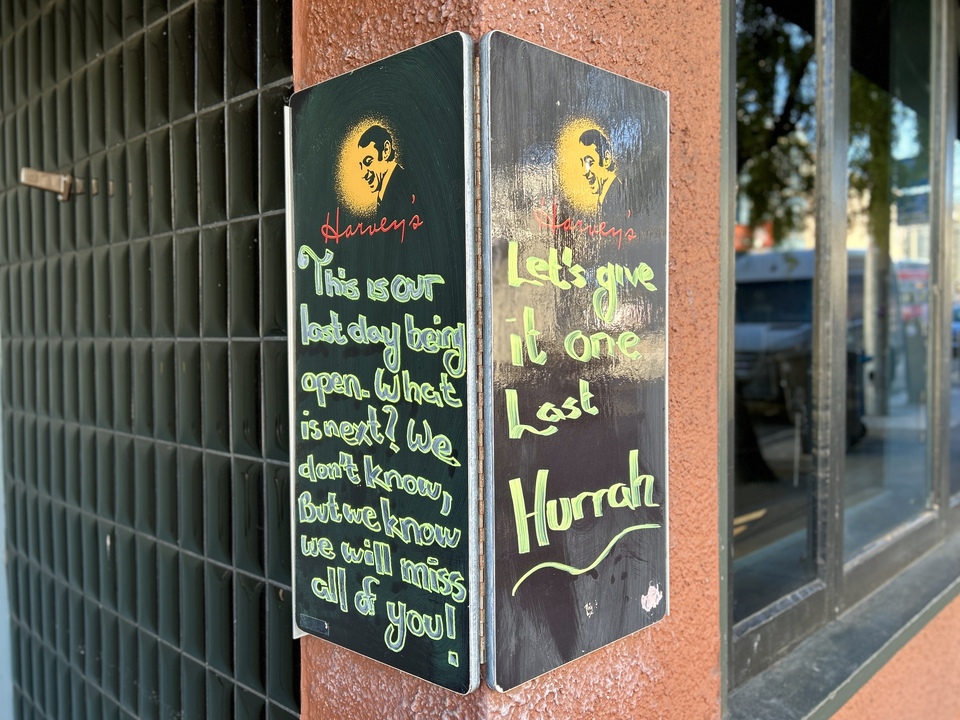 The announcement of Harvey's closure was made on Sunday. | Photo: Steven Bracco/Hoodline
Although, Facer told Hoodline prospective business owners have already been checking out the space. "The wheels are already in motion," said Facer.
"We feel the outpouring of support coming from everyone," said Facer. Along with hearing from local politicians including State Senator Scott Wiener and District 8 Supervisor Rafael Mandelman, Facer said they'd heard from an overwhelming number of community members.
"It's of great comfort," explained Facer. "Especially during a time like this. It's a really nice comfort to know that people can rally up behind each other."
"My hope is that the community can keep that love going," added Facer. "People are paying attention now. Businesses across the board are getting boarded up."