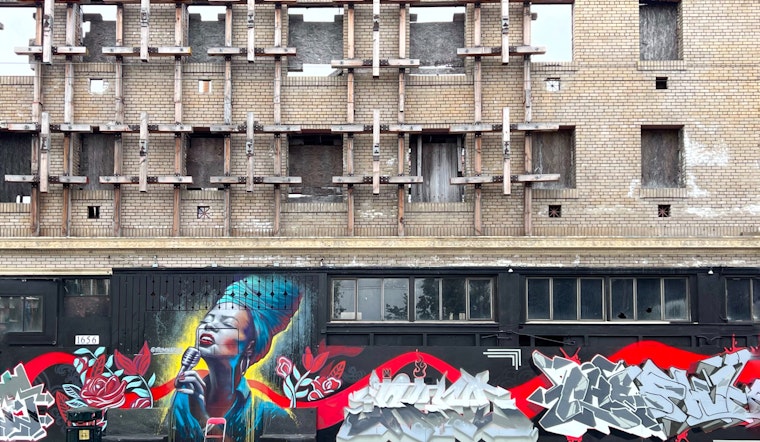 Published on June 09, 2023
It's hard to miss the new mural taking shape on the charred remains of the Verdi Building (659-1656 Union Street) in North Beach. A striking jazz singer wearing a dreamy expression and a turquoise turban croons from the center of the structure that once housed Coit Liquor and six other businesses. The building burned during a raging Saint Patrick's Day fire in 2018.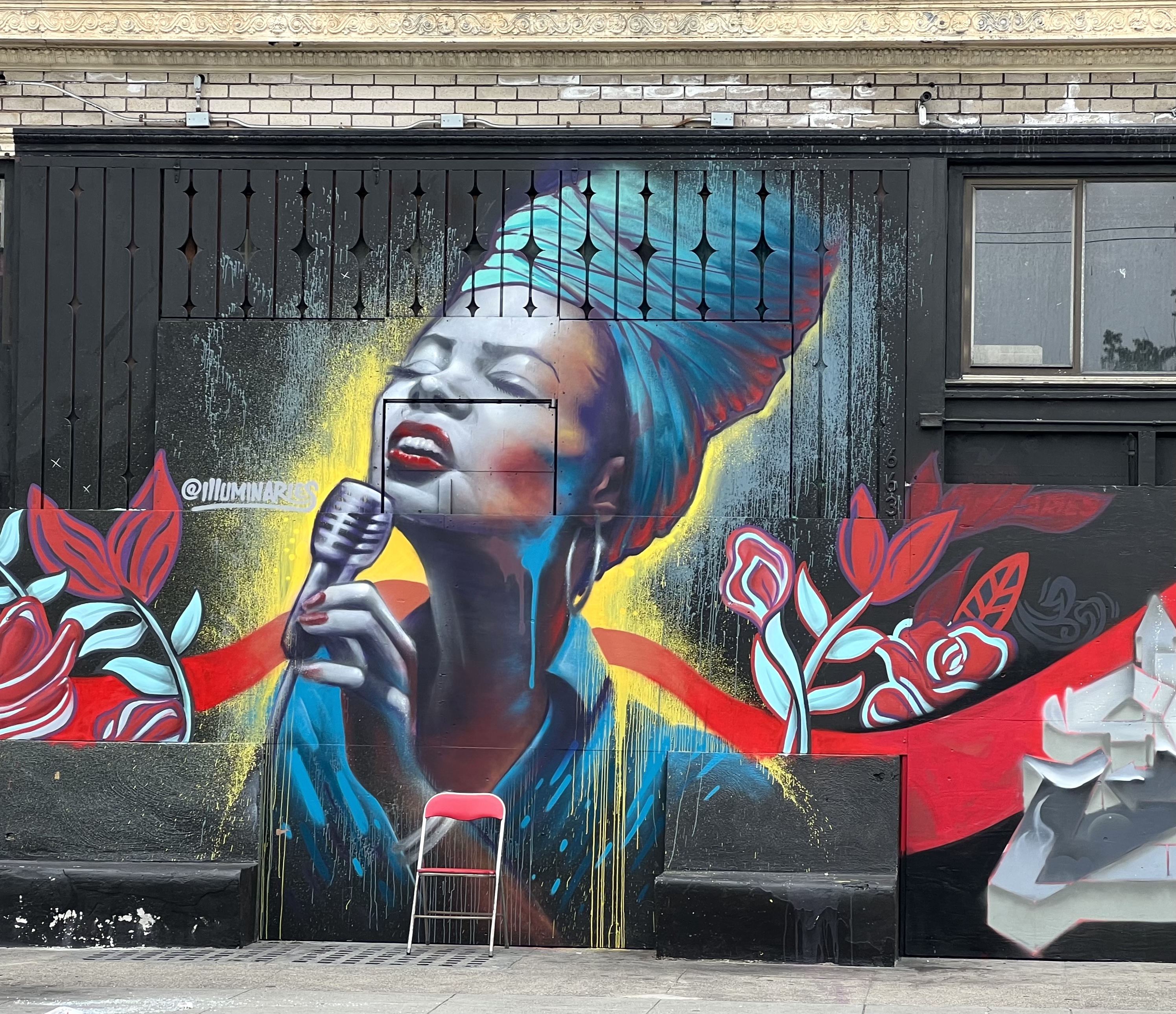 A beautiful singer takes center stage in the in-progress speakeasy mural. | Photo credit: Dorothy O'Donnell
Daniel Schwartz (@danielone), an artist who runs What Then Art Now, an organization that connects artists with mural work and other opportunities, spearheaded the ongoing project. The new mural features a speakeasy theme that nods to the Prohibition-era clubs that once flourished in North Beach. It replaces the popular Marvel superheroes mural that revitalized the burnt-out eyesore when it was completed back in 2019.
"We got great response to the superheroes mural from the neighborhood, but it was definitely time for a refresh," says Schwartz. "We wanted to do something with a little more of an adult theme."
As Hoodline previously reported, the superheroes mural was the brainchild of artist Pengo (@pengo_funkswayzie). Pengo — he prefers to keep his real name private — is also president of the West Coast branch of Ex Vandals (@thexvandals), a pioneering graffiti arts group. Schwartz and Ex Vandals artists helped him paint the mural with members of the respected and prolific Bay Area mural and designer collective Illuminaries (@illuminaries). Several artists who worked on the original project are also involved with the current one, along with some fresh talent.
Schwartz and Pengo came up with the speakeasy concept. They also coordinated production of a second recently completed mural with a global warming theme around the corner on Powell Street. After getting the green light on both concepts from community members at a North Beach Neighbors meeting, Schwartz and his crew began bringing the murals to life at the end of April.
"To do this project, I really wanted to get the best people. These are some of the top graffiti artists in the Bay Area," Schwartz tells Hoodline. "They're not only exceptional artists, they're also exceptional people, so I love working with them."
The Verdi Building's developer footed the bill for prepping the walls for the speakeasy mural by painting them black. But neither of the two new murals are commissioned. To cover the cost of supplies and to pay the artists, Schwartz created a GoFundMe.
The upside of working on a non-commissioned project? Each artist has the freedom to express themselves in their own unique style.
"Some of the artists have said that it's nice to do what they want without being micromanaged," notes Schwartz. "It's an opportunity for really talented artists to share their work, do thematic projects, and bring color to the community."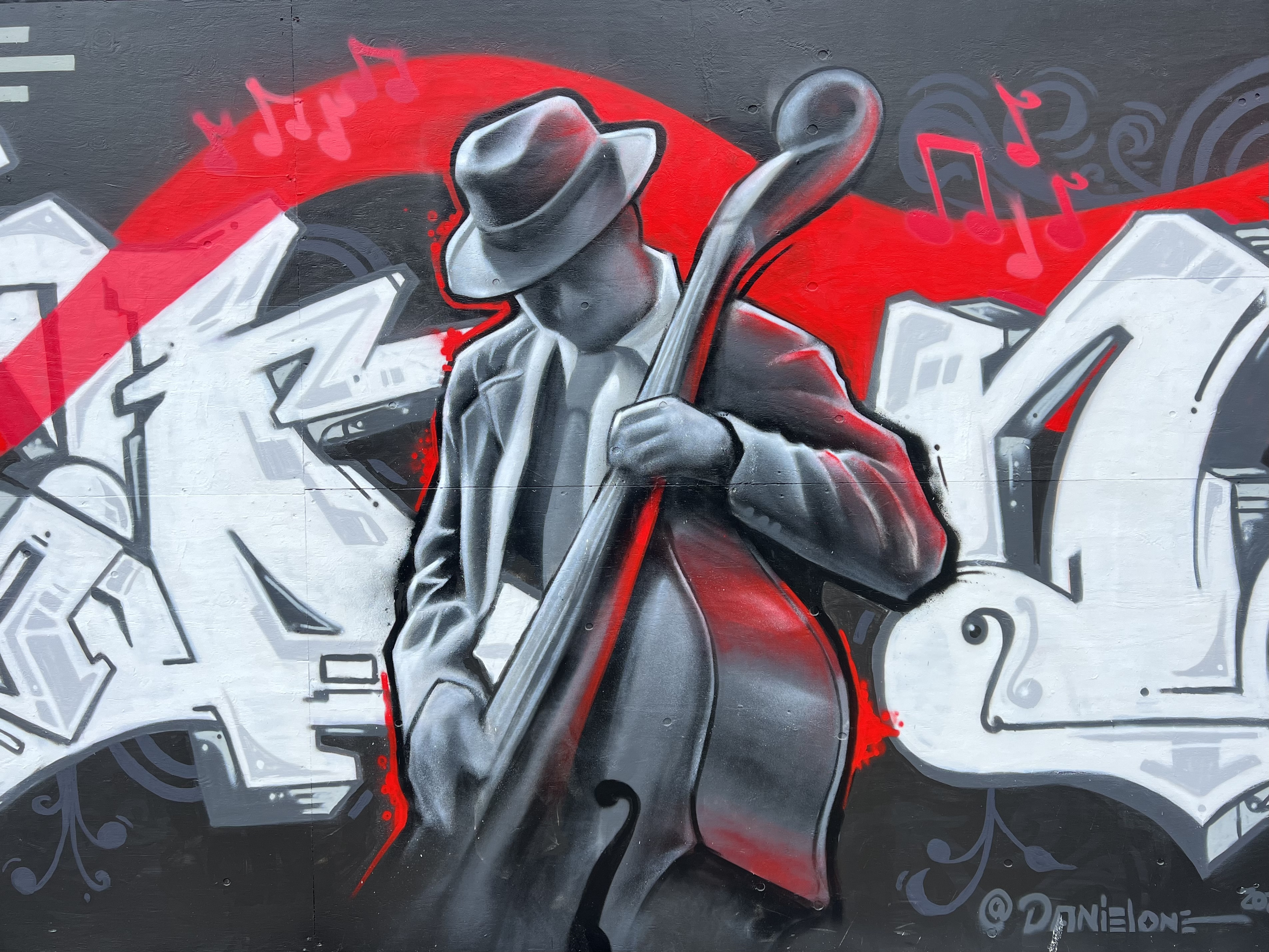 A standup bass player by Daniel Schwartz and Tim from Illuminaries grooves in a segment of the speakeasy mural. | Photo credit: Dorothy O'Donnell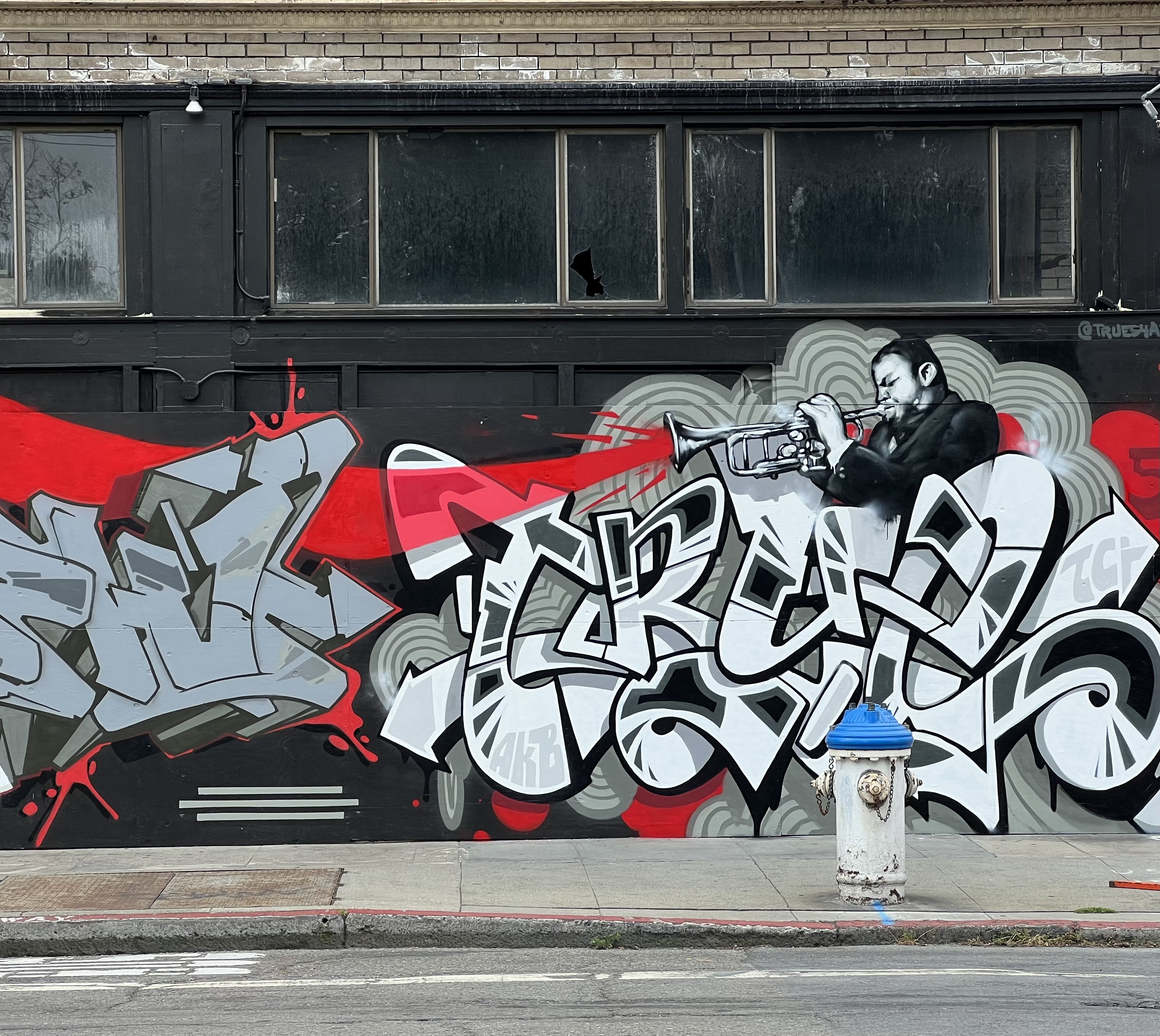 True54's contribution blows his horn from a corner of the mural. | Photo credit: Dorothy O'Donnell


You might see a hint of Billy Holliday or Erykah Badu in the speakeasy mural's sultry singer, painted by Tim, a member of Illuminaries who doesn't want to reveal his last name. According to Schwartz, she was inspired by a mix of performers. To her left, a suit-clad musician grooves on the standup bass while in the upper right corner, a trumpet player wails on his horn. A red ribbon shoots out of the instrument and snakes through the mural, unifying the different images. The ribbon wraps around the corner of Columbus to end at Mark Bode's (@markbodeofficial) charming contribution, Betty Boop swinging with other old-school cartoon characters. Other contributors include Pengo, Aeos One (@aeosone), Cheph Uno (@cheph415) Agana (@dj_agana), Refa One (@refalove1), True54 (@true54akbtci), and Nico Berry (@nicosprayitloud).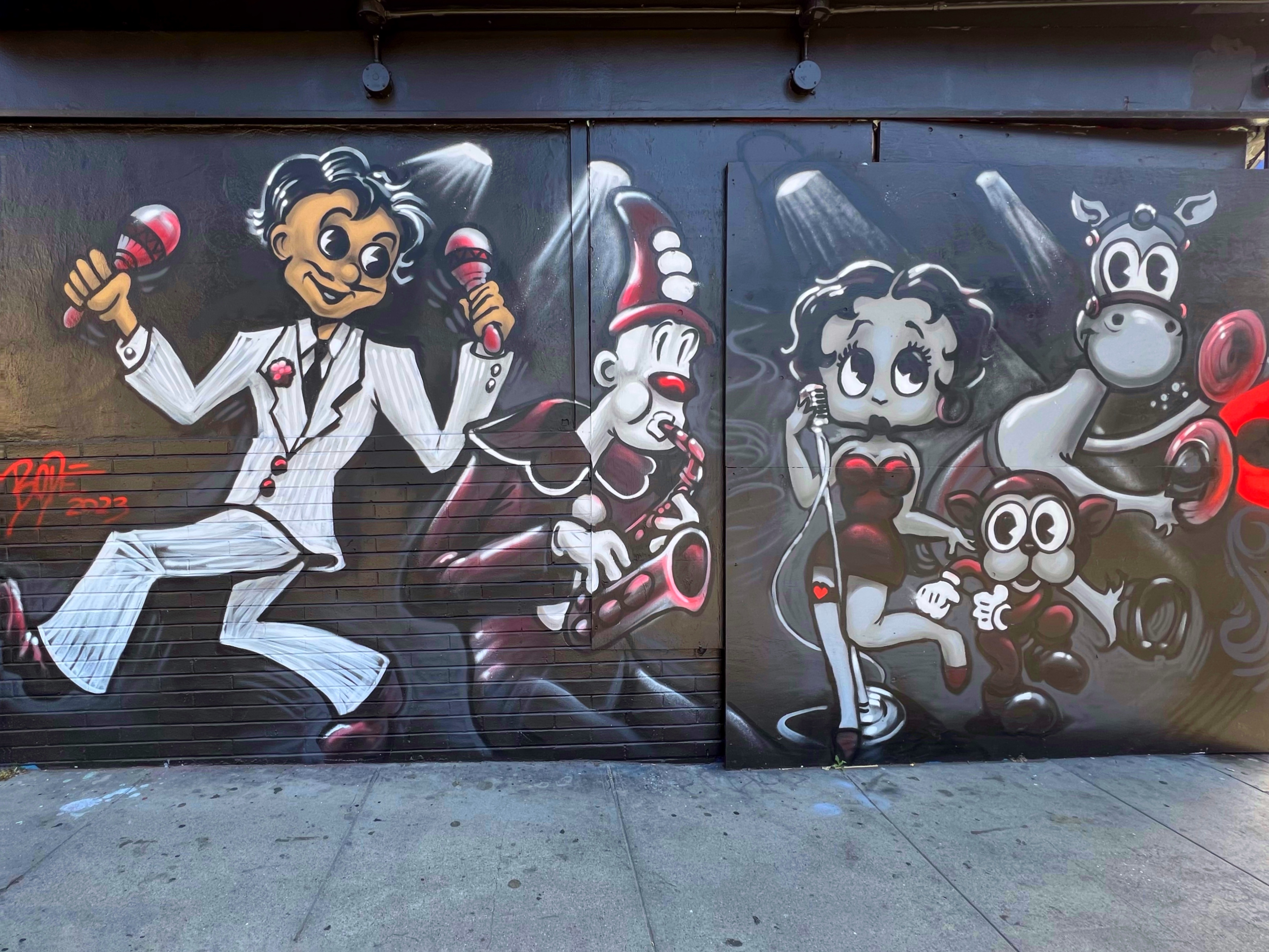 Betty Boop and friends jam on Columbus Avenue. | Photo credit: Dorothy O'Donnell


On the Powell Street wall, the global warming mural depicts a colorful yet surreal scene. Iconic San Francisco landmarks like the Golden Gate Bridge and the Transamerica Tower stretch into a fiery red sky. Sea creatures swim past neighborhoods submerged in water. An ominous, mythical-looking beast looms over the mayhem, while from the bottom right corner of the mural, three Telegraph Hill parrots look on with concern. The parrots represent the three artists who designed and painted the mural: Pablito (@pablitosomething), Max Ehrman (@eon75) and Pancho Pescador (@panchopescador).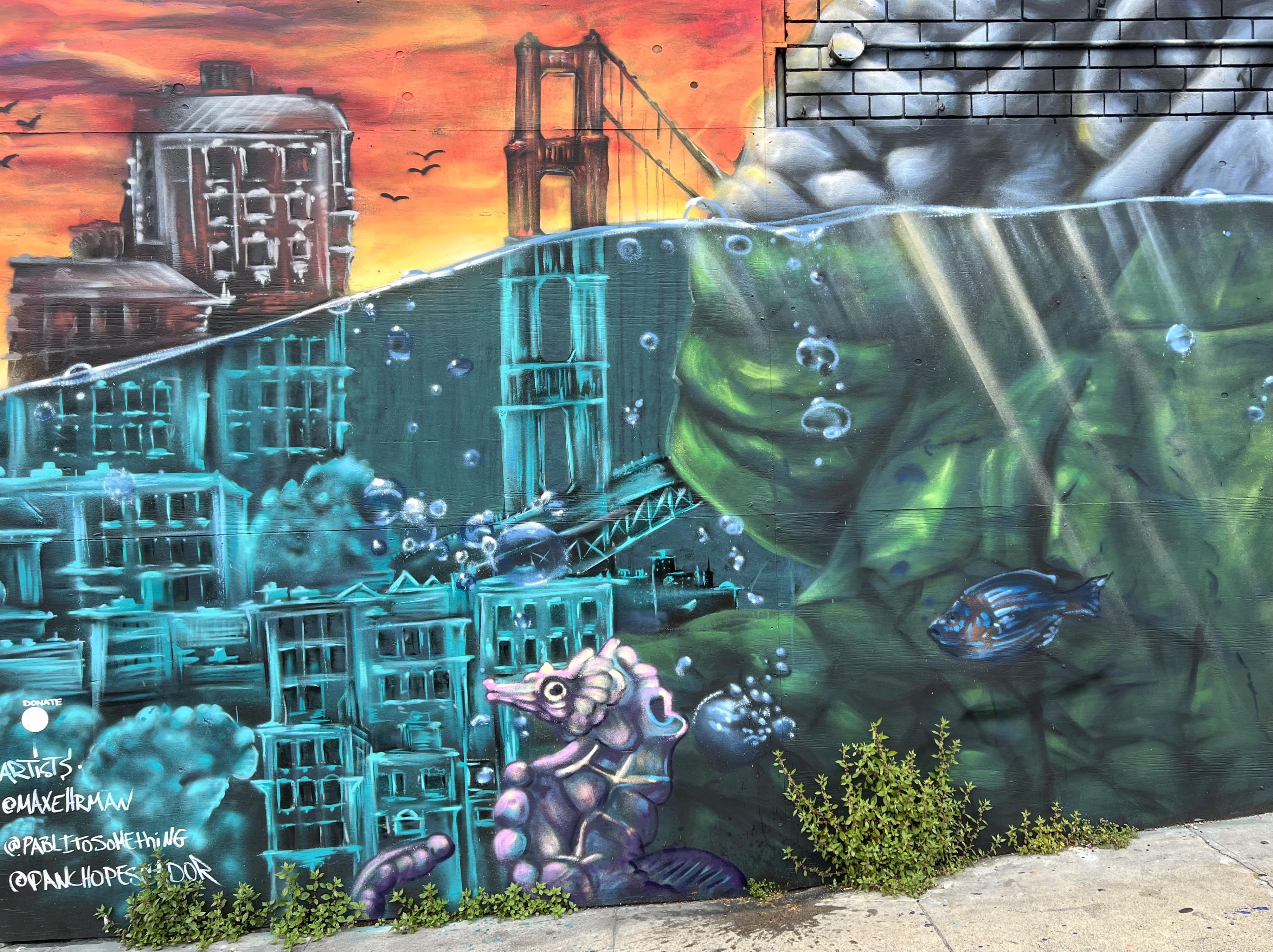 An underwater San Francisco is depicted in the new global warming mural on Powell Street. Photo credit: Dorothy O'Donnell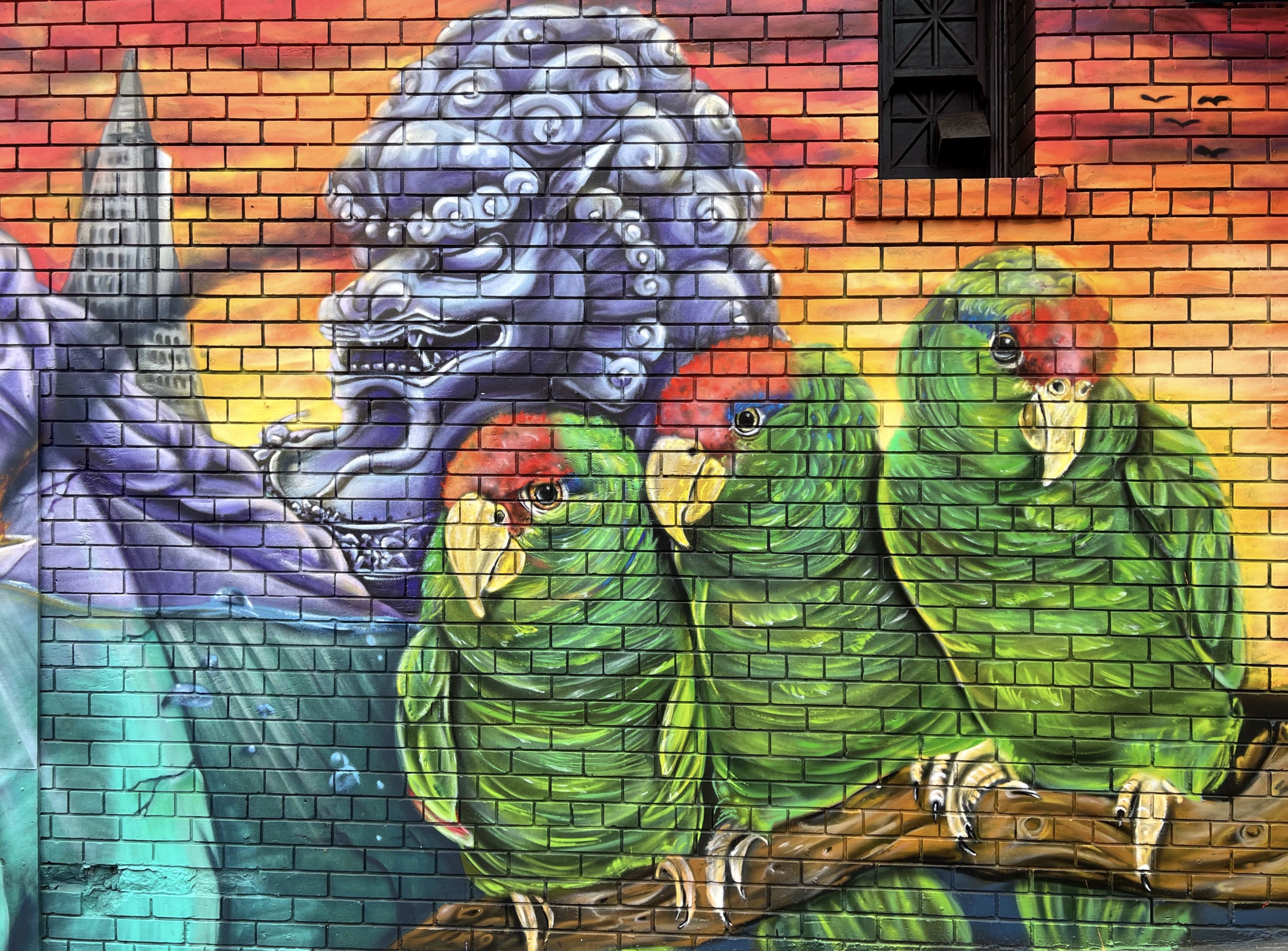 Three parrots peer out at passersby from the global warming mural. | Photo credit: Dorothy O'Donnell
Schwartz appreciates the love both murals are getting from folks walking by. And he's grateful for the support his team's received from the community. Tony's Pizza Napoletana chipped in with free pizza for the artists; Club Fugazi donated tickets for "Dear San Francisco" to whoever makes the largest individual contribution.
Schwartz hopes the speakeasy mural will be finished soon. But he still needs to raise more money to get there.
"We're close," he says. "We may add some surprises later, like more characters, just to have a little fun with it."
To make a contribution, donate wall space for future murals, or inquire about commissioned work, contact What Then Art Now.